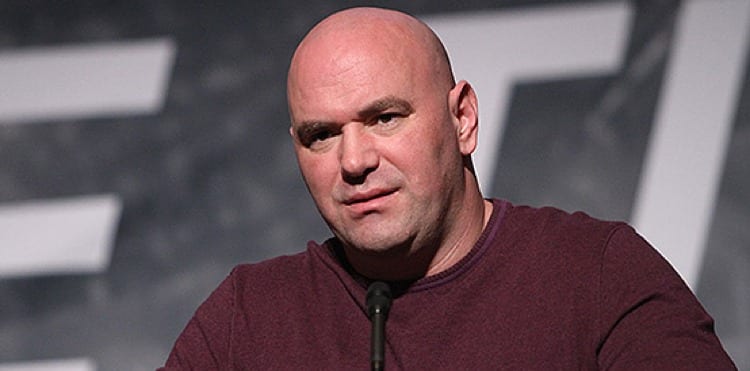 It featured a great main event, but tonight's (Sat., October 6, 2018) Khabib vs. McGregor main event at UFC 229 from the T-Mobile Arena in Las Vegas, Nevada, was marred in controversy. Now it's time Dana White responds.
Undefeated champion Khabib Nurmagomedov put on a wrestling clinic over the course of four rounds. He repeatedly ground McGregor and smothered him into the mat. In the end, he won with a brutalizing fourth-round submission. The scene that followed is what's getting all the airtime, however. "The Eagle" scaled the cage and jumped into the crowd to fight McGregor's teammate Dillon Danis.
It was a controversial, disgusting scene that marred an otherwise legendary victory for Khabib. Not surprisingly, White isn't too happy about it. He responded to the all-out chaos in a post-fight interview on FOX Sports 1:
"A lot of bad stuff. A lot of stuff that shouldn't have happened. Um, you know, Khabib jumped over the cage and went after one of the Conor's teammates who I guess was talking trash to him, and all hell broke loose.

"You know, this is uh, another, you know, obviously I don't, I don't even know what to say right now. I'm just disgusted and sick over it."
Because of the brawl, White admitted the Khabib vs. McGregor rivalry was far from over. He expected as much based on the pre-fight banter.
What he didn't see coming, however, was Khabib scaling the wall and starting the fight:
"No. They both made it very clear the rivalry would not be over after the fight. But I didn't see Khabib jumping over the octagon. I didn't see that coming. And we had so much security and metro here, and everything, so, that was interesting. I didn't see that coming."
No one did, Dana, no one did. Finally, White revealed that Nurmagomedov's AKA teammates Daniel Cormier and Luke Rockhold calmed the chaotic scene:
"Yeah, Daniel Cormier and Luke were great in trying to diffuse the whole thing, so yeah."