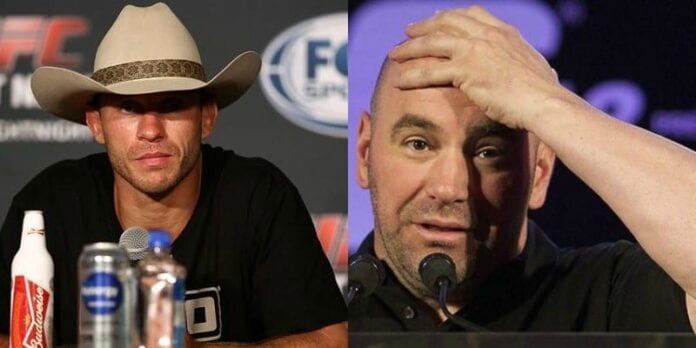 Following what was arguably his finest performance in a dominant third-round TKO over former UFC title challenger Patrick Cote in the co-main event of last weekend's (Sat., June 18, 2016) UFC Fight Night 89 from Ottawa, UFC mainstay and fan favorite Donald Cerrone wasn't all smiles as one might expect a "Performance of the Night" bonus winner to be.
No, "Cowboy" spoke up at the post-fight presser to state that he 'didn't mean s***' to the UFC based on his payscale:
"(The bonuses) all sound nice – according to my pay I don't mean s*** to the UFC. But we'll see. (I'm) going to talk to Dana after this and figure that out."
Fighter pay is obviously a hot topic in MMA right now, but it was thought that Cerrone, a company man if there ever was one who possesses an alarming 17 wins and 12 post-fight bonuses in the UFC, was towards the upper end of UFC athletes with $79,000 to show, $79,000 to win, and an extra $50,000 in bonus money resulting in a $228,000 payday for his win over Cote.
Touching on all current aspects related to the UFC and MMA during the first episode of the all-new "UFC Unfiltered" podcast with Matt Serra and Jim Norton today (June 21, 2016) UFC president Dana White put things in perspective concerning Cerrone's pay complaint:
"Now Cerrone at the press conference comes out and says 'I don't know if the UFC loves me if you look at my paycheck. OK, now me and Cerrone are as tight as tight can be. There's a lot of personal stuff with me and Cerrone, too, on the positive side. The kid made over $200,000 on free TV on the co-main event and the gate was $900,000. How much money does Cerrone expect to make on a co-main event?
"The kid looked great. Never held a world title and made over $200 grand, co-main event, $900,000 gate, free TV."
Put that way, it would seem like Cerrone made out well with over $200,000 for the co-main event of an event that only brought in $900,000 live. But that wasn't all it was based on, however, as White also pointed out Cerrone's tendency to choke in big fights as a possible reason for his current pay:
"We've talked, me and Cerrone. He absolutely agreed. What he said to me is 'I was half joking'. I love him. He looked phenomenal.
"I think the thing that's frustrating, especially for a guy like 'Cowboy' Cerrone, is he has the personality," White said. "Everybody loves the kid. His fighting style is (expletive) exactly what I like. It's right up my alley. Everything I love about a fighter, 'Cowboy' Cerrone is. And he's a couple fights away from having that big fight. You've got to win them all. Every fight is the most important, and you've got to work your way up and you've got to win those big fights.
"'Cowboy' – again, a guy that I love – hasn't always taken everything so serious. You can't be (expletive) rock climbing two days before your fight or wakeboarding the day of your fight. Some of the stuff that this guy does – you want to make that serious, big money, you have to get in the right mindset. The way he looked the other night against Patrick Cote is the way you have to fight when you fight dos Anjos or Diaz or any of the big guys. When you get to that big fight, you have to win."
While it may sound a bit harsh, it's also tough to argue with White in a sense, as Cerrone has beaten nearly every less-than-elite competitor he's faced in the UFC only to fall short to champion Rafael dos Anjos (twice), Nate Diaz, and Anthony Pettis in pivotal and career-changing bouts.
At the end of the day, there's no animosity between White and Cerrone, but while the exec said he "loves 'Cowboy,'" he's just not at the Conor McGregor or Ronda Rousey level yet:
"Personally and professionally, I love "Cowboy" Cerrone. This day and age, every fighter on Earth, especially when you look at the money that Conor (McGregor), Ronda (Rousey) and some of these people are making out there, it gets crazy. Everybody wants to make a $1 million.
"Some people get there, some people don't."