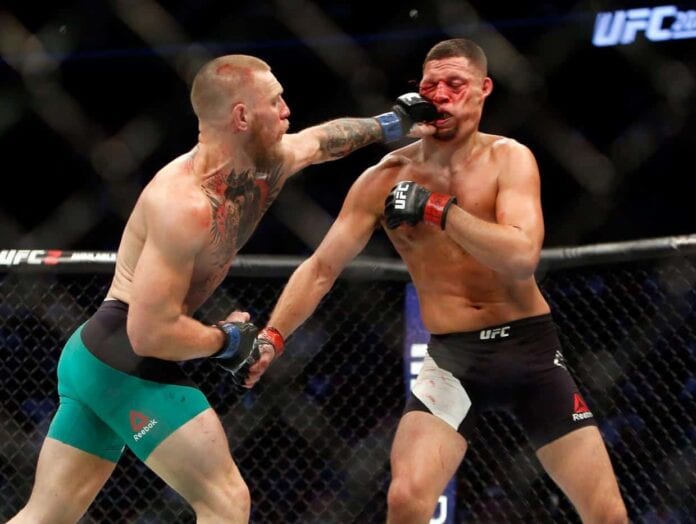 After he gained revenge on bitter rival Nate Diaz in their rematch at UFC 202 on August 20, 2016, featherweight champion Conor McGregor said the two would likely fight for a third time down the road.
But UFC President Dana White said that he was moving away from the rivalry for the time being, and it appears he's sticking to it, at least for now. Recently speaking on the topic, White once again showed little interest in a third bout between the two stars:
"You can't do three," White told Hot 97 in New York. "Here's the thing, Conor McGregor is this guy where if a fight falls out, this guy will step up. He doesn't give a (expletive). He's legitimately that guy. I've been on the phone and I've stood in the living room many times and looked guys in the face when their opponent pulls out, nobody faces that adversity the way that Conor McGregor does.
"It's awesome and it makes me respect him very much."
The two first met at UFC 196 last March in an instant classic that saw Diaz score an emphatic second-round submission victory. The rematch then turned out to be a five-round war in which each fighter had his moments. The "Notorious" one, however, took home a close majority decision victory.
From a business perspective, the rivalry is a lucrative one to say the least, as UFC 202 reportedly broke the all-time pay-per-view (PPV) record that was set by UFC 196. White, however, says a third contest 'doesn't make sense':
"(Conor) ends up saying 'let's do this Nate Diaz thing' and dude he's two weight classes heavier than you and he doesn't care. So we do the fight," White explained. "Conor has to try to weigh 168 when they're weighing in at 170. The night of the fight, Diaz comes in at 190. Now Conor McGregor is a 45, 55 pound guy and if you look at the wars he's had with Diaz, you can only have so many of those wars in your career. It doesn't make sense.
"That's why we have weight classes. It ended up being an amazing fight, but you don't want to keep doing that."
Instead, McGregor will next challenge lightweight champion Eddie Alvarez in the main event of November 12's UFC 205 from New York. Despite this being a blockbuster fight, the UFC has received a bit of criticism for allowing McGregor to call his shots so to say, as the Irishman has yet to defend his featherweight strap that he won last December.
Continuing on, White explained why McGregor gets this 'special' treatment:
"That's why I give this guy way more rope than I give anybody else. Conor can say whatever the hell he wants to, the guy steps up on four days notice, he can say whatever he wants," White said.
"We're in the fight game, who really wants to fight? That dude wants to fight."

Do you approve of McGregor facing Alvarez, and would you like to see him and Diaz run it back one more time in the future?