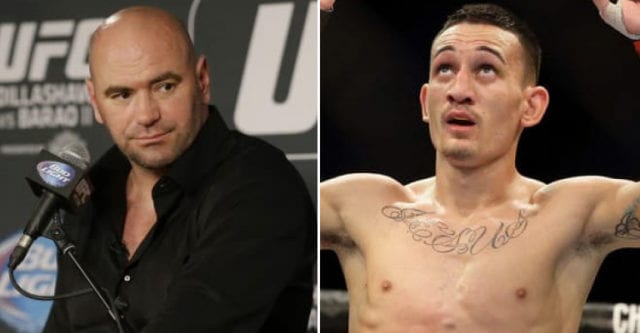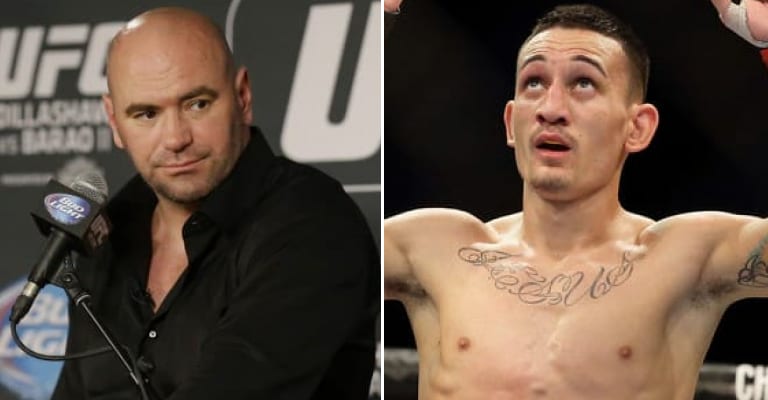 The MMA world was dealt some disappointing news late last night when it was revealed that UFC featherweight champion Max Holloway had been forced out of his anticipated title bout versus Brian Ortega in the co-main event of this weekend's (Sat., July 7, 2018) UFC 226 from T-Mobile Arena in Las Vegas, Nevada.
"Blessed" was diagnosed with concerning concussion-like symptoms, making two trips to the hospital after pulling out of an unprecedented third title fight in 2018 only seven months into the year. Former UFC middleweight champion Michael Bisping was one of the first to notice Holloway's symptoms and publicly say something, questioning "Blessed's" health during an interview on last night's UFC Tonight.
The UFC tried to find a replacement opponent for Ortega on short notice, but "T-City" understandably wouldn't fight unless it was for the title, so the UFC reportedly tried to book former lightweight champion Frankie Edgar opposite surging featherweight Jeremy Stephens, but "The Answer" simply couldn't make it in time.
So UFC 226 was left without its awaited featherweight title fight, but more importantly, Holloway was left with some serious questions about his health. Speaking up about the sensitive topic at today's UFC 226 pre-fight press conference (via MMA Fighting), UFC President Dana White discussed Holloway's health and when he may return to fighting while noting that "Blessed" clearly wasn't fine like he said he was:
"It's a weird situation. I was talking to Jeff Novitzky in the back and there's a couple of different — some people think it's concussion-related and some people think it's weight cut-related, so they haven't really got down to the bottom of what it is. But according to him he feels fine but obviously he's not fine. So we're going to continue to try to figure out what's wrong with Max Holloway.

"In the meantime, there's no way that this guy is going to fight anytime soon."
White dove into detail about exactly what measures the UFC was taking to find out what was wrong with one of their previously most active champions, confirming they would go to any length to figure out a solution:
"We're running him through every test there is. … He needs go to the Mayo Clinic or one of these types of places and do a full — yes, we will take care of Max Holloway and he'll go through every type of testing there is until we can figure out what's wrong with him."
The outspoken exec also discussed Stephens' insistence to fight on the card, but with Ortega officially off of UFC 226, he said something else would have to be figured out:
"Literally, Jeremy Stephens will not stop blowing me up, he wants this fight so bad, he said he'll take it on short notice," White said. "He's cutting weight already with the hopes that Ortega will accept the fight. Ortega has turned down the fight, so I don't know. We'll see what happens."
Finally, with high-profile UFC main events seemingly affected by weight-cutting issues, injury, or both every pay-per-view event, White discussed the measures the UFC had taken to prevent that from happening at their Las Vegas-based Performance Institute, but it was impossible to fully prevent it:
"It's impossible. It's impossible to ensure what happened to Holloway doesn't happen. Listen, you're dealing with human beings. People get sick, things happen, it's unfortunate, but it happens. There's nothing we can do about it.

"We've done everything you could possibly try to do to make these guys healthier, to give them a safer place to train, eat the right foods, we have a restaurant at the PI where they can eat for free and we've done everything that we can possibly do to try and limit this."
If you enjoyed this story, please share it on social media!