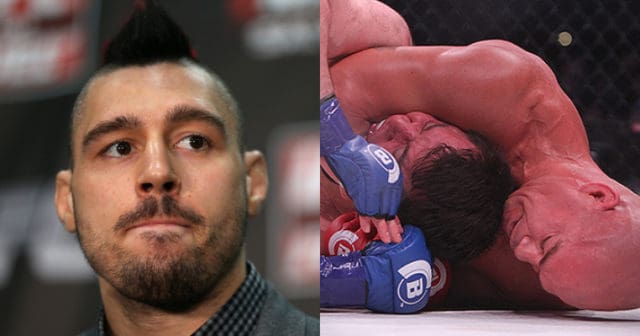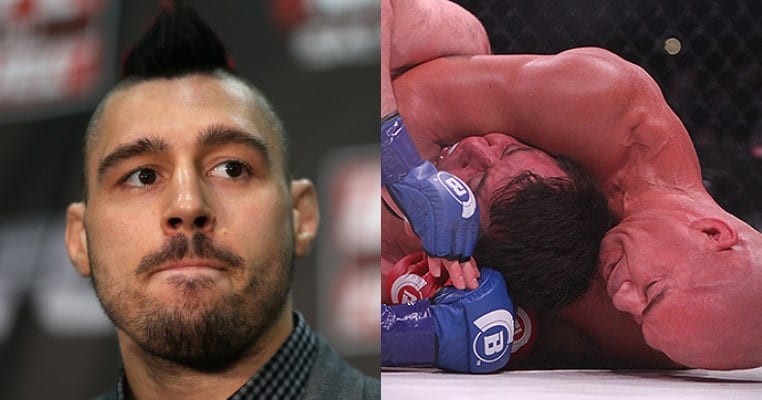 Rumblings of fight fixing since the Bellator 170 main event aren't just coming from fans…
At Bellator 170 we saw the end of Tito Ortiz's 20-year MMA career. Facing Chael Sonnen in the main event, 'The Huntington Beach Bad Boy' managed to turn back the clock once again. The former UFC light-heavyweight champion had seen hard times over recent years. Suffering a brutal drought in his later UFC run, Ortiz added one final notch to his four-fight Bellator career. Submitting 'The American Gangster' in round one, Ortiz gave an emotional speech before leaving his gloves in the cage in retirement.
Although his symbolic gesture was met with tribute and applause, his win has not been without debate. After the finish, a number of videos began circulating, focusing on the final grappling exchanges of the fight. Speculation about certain movements when Sonnen was attempting a choke was pointed out by conspiracy theorists. Essentially, fans were claiming the fight was a work, a fix, and it wasn't just a handful. Joining in on the debate is none other than former UFC welterweight and analyst Dan Hardy.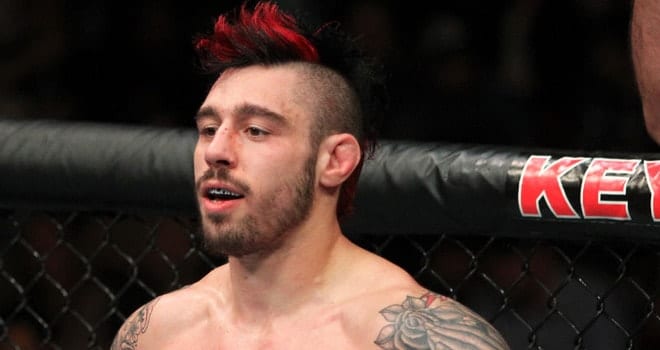 The Outlaw Is Not Impressed
Following the Bellator 170 main event, 'The Outlaw' sent out some interesting Tweets:
The #Bellator170 main event was more choreographed than a Brittany Spears music video. Shame really… It might have been a fun fight.

— Dan Hardy (@danhardymma) January 22, 2017
He works for and is invested in Bellator, so his income is based on the success of the promotion, not of his fight. https://t.co/L2NortS6Dz

— Dan Hardy (@danhardymma) January 22, 2017
I don't know… it looked like he laid down on that first single leg attempt from Tito! ???? https://t.co/f9gwFZbSOI

— Dan Hardy (@danhardymma) January 22, 2017
Thoughts
Without being accusatory, this isn't the first time we've noticed something up with Bellator main events. Not necessarily the legitimate fights, but the 'showcase' bouts. Looking back at Kimbo Slice vs. Ken Shamrock and Shamrock vs. Royce Gracie, both were met with massive speculation as to their authenticity. With so many real talents growing in their rankings, why is Bellator wasting time with fights that make them look bad?
Whether you think any of their marquee bouts are fixed or not, shouldn't BMMA be focusing on legitimacy in the battle vs. the UFC? We've been saying it for quite some time now, but the UFC's little sister needs to grow mature sooner or later.