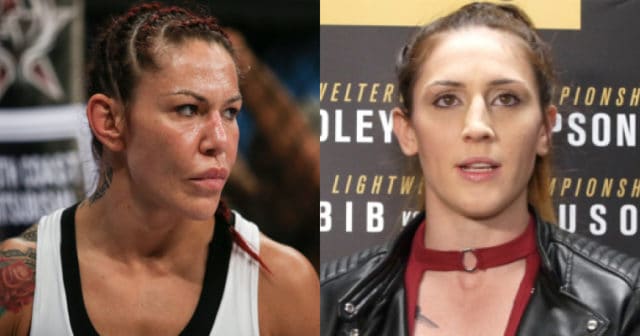 Less than three months after the inaugural UFC women's featherweight champion was crowned when Germaine de Randamie outlasted Holly Holm with a controversial decision at February's UFC 208, no single UFC division – even the middleweight – is currently wrought with more uncertainty.
De Randamie has gone absolutely radio silent in the months since after citing a need for hand surgery from a nagging injury, prompting many to suggest she's simply running from the consensus top pound-for-pound fighter in women's MMA, former Invicta FC featherweight champ Cristiane "Cyborg" Justino.
With "The Iron Lady" out of action, Cyborg recently agreed to a bout with current Invicta featherweight champion Megan Anderson at July 29's UFC 214 from Anaheim, California, when the rising Aussie star called for it during an appearance on "The MMA Hour." And the two women aren't letting up, as Anderson continued her push for what would be the biggest UFC debut possible on Instagram last night:
Cyborg was quick to respond to Anderson's suggestion she would be her "huckleberry" on Twitter, pressing her employers by asking her fans to voice their support for her to finally fight a bigger opponent:
For all the fans finally wanting to see me fight a bigger girl let the @ufc know you want #CyborgVsAnderson for #ufc214 #UFCAnaheim https://t.co/eUSGImaRRb

— #UFC214 #LetsGoChamp (@criscyborg) May 3, 2017
While nothing has been announced, it seems like a no-brainer for the UFC to create yet another interim title for Cyborg and Anderson to fight for, especially if de Randamie isn't willing to defend the title.
It comes at a time when the UFC is truly struggling for a high-level bout as the packed summer schedule draws near without a true top bout to headline any of July's two pay-per-view events. Justino has also been voicing her frustration with the UFC and their promotion of her, calling for them to book her in a fight or cut her.
True, she turned down the original title bout with Holm and may not be all that "easy to work with," but there's no denying Cyborg is one of the most controversial and recognizable stars that will actually fight in the UFC during this disastrous start to 2017 for the promotion.
UFC 214, which is centered near Cyborg's adopted US home, has also been rumored to feature the long-waited Daniel Cormier vs. Jon Jones rematch, a fight UFC President Dana White has repeatedly stated won't headline a card due to "Bones'" frequent problems with making it to feature bouts lately. Justino had recently voiced a willingness to face de Randamie on the card but nothing came to fruition.
Not many fights could conceivably headline above Cormier vs. Jones II, but Cyborg fighting for her first UFC title is certainly one of them.
If you enjoyed this story, please share it on social media!