Cris Cyborg feels that she is the true pound-for-pound best female mixed martial artist in the world, and she has the stats to back it up.
Justino was in attendance during this past weekend's (Sat. February 11, 2017) inaugural women's featherweight title bout between Holly Holm and Germaine de Randamie at UFC 208, and is likely to challenge the new Dutch champ after her unanimous decision win over 'The Preacher's Daughter".
During a recent interview with FOX Sports, Cyborg stated that regardless of who is currently holding the title at 145 pounds, mixed martial arts (MMA) fans know who the true champion of the division is:
"ESPN and FOX Sports both have me ranked No. 1 pound-for-pound in women's mixed martial arts. I haven't lost in 10 years," Cyborg said. "Until someone beats me I am No. 1 in the world no matter what belt is around my waist."
The UFC's original plans preferred Cyborg to be a part of the inaugural 145-pound title contest this past weekend, but the Brazilian knockout artist turned the bout down on multiple occasions due to the inability to make weight on time. Now Justino finds herself in a battle with the United States Anti-Doping Agency (USADA) for a potential violation.
While in attendance at the Barclays Center this past weekend and watching De Randamie take home the featherweight crown, however, Justino was not disappointed that she was cage-side rather than inside the Octagon for the historic moment; but happy that the division has finally found its way to the UFC:
"I was not ready to fight Feb.11th. Germaine is a great fighter and a win over Holly only helps increase her star power," Cyborg said. "It wasn't disappointing to be sitting cage side, I was excited because the UFC has made the division. I am ranked No. 1 in the world at 145-pounds and feel confident the fans know that too."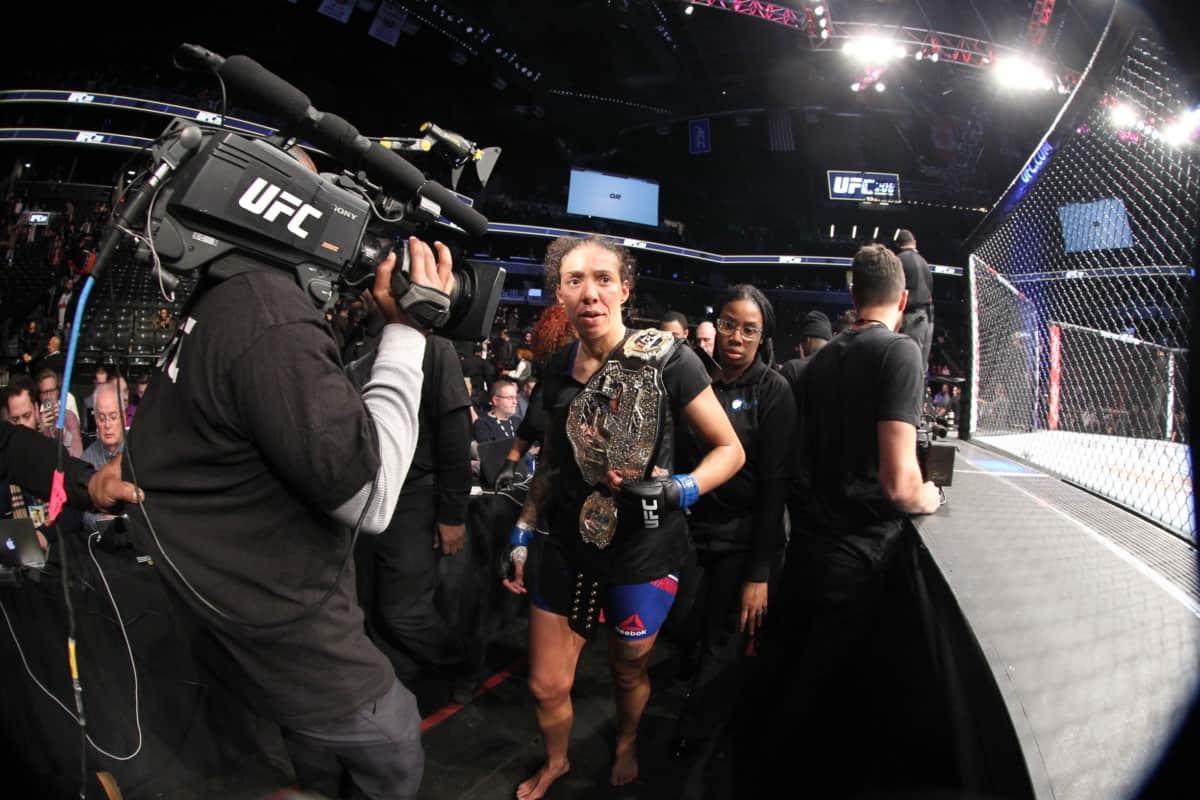 De Randamie took home a controversial unanimous decision win over Holm after delivering late punches after the horn that signaled the round's end, on two separate occasions. The referee failed to deduct a point from 'The Iron Lady' for the late shots, and given that each judge scored the contest 48-47 for De Randamie, the contest could have arguably ended in a draw had a point been taken.
As for how Cyborg had the bout scored, she believes the judges made the right decision in giving the former muay thai champ the nod:
"I had Germaine de Randamie winning. It was a close fight but the damage done by significant strikes by de Randamie made the difference in my opinion," Cyborg said. "Holly needed to chain her wrestling transitions better to get that takedowns."
After the contest De Randamie claimed she will need some time off to get surgery on her injured hand before making her first title defense. Cyborg is happy to give the featherweight champ the time she needs to recover, and already has an opponent in mind that she'd like to step into the Octagon with next to keep her busy:
"I am ready to enter fight camp now. If [de Randamie] is injured and can't fight I would like a chance to fight Megan Anderson," Cyborg said. "She is an interim champion for the belt I own and calling out fighters in the UFC.

"It only makes sense if [de Randamie] is not ready to fight that the UFC would offer her a contract and a chance to fight me on the biggest stage, inside the UFC octagon. I think it would be a great addition to the June event in Rio if she's ready to fight."
When asked why she turned down the two opportunities to compete for the inaugural featherweight title before, Cyborg revealed that her body was not ready to go through another vigorous weight cut so soon once again:
"I needed to give my body time to recover from my past two weight cuts. I've given my body a proper off season allowing it to recover and am ready to start training camp soon," Cyborg said.

"My USADA situation is still ongoing and at this time I have no comment, but am hopeful my lawyer and doctors will resolve this and are cooperating fully with USADA."

"Let's go champ," Cyborg said.
Do you think Cyborg will win her case against USADA? Who do you think we'll see her fight next upon her Octagon return?