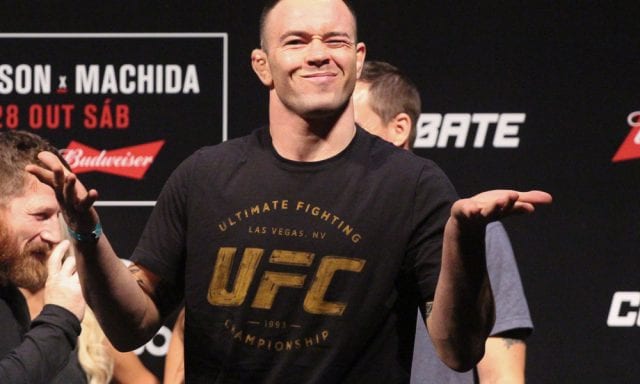 Colby Covington has countered UFC welterweight champion Tyron Woodley's recent wager offer.
Recently, Woodley offered Covington $20,000 for every time he tries to take "Chaos" down in their potential fight. Also, he wants $10,000 everytime Covington attempts to take him down. He wanted to prove a point and make it known he intends to strike with Covington if they're locked inside the cage.
Covington told MMA Junkie Radio his response to Woodley's wager. He said he'll give Woodley $10,000 for every punch he throws, suggesting "T-Wood" will only be able to swing on him five times:
"What I make of it is, I'm going to counter him and I'm going to bet him on MMAjunkie Radio that I'm going to give him $10,000 for every punch he throws – all five of them," Covington said.
Woodley Procrastinating?
Covington won the interim UFC welterweight title over the summer at UFC 225. He defeated Rafael dos Anjos and seemingly set up a fight with Tyron Woodley at some point down the road. However, issues from both sides prevented the fight from happening right away.
"Chaos" said that he is ready to step into the cage with Woodley, and is simply waiting for the welterweight champion to sort things out on his end:
"We're just waiting on Woodley," Covington said. "That's literally what we've been waiting on for the last year. He's been faking injuries. He had his fake shoulder surgery – but he was good to fight Nate Diaz during that time. Now he says he was good to fight me at (Madison Square) Garden (at UFC 230 in November). By the way, I was ready to defend my belt three months (after UFC 225) in the Garden, but all of a sudden he couldn't fight in the Garden a week after negotiations got going.

"He was out and said his thumb was hurting – that's fake news, as well, and he's faking injuries again. We're just waiting on Woodley. Whenever he wants to go, whenever he wants to tell the people – he lies and says fake news to the media – I'm ready to go whenever Woodley wants to go, and this needs to happen.

"If it doesn't happen, it's Woodley's fault."