Conor McGregor's Team Concerned About Khabib Missing Weight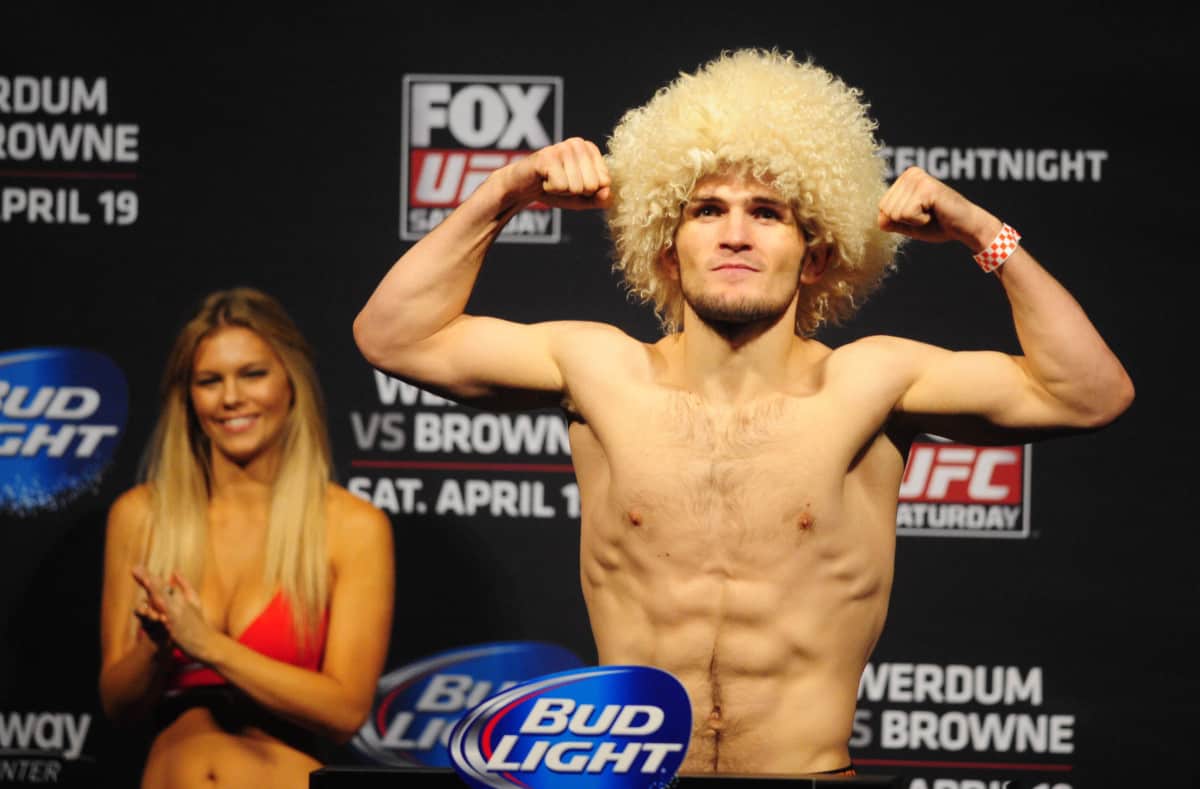 Heading into next weekend's (Sat., October 6, 2018) anticipated UFC 229 from Las Vegas, Khabib missing weight is a concern.
It's a valid one, as well. He missed making weight for his scheduled interim title fight against Tony Ferguson before March 2017's UFC 209. The undefeated champion was hospitalized. He required a lengthy recovery period before he fought again.
'The Eagle' bounced back strong, however, demolishing Edson Barboza at UFC 219 last December. He then dominated Al Iaquinta to win the gold at April's UFC 223. The win earned him a shot at former champion and archrival Conor McGregor at UFC 229. The match is being touted as the biggest in UFC history. It may just be.
Weight Concerns
But the fight is from a certainty to actually transpire. It could be stated that every fight involving Khabib is somewhat questionable until the cage door closes. McGregor's striking coach touched on that dynamic on the Eurobash podcast (via MMA Fighting). Roddy said Khabib missing weight is definitely a concern the week of the title match:
"It could be a concern, yeah. It has happened before. Don't focus on what is out of your control, you can only focus on what you have control over. We don't know what could happen, anything could happen."
If the fight were somehow cast aside due to Khabib missing weight, Team McGregor is ready. Roddy said they went through a last-minute change when Jose Aldo was hurt only weeks before 2015's UFC 189. They made it then, and Roddy insists they'll do the same now as well.
The most important thing was to get McGregor back doing what he does best, and that's fighting:
"We had that happen with Aldo a couple of years back, we had a last-minute change with Mendes. It didn't really affect us. We went straight back in, made a couple of minor adjustments, we went in and we done what we needed to do.

"Anything can happen in the fight game, but we can only focus on what we have control over and that's getting Conor prepared, getting him focused on getting back in the cage and doing what he does best — that's what we're focusing on."
McGregor Improving?
That could be the most difficult task. McGregor has been out of action since his November 2016 win over former champion Eddie Alvarez. His last bout was a TKO loss to Floyd Mayweather in boxing last August.
The Irish megastar is 2-2 in his last four fights overall. Despite that fact, however, Roddy insists McGregor is actually a better fighter than we last saw. He hasn't fought in MMA in nearly two years, but continues to get better regardless:
"It's familiar, it's back to the same kind of feeling as always. He's always cool, calm and calculated, he's intelligent when he's in there — knowing when to throw and when not to throw. It's like it's back to normal again.

"Conor has obviously improved with his hands, they're a lot sharper. His wrestling, his jiu-jitsu too, he hasn't stopped training. He hasn't fought, but he hasn't stopped improving over the past two years since he [last] fought in the Octagon. He's a far better fighter, but he still has that same mentality. He's still as sharp as ever, he's still intelligent in there as always. I'm just excited to see him back in there."
One of the biggest dynamics of the potentially historic match-up with Khabib is where McGregor truly is at in terms of skillset. He's facing most likely his toughest test in the undefeated Dagestani grappler.
While Roddy says his hands are improving, it's his takedown defense that will have to be on point in Vegas. Has McGregor improved enough in that department to stay upright and knock out Khabib?
We'll find out next weekend.