Now former two-division UFC champion Conor McGregor is far and away the biggest star in the history of mixed martial arts (MMA), and because of that, every move he makes lights up the MMA community.
However, some of those actions – especially recently – have been a bit more outlandish than others.
Just last week, McGregor made headlines when he essentially invaded the Barclays Center following a media day for UFC 223 last Saturday (April 7, 2018) in Brooklyn, New York. The situation could potentially impact McGregor's fighting future moving forward.
Regardless, it was this action that led us to consider the craziest incidents McGregor has taken part in outside of the Octagon.
Without further ado, let's take a look at the top five: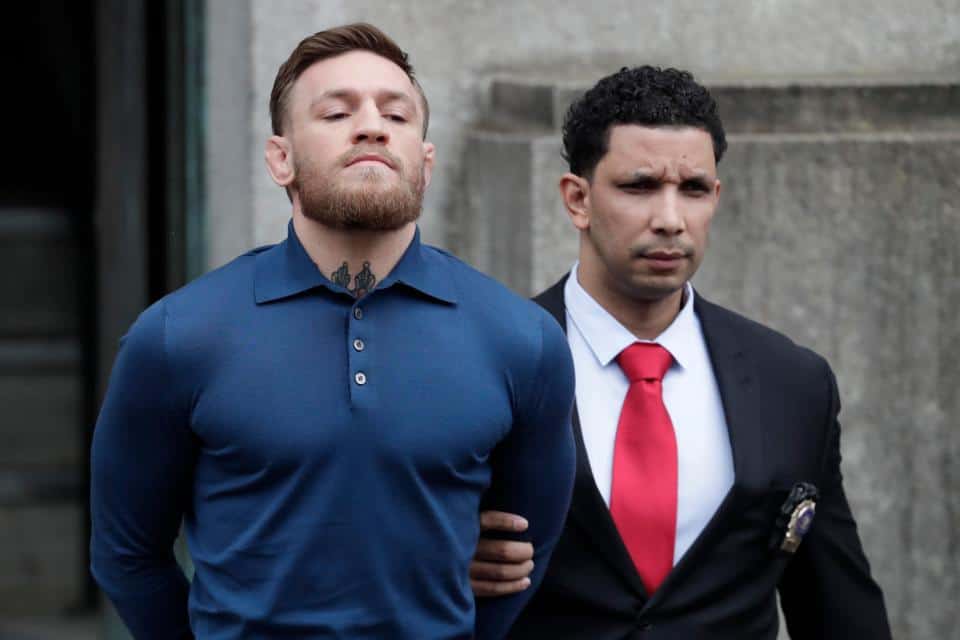 1) Barclays Center Bus Tirade:
Early on during the UFC 223 fight week, Khabib Nurmagomedov, who now holds the UFC lightweight title, and a group of teammates essentially got into an altercation with Artem Lobov, a UFC featherweight and close friend and teammate of McGregor's who was by himself in a hotel in New York.
Following the incident, McGregor and an entourage hopped on a plane in Ireland and flew to New York for what many believe was to confront "The Eagle".
Upon his arrival, footage surfaced of McGregor and company running around a lower deck of the Barclays Center where a bus transporting fighters was located. McGregor can be seen banging on the bus before throwing a dolly through one of the windows, which caused Michael Chiesa and Ray Borg to suffer injuries that forced them off of the card.
Ultimately, the situation ended up with McGregor turning himself into New York police and being arraigned on assault charges in a Brooklyn court Friday morning.
He will next appear in court in June.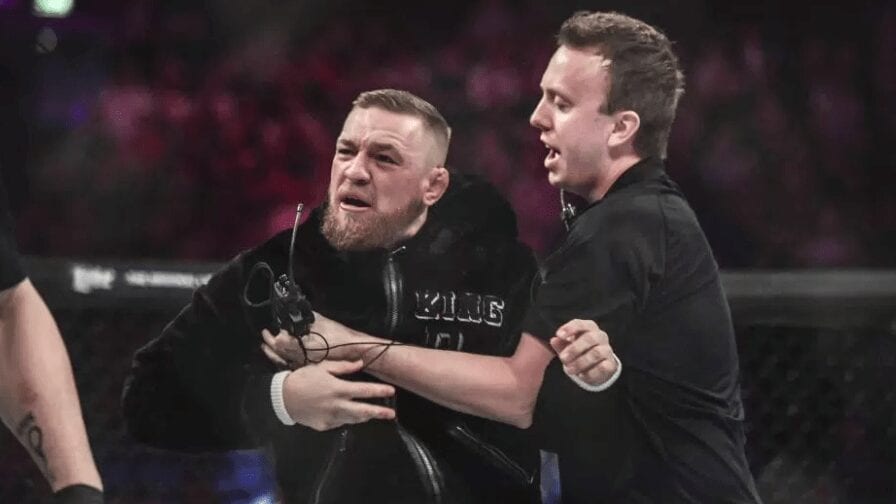 2) Storming The Cage At Bellator 187
This past November McGregor was in attendance at Bellator 187 in his native Dublin to support a few of his teammates.
Things went south, however, after McGregor stormed and entered the cage following a knockout victory for Charlie Ward, one of his friends. It's assumed that McGregor was just trying to celebrate the victory, but he wasn't a licensed cornerman, which led security to swarm him upon his entrance into the cage.
He then went after referee Marc Goddard, who attempted to break up the situation, and could be seen yelling in the direction of the referee.
To make matters worse, McGregor was also caught on camera slapping a Bellator official who attempted to stop him from entering the cage.
McGregor didn't end up receiving a punishment for his actions, but this certainly ranks as one of his craziest outbursts.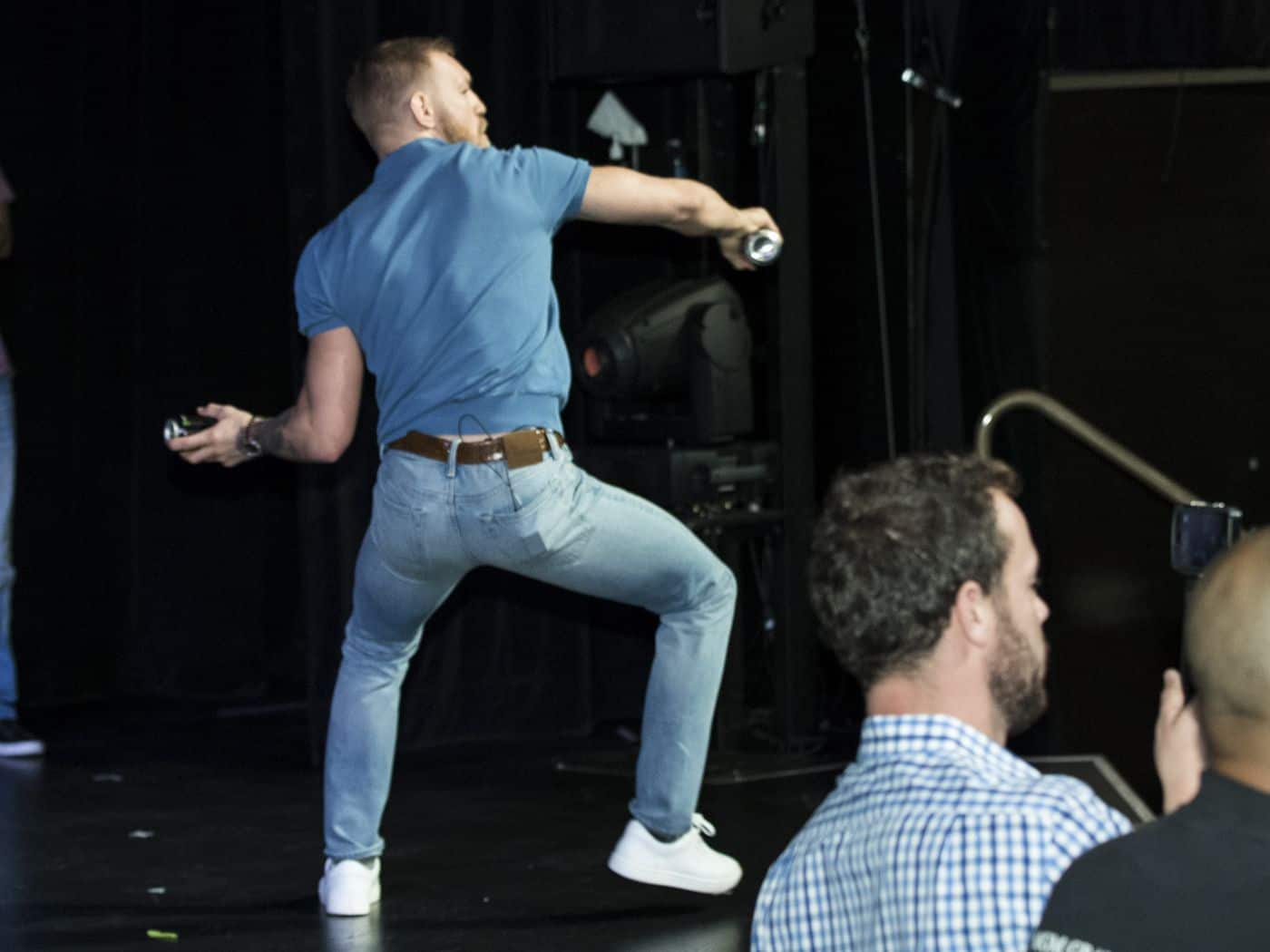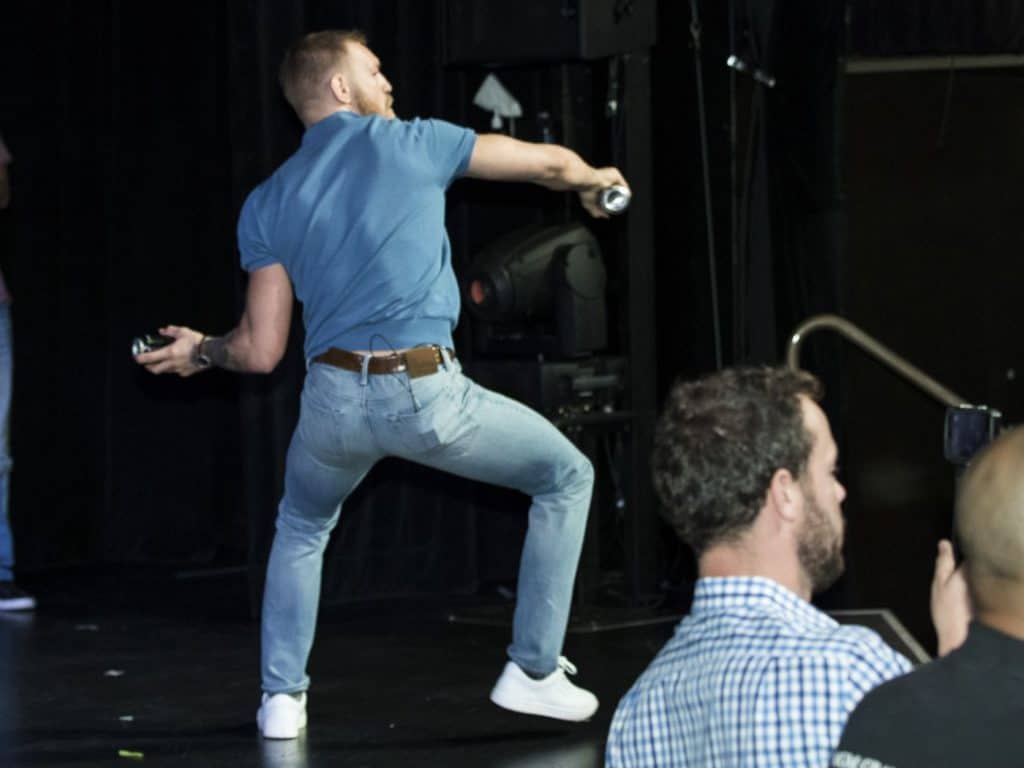 3) Bottles Fly At UFC 202 Press Conference
The rivalry between McGregor and Nate Diaz ranks as one of the most iconic in the sport's history, and it reached its boiling point at a UFC 202 pre-fight press conference prior to their rematch in August 2016.
Following Diaz's shocking submission victory over McGregor at UFC 196 in March 2016, the bad blood between the two was at its height. To go along with that, McGregor's tardiness to the UFC 202 pre-fight press conference didn't please Diaz.
Ultimately, Diaz got up and left upon McGregor's arrival. McGregor and Diaz's team began exchanging words throughout the room before the two sides started firing bottles and cans at each other. It was reported that multiple bystanders were hit and UFC President Dana White shut down the press conference immediately.
Both men were fined by the Nevada State Athletic Commission (NSAC) for their actions.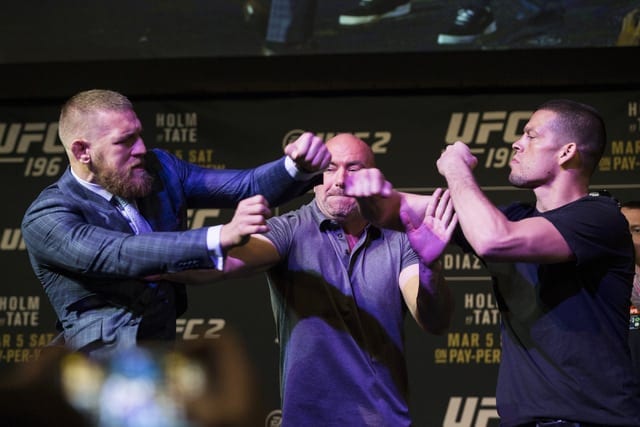 4) McGregor Throws Punch At Diaz Prior To UFC 196
Although Diaz accepted the first fight with McGregor on extremely short notice, the tension was high between the two ahead of UFC 196.
In the final pre-fight press conference, the two traded verbal barbs before White squared them off where things escalated.
During the staredown, McGregor elected to throw a punch at the hand of Diaz. Diaz's team immediately jumped on stage where White and security quickly intervened. A small scuffle took place, but no major damage was done to either fighter.
However, more verbal shots were tossed around including McGregor telling Diaz's teammate, Jake Shields, he would 'strangle' him in a heartbeat.
The altercation likely helped pay-per-view (PPV) sales, but it was just another brash outburst from the Irishman.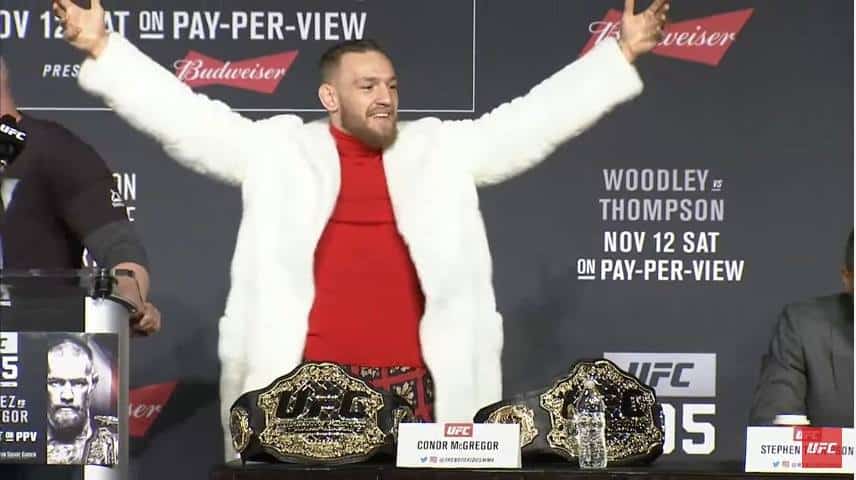 5) UFC 205 Press Conference
At UFC 205 on Nov. 12, 2016, from the famed Madison Square Garden, McGregor took on Eddie Alvarez in hopes of becoming the first fighter in promotional history to simultaneously hold two titles in two different weight divisions at one time.
As is the case with any McGregor fight, the trash talk was rampant ahead of the fight, but things almost got out of control at a pre-fight press conference.
As he often is, McGregor was late, which promoted Alvarez to leave. When McGregor arrived, he took Alvarez's belt and placed it in front of him, which didn't make Alvarez happy when he returned.
Ultimately, the two began exchanging verbs before McGregor attempted to not only throw a chair at Alvarez but charge towards him as well. White was lucky enough to get in the middle of it, or matters could have seriously gotten out of hand.
It may not have been the craziest, but it was certainly a wild scene.