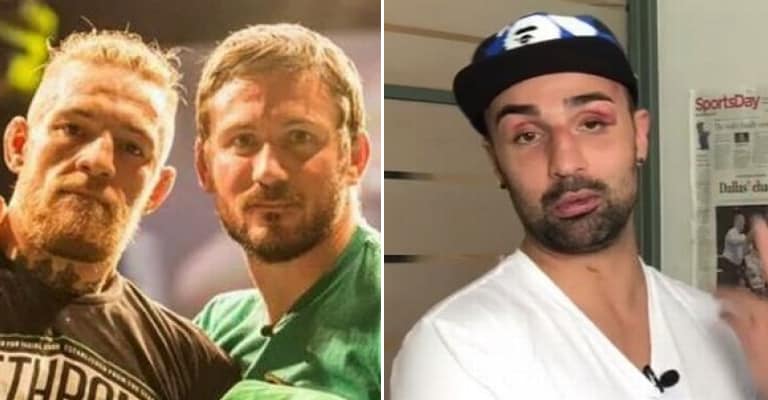 In the hours right after his media workout from the UFC Performance Institute in Las Vegas, Nev. yesterday, another veritable windfall of news has surfaced surrounding Conor McGregor's ongoing drama with former boxing champion Paulie Malignaggi.
The fire was taken to a new level late Friday night when Dana White released footage of the sparring session in question where Malignaggi was rumored to have been dropped by McGregor, photos of which caused Malignaggi to leave the lightweight champion's training camp for his super fight with Floyd Mayweather Jr. and go on a literal tour of McGregor-blasting interviews.
The footage has certainly shed some light on the uncertainty of if Malignaggi was dropped, even if he may have been falling off balance in the clip. The bad blood has begun reaching another pinnacle of tension, but McGregor's longtime coach John Kavanagh offered a different point of view in an interview with MMA Fighting's Ariel Helwani after the media workout.
To him, he's not paying attention to all of the noise and media coverage, yet is actually thankful to have had a professional like Malignaggi to spar with his pupil:
"I haven't actually seen anything. You're scrolling through news articles and I've seen he's obviously done quite a few I've genuinely not watched one. The only thing I would say is I was very grateful to have him here, we got two great spars out of him. I'm very confident in Conor's skills, but the engineer in me would have to be honest and say I hadn't seen him spar a high-level boxer until I saw him spar Paulie, and it was nice to be confirmed that I was very sure his technique and skills would cross over to this area, and that only confirmed it for me, so I'm very happy with Paulie; I'm very glad he was part of the team.

"To be honest, I expected to get two good spars out of him anyway. The fact that it went sour and he's unhappy; well, what comment can I make on that? That's up to him. And I've literally not watched one of his 50 interviews."
Found of Dublin, Ireland's Straight Blast Gym (SBG), Kavanagh made it a point to align his allegiance with MMA, a sport that's obviously brought McGregor his massive fame. His passion of MMA is one that Kavanagh isn't worried "The Notorious" will return to despite rumors suggesting he will retire after netting a rumored $100 million payday against Mayweather.
He knows Malignaggi is angling for a fight with McGregor, but Kavanagh wants his top fighter back in the octagon before the year is up:
"I don't pay too much attention to worry. Conor loves fighting, and Conor he loves mixed martial arts. He's of course going to have a nice bank account when this is all over with, but you can only drive you car at a time, you can only have one meal at a time, and fighting is in his heart, it's in his blood. I have no doubt he'll be back in the cage."

"Well, I have seen those articles and those headlines, and that seems to be Conor, he goes from one major fight to the next. I would hope it would be MMA next. But yeah, look, MMA's my love, MMA's my passion, I want to see him back in the UFC before the year's over."
As for the nefarious sparring session, Kavanagh stated that he believed the footage would be released by rounds after the fight before admitting while he was no expert in boxing, it did seem that McGregor did knock Malignaggi down in the video:
"As far as I'm aware, the rounds will be released after the fight. Obviously after the fight. We're hardly gonna release 12 rounds of homework before the fight. But, I won't claim to be an expert of boxing, but I saw him get hit in the head and fall down, so that to me looks like a knockdown."
Kavanagh was then asked about the reported change to eight-ounce gloves for McGregor's fight with Mayweather, something he believes would benefit their team:
"Oh, the lighter the glove, the better for us."
You can watch Kavanagh's full interview with Helwani here: