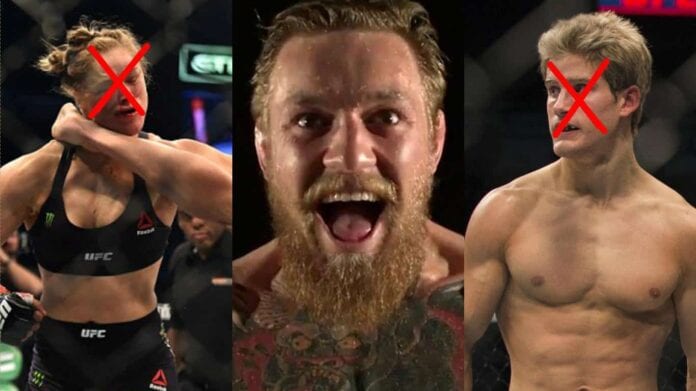 Mixed martial arts (MMA) is just as much based on business, marketing, and promotion, as it is on actual fighting inside of the Octagon.
With that being said, we often see certain fighters receive huge promotional pushes from the Ultimate Fighting Championship (UFC) simply because they possess the looks, the charisma, or the media power in order to become a mega star.
However, these fighters don't always have what it takes to succeed in the cage, or in other words, live up to the massive hype that has been placed on them.
Of course we have seen tremendously promoted combatants rise through the ranks, and demolish competition on their way to the superstardom the UFC had paved for them.
In just the last few years, we have seen many young up and coming fighters pushed by the UFC, noting four in particular.
The interesting part here, however, is that only one remains on top, at least for now.
Let's take a closer look: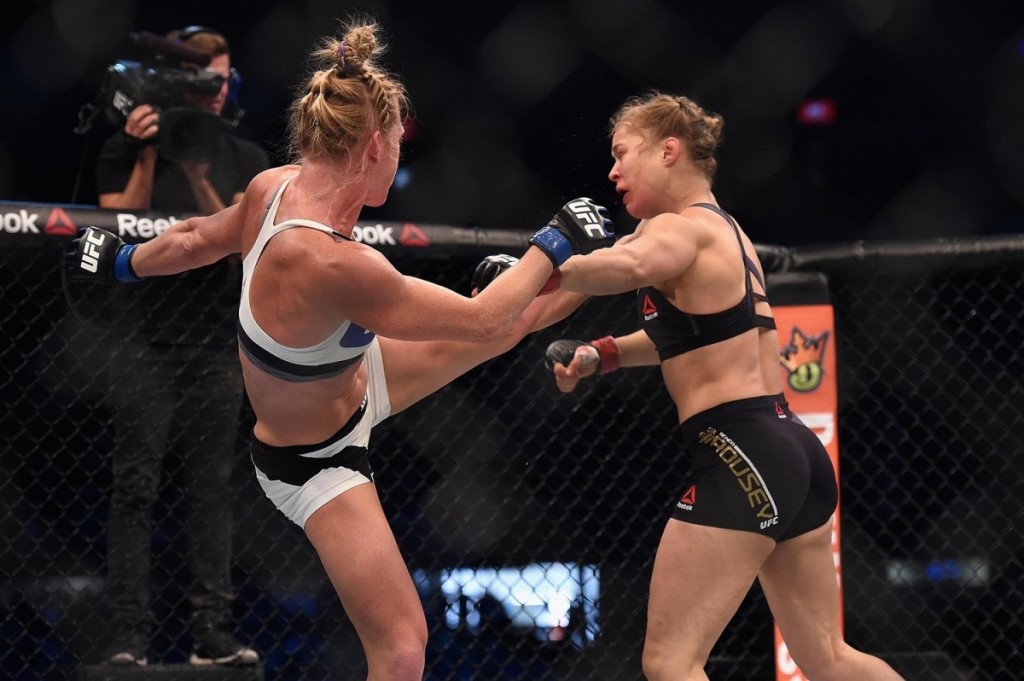 Ronda Rousey
We all remember UFC president Dana White's classic line indicating that women would never fight in the UFC, right?
Well, then came "Rowdy" Ronda Rousey, an outspoken former Olympian who would not only change women's MMA, but MMA in general forever.
Reigning as the Strikeforce women's champion, the "Rowdy" one would become the inaugural UFC women's bantamweight champion when the promotion purchased Strikeforce in 2013.
Rousey would quickly run a demolition course through the 135 pound division, securing six consecutive victories all in brutal stoppage fashion.
She had done all of this in just over two and a half years. That wasn't all, however, as Rousey's star power would sky rocket during this time. The "Rowdy" one would transcend into other multi-media platforms like no other fighter before her.
Whether it be writing books, filming movies, appearing on talk shows, or modeling for Sports Illustrated Swimsuit, Rousey had become a global phenom, and was being billed as the UFC's biggest star.
The hype and promotion all came crashing down on her in her last title defense, however, as she was shockingly battered and viciously knocked out by Holly Holm in the main event of last November's UFC 193.
While Holm has a decorated background, no one had anticipated what was coming.
It seemed as if the pressure had finally become too much for the former Olympian.
While recently expressing interest in a rematch with Holm, Rousey has made it clear that she will be taking some time off, and some have even speculated on if we've seen the end of the "Rowdy" one.
Was it the over promotion, and the insane amount of hype that caused the downfall of Rousey? Was Holm simply the superior?
It's hard to tell.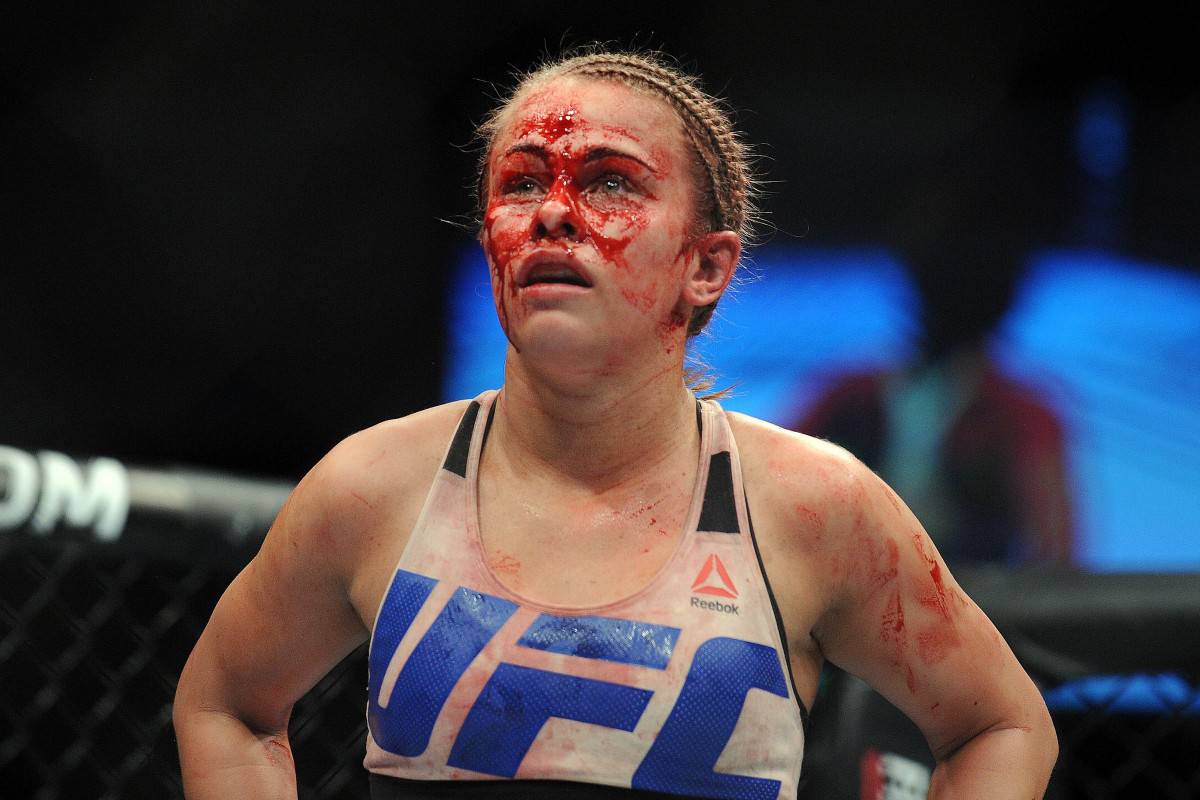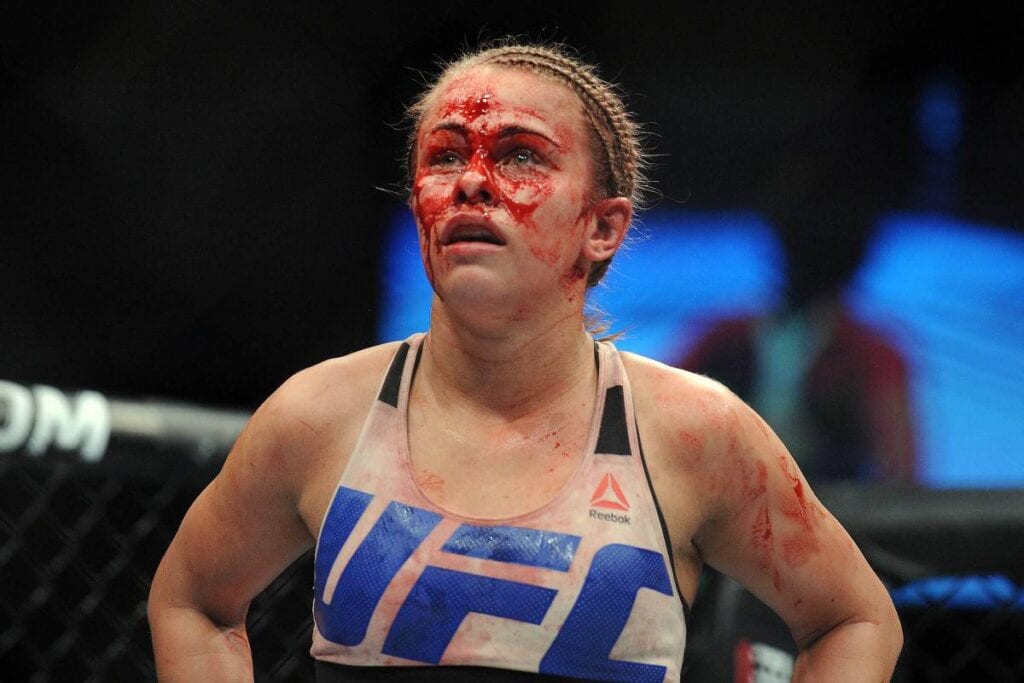 Paige VanZant
Like Rousey, 21 year old Paige "12 Guage" VanZant was being primed as the next big thing in the UFC's fledgling women's strawweight division.
She had the looks, the likeable personality, and the athleticism that the promotion longs for.
VanZant would quickly make a name for herself by winning her first three Octagon appearances, two of which came by finish.
Talks of PVZ being the future of the division (which could of course still be very possible) began to run rampant, but she then found herself standing across from former title challenger "Thug" Rose Namajunas at last month's UFC Fight Night 80.
"Thug" put a brutal stop to VanZant's hype train, leaving "12 Guage" beaten and bloodied before finishing her off with a submission in the final frame.
It was made clear that while she has many of the tools needed to be a star, there are a few things still missing in the skillset of VanZant, which ultimately means most.
Was it too much too soon for PVZ?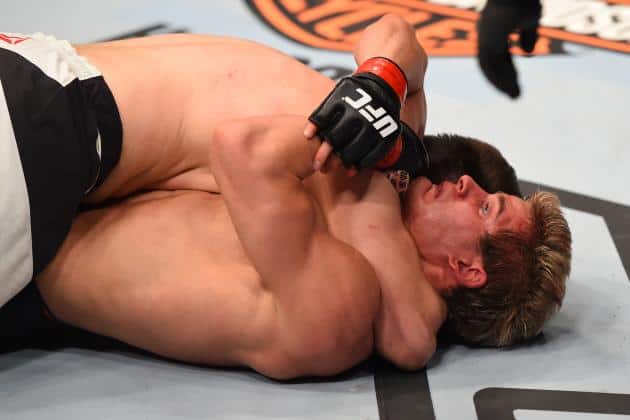 Sage Northcutt
Like VanZant, "Super" Sage Northcutt is an extremely young fighter at 19 years of age who quickly became a household attraction.
Appearing on the premier episode of Dana White's "Lookin' for a Fight" a few months back, Northcutt burst onto the scene with a 57 second massacre of Francisco Trevino at UFC 192 in October. He would then follow that up with a submission victory over Cody Pfister at UFC Fight Night 80, quickly compiling a 2-0 UFC record.
With the physique of a model, and a different yet intriguing personality, the UFC wasted no time pushing the young gun on his way to stardom.
However, the promotion may need to take a step back. Northcutt returned to action last night (January 30, 2016), taking on late replacement Bryan Barberena on the main card of UFC on FOX 18.
Fighting on the grandest of stages, Northcutt would crumble, suffering a second round submission in the second round.
In the aftermath of the bout, many have criticized Northcutt's submission defense and training strategies.
Of course at such a young age the future remains extremely bright for "Super" Sage, but once again, it may have just been too much too soon.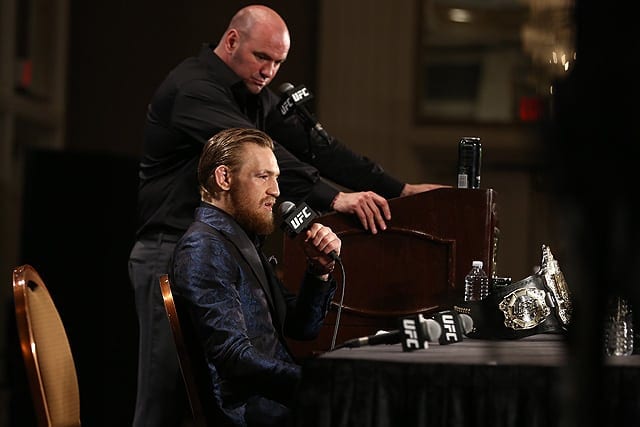 Conor McGregor
The fourth and final notable UFC hype train constructed over the last few years happens to be the only one left standing, and it would be none other than UFC featherweight champion and Irish superstar Conor McGregor.
With his relentless trash talk and brutal knockout power, the UFC knew they had a star on their hands with the "Notorious" one.
After scoring five of his first six UFC wins by way of knockout, McGregor was given a title shot against long-time champion Jose Aldo.
Although he had obviously proved himself inside of the cage, the Irishman was criticized for being protected by the UFC and for being protected from wrestlers. Many had thought his hype would come to an end against Aldo.
This time, however, it wasn't too much too soon. It was perfect timing.
McGregor would go out and put "Scarface" to sleep with one left hand just 13 seconds into their UFC 194 main event to become the undisputed 145 pound king.
Now scheduled to meet lightweight boss Rafael dos Anjos in the main event of March 5's UFC 196, the "Notorious" will attempt to become the first man in promotional history to simultaneously hold two titles.
Seemingly having the world at his fingertips, the Irish superstar has relished under the spotlight, and has remained on top because of it.
Can he keep it rolling?