Conor McGregor: 'Jose Aldo, Show Up And Fight Like A Man!'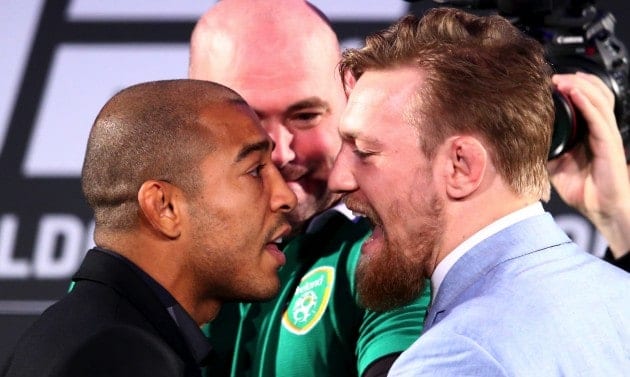 UFC featherweight champion Jose Aldo is in a very difficult position right now, trapped between a rock and a hard place in the form of a rib injury and Conor McGregor at UFC 189. 'Scarface' was originally reported as out of UFC 189 with an injured rib, the news was later downgraded to a bruised rib, before a conflicting report suggested that the rib is fractured and a decision will be made soon to decide the fate of the UFC 189 main event.
With July 11th rapidly approaching, the UFC made secondary plans with two-time featherweight title challenger Chad Mendes. The champ has stated that he still intends to fight against 'The Notorious' on the Las Vegas, Nevada based card, but it's clearly in the hands of the promotion's medical team now. McGregor has warned Aldo that he won't be aiming for his ribs, rather his chin, and continues to bash the champ verbally in an interview with Jon Anik, via MMAFighting.com:
"Just toughen up and show up," McGregor said. ""Many people have stepped inside the Octagon with little, itty bitty bruises. We all have knocks and bruises. Dust it off and step up. Step up and fight like a man. Fight like the championship you should be."
Of course McGregor will down-play the injury in the media, and do his best to goad Aldo in to fighting at a disadvantage, but truly it won't matter if the doctors don't give the champ clearance to fight. It's against Commission ruling to not disclose an injury, as this guy found out, and Aldo's camp maintain that they didn't leak the news themselves, while at the same time casting serious doubt on whether Aldo is able to compete at UFC 189. McGregor continues:
"There's a lot on the line," McGregor said. "A lot of money, a lot of pride. There should be no reason to pull out of this contest. But if he does, that's on him and I cannot force another individual to step in there. If I ask myself truly, would I like to step in there and face me, I'd probably go running, too. If it's little mini Mendes, we'll smoke him, too."
"I hope Jose shows up and fights like a man,"
Aldo famously fought on after shattering his foot early on against Korean Zombie at UFC 163, and was admitted to hospital shortly after the fight with kidney stones. All that matters little now though, as one of the biggest PPV (pay-per-view) fights ever is in jeopardy. If Aldo is unable to make the date, he will surely lose a gang of cash, or at least postpone it's arrival.
Where is this twisted saga leading to?
#More great articles#
Top 10 Worst MMA Injuries Ever