UFC lightweight contenders Conor McGregor and Islam Makhachev continue to not play nice ahead of the new year.
McGregor continues to recover from the nasty leg injury he suffered at UFC 264 but is planning on a return for some time in mid-2022. He's also already claimed the top spot at the next title shot, a request which Charles Oliveira seemed to entertain on Twitter.
After McGregor poked Oliveira for a fight, Makhachev got involved and roasted McGregor in the process.
This prompted a response from McGregor, who took a shot at Makhachev and the culture in Dagestan in a since-deleted tweet.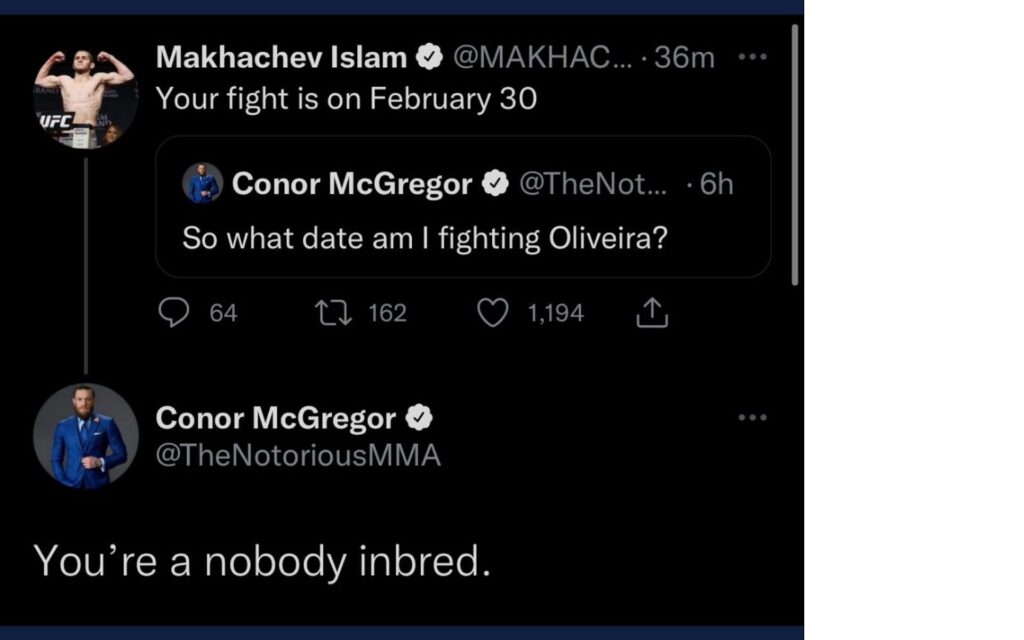 This isn't the first time that Makhachev and McGregor have gone at it on Twitter. McGregor took shots at Makhachev following his win at UFC 267 over Dan Hooker.
Conor McGregor And The Dagestanis Continue Their Feud
McGregor has had various issues with Makhachev and fellow Dagestan-born MMA fighters, including former lightweight champion Khabib Nurmagomedov. McGregor has often crossed the line with trash talk, invoking Nurmagomedov's dead father and also accusing Dagestan of promoting a culture of inbreeding.
McGregor has lost back-to-back fights against Dustin Poirier, with the latest coming via doctor's stoppage at UFC 264. He has a slew of potential opponents for his return, with a slight chance that Makhachev may be a possible fit.
Makhachev is coming off of nine straight wins and is on the fast pursuit to a potential title shot. He's currently slated to face Beneil Dariush in a lightweight showcase and UFC Fight Night main event in February.
If the stars align, McGregor and Makhachev could be on a collision course at lightweight. It's unclear at what weight McGregor will vie to return at, but a matchup with Makhachev could stir things up further.
Who would win in a Conor McGregor vs. Islam Makhachev fight?