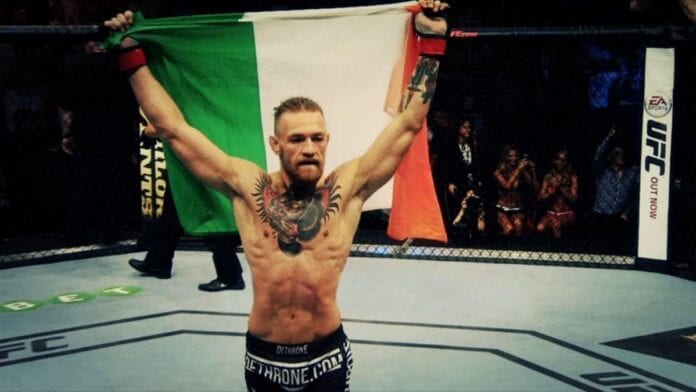 It's difficult to put in to words the spectacle we saw last night, as we may have witnessed the best UFC event of all time, or at least one of the best in recent memory. The card that was being billed as the biggest of the year delivered as UFC 189 went down last night (July 11, 2015) live on pay-per-view (PPV) from the MGM Grand in Las Vegas, Nevada.
The main card was magnificent to say the least, but all eyes were on the main event as hype machine and Irish sensation the "Notorious" Conor McGregor took on No. 1-contender and former title challenger Chad "Money" Mendes for the interim featherweight title. McGregor has hyped this fight up better than anyone else, and talked more than ever, but many still believed that he would fall victim to the wrestler in Mendes, as many questions about the Irishman's wrestling floated around.
However, the man who predicted a second round knockout of "Money" came out on top, as the "Notorious" one dropped the Team Alpha Male product with a vicious left hand in the second , and followed it up with a flurry of strikes. The referee jumped in, and McGregor dropped to his knees with his flag draped over his shoulders, full of emotion. He had done it, he had completed his quest to UFC gold, albeit it being the interim title, and he had thousands of Irish fans screaming for him.
However, McGregor may be on top of the world, but that doesn't mean that he doesn't have work to do, as the wrestling and grappling departments may be still be in issue for the Irish knockout artist. Mendes took McGregor down numerous times, battered him with elbows, and was likely up two rounds to none, putting the "Notorious" one in trouble.
Of course McGregor deserves credit because he fought through the takedowns and the wrestling, and got back to his feet, and went to work, but will he always be able to do that? Some are saying that if the late-replacement Mendes had a full training camp the results would have been different, despite many forgetting that McGregor's body shots could have taken the gas out of Mendes.
But what about somebody like now No. 3-ranked Frankie "The Answer" Edgar? A former champion, and another phenomenal wrestler, Edgar and McGregor will likely meet in the near future, but the fact is that Edgar has an endless gas tank, and he rarely if ever tires. Will McGregor be able to get off of his back with a cardio machine like Edgar on top of him?
Now, this may not be an issue for his next fight which will likely be a unification bout against reigning champion Jose Aldo, as Aldo is a brutal striker who may stand and trade with McGregor, but it seems as if the Irish hero may have some work to do.

Credit goes where credit is due, and McGregor definitely deserves credit as he is as good as he says he is, backing up all of his talk, but to remain on top for as long as he plans, and to obliterate the division like he says he's going to, he may need to round out his sill set.