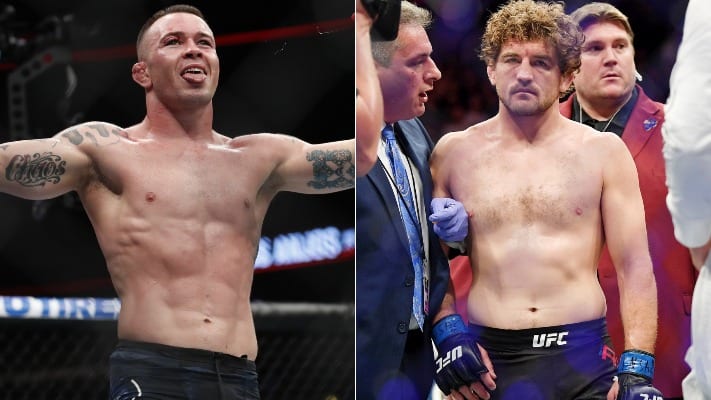 Ben Askren hasn't made any friends in the welterweight division since joining the UFC.
Especially former interim UFC welterweight champion Colby Covington. So when Askren was knocked out in just five seconds at UFC 239 this past weekend, "Chaos" certainly enjoyed himself. In fact, he predicted that his American Top Team training partner and friend, Jorge Masvidal, would get the job done with a flying knee, as he told "The Ariel Helwani MMA Show" earlier today (Mon. July 8, 2019):
"I predicted it," Covington said. "I said [in a recent interview] he was going to pull out a big knockout win the knee, and that's exactly what he did, so I'm super happy for him. He's back on a little win streak, two wins in a row, you know, two and two in his last four. I couldn't be happier for him.
"Now we're at the top of the mountain. We're doing things we've been talking about for the past eight years. I've been living and training with that guy for the last eight years at American Top Team. We had dreams and visions of making it to the top of the mountain together, and now here we are, the top of the mountain. So, very thankful for having him by my side, but now it's business time."
Given the fact that it was Askren who was the one getting knocked out, Covington said it made the victory all the sweeter:
"Oh, yeah, it made it so much sweeter, you know?" Covington said. "For a guy with aspergers that's always talking about my IQ level – lets check his IQ level. We should check Askren's IQ level. His brain has got to be real scrambled today."
Covington took one final chance to mock Askren's defeat by pointing out former WWE star CM Punk has more Octagon time than "Funky." He also claims that Punk (who has never been finished via strikes) also has two less knockout losses on his record, as Covington is suggesting Robbie Lawler should've been given the knockout win over Askren in their fight at UFC 235:
"Fun fact," Covington said. "CM Punk has spent more time in the UFC Octagon and has tow less KO losses than Askren. So I think Askren needs to go back to Asia with all the other inferior products."

What do you make of Covington's comments comparing Askren to Punk?