Colby Covington says Jon Jones is out 'Sniffing some white girls like Joe Biden' ahead of UFC 295 return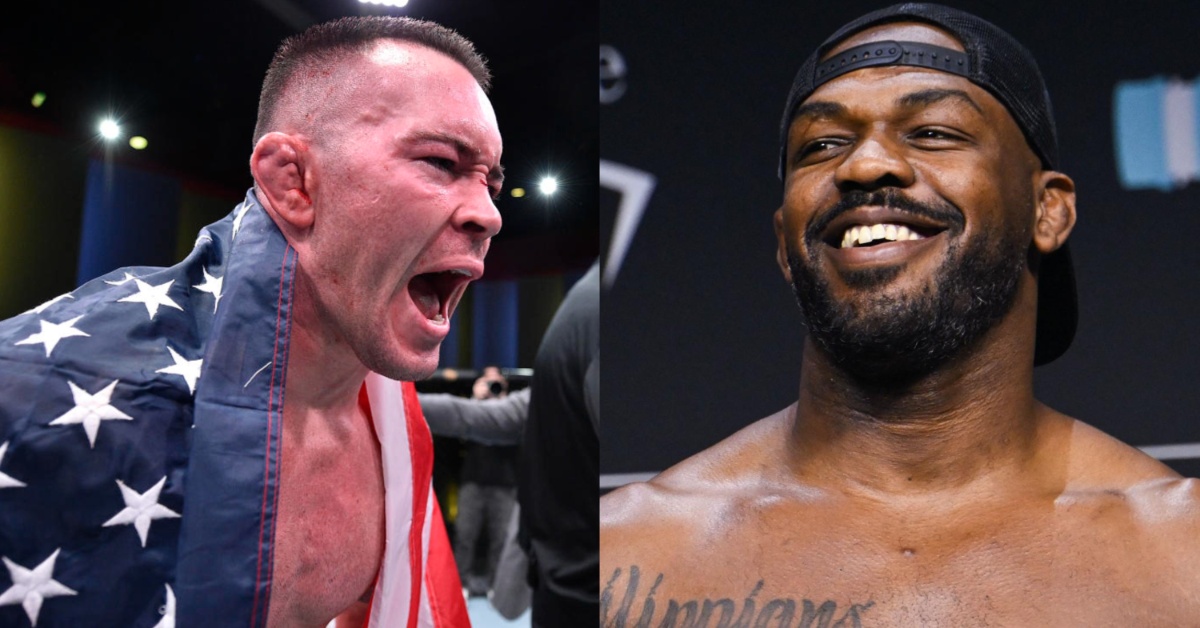 Colby Covington is at it again, making some absolutely outlandish claims against one of his fellow UFC superstars.
This time, instead of taking aim at reigning welterweight world champion Leon Edwards, 'Chaos' is targeting former college roommate and currently heavyweight king, Jon Jones.
Currently, Colby Covington is gearing up for his third shot at the welterweight title though no official date has been announced as of yet. Recent rumors suggest that Covington and Edwards will step into the co-main event spotlight when the UFC heads back to Madison Square Garden in November for the promotion's 30th-anniversary spectacular. That same night, Jon Jones will make his own return, defending his title against the general consensus heavyweight GOAT Stipe Miocic.
Speaking with Michael Bisping on the former middleweight champ's YouTube channel, Covington revealed that despite recent rumors, he and Jones are unlikely to share the card together in November given the animosity between them.
"Let's be honest. Let's talk about the facts, Michael. Is Jon Jones going to be willing to share a card with his former college roommate who knows all his dirty secrets? All the skeletons that are in his closet," Covington said. "I bet that he's going over to the UFC right now and telling them, 'Yo, I'm not sharing a card with Colby. I will refuse to fight here.'"
Colby Covington Offers Up Some Outlandish Accusations About the Reigning Heavyweight World Champion
Colby Covington took things a step further, making some absolutely outlandish claims against Jon Jones that had Michael Bisping practically falling out of his chair whilst laughing.
"The only way I see that fighting happening… We know Jon's unpredictable," Covington continued. "We know he might go sniff some white girls, kinda like Joe Biden. He's not to be relied on. He might get pulled off the card and we might have to come save the day and be the main event.
"The real question that we need to be asking is honestly, was Jon Jones on the client list of Epstein Island? Honestly, there's no way to confirm he was on it, but there's no way to confirm he wasn't on it. I just want to know the truth. Was Jon Jones on Epstein Island?"
Colby Covington Accuses Leon Edwards of Ducking Him
Though Colby Covington put a lot of his time and energy ripping into Jon Jones during the interview, 'Chaos' saved plenty for the man he is expected to square off with for the 170-pound crown later this year, Leon Edwards. Asked about the status of their highly anticipated title tilt, Covington suggested that 'Rocky' is doing his best to dodge their inevitable showdown, but the clock is ticking and Edwards will eventually have to make a choice; Step up and fight, or vacate the welterweight title.
"The situation is, [Leon Edwards] is still hiding from me," Covington said. "Apparently, he knows that I'm a lot tougher challenge than even I think of him. I think if it was so easy, he would have came out and tried to defend already, but what I have to ask you Michael is, back in your career could you imagine being offered a home date in front of your home fans and turning it down and saying they don't deserve that? 
"Michael, the UFC tried to give millet mignon to the UK fans because the UK fans are so passionate and such great fans, and Leon said, 'No. You're sh*t. You a sh*t sandwich. You get a Fight Night event. You don't get a pay-per-view world title fight.' It's sorry and I wonder what the people of the UK are saying about Leon Edwards in the streets right now because I guarantee it's not good. 
"The guy's a coward. He's out there ducking. He'd hiding. He's looking for any excuse not to fight and his time's about up. He's going to be forced to come out here and fight, or worse things will happen. He'll get stripped."
Who do you see coming out on top when Leon Edwards and Colby Covington finally step inside the Octagon?