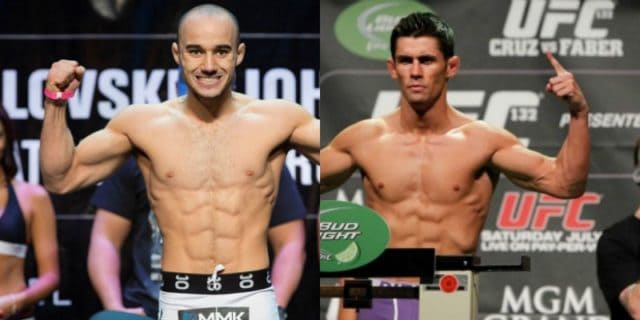 Reigning World Series Of Fighting (WSOF) bantamweight champion Marlon Moraes recently fought out the last fight on his current contract and has suddenly become the hottest free agent in the sport of mixed martial arts (MMA). Having defended his 135-pound strap four consecutive times in addition to owning 12 straight wins, Moraes could potentially be headed to the shark tank that is the UFC bantamweight division, although his coach, Mark Henry, recently said that the decision will likely focus around money:
"Show me the money," Henry said Monday on The MMA Hour. "Who's going to show what we believe Marlon is worth? Marlon, man, he's amazing fighter, but it also has to do with, WSOF has been so great to him. They're such a great group over there. Ray Sefo and those guys have treated Marlon and the rest of us so well. I'm sure he'll have to listen to them, what they have to say, because they've just treated him great.
"But at the end of it all, maybe five, six, seven years ago when [Moraes] was a single kid, UFC would probably be the thing. But now he has the wife and kids, and what's the difference between WSOF and UFC? It's what, maybe 20,000 more Instagram followers and maybe your name on MMA Fighting a little more, and that's about it at the end. Other than that, the kid needs to take care of his family first."
The UFC 135-pound class is currently led by a man many consider to be the best bantamweight of all-time in Dominick Cruz. Henry, however, feels that Moraes, who trains with the likes of Frankie Edgar, Eddie Alvarez, and Edson Barboza, would 'definitely' beat "The Dominator":
"I'm usually cautious and like to get your wet a little, but in this case I'm not," Henry said. "And I have so much respect for Dominick. I think Dominick is amazing. But I do not think that Dominick could hang with Marlon, in my opinion. Dominick is amazing. I have so much respect for Dominick, and I do, I love his game to death. But man, I just think Marlon would beat him. I just really, truly in my heart think that Marlon would definitely win. And I usually don't like to talk smack unless they're in person, but I have that much confidence in Marlon."
Do you feel as if Moraes could compete with the UFC elite?
If you enjoyed this story, please share it on social media!