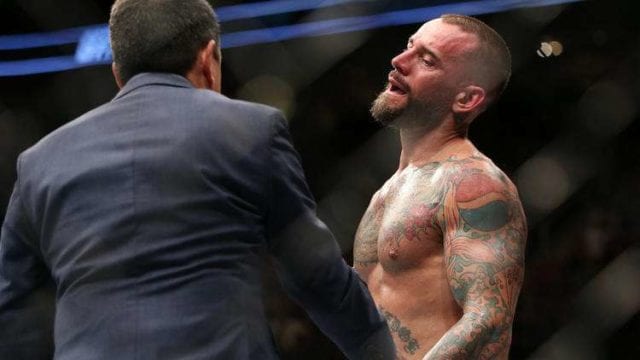 The wild week that CM Punk has had thus far may have caught up with him.
Punk is slated to fight Mike Jackson in a welterweight bout at the upcoming UFC 225 pay-per-view event.
With fight week in full swing that means that fighters have obligations to do such as talking with the media, signing posters and doing an open workout.
However, Punk, who is known to speak his mind and be honest, did not attend the open workouts that were hosted on Wednesday, June 6, 2018. Every fighter deals with nerves about the fight or has some pre-fight anxiety.
If you recall, former title contender Donald "Cowboy" Cerrone and former UFC welterweight and middleweight champ Georges St. Pierre have been honest about their struggles in the past.
You can add Punk to that list as he had to deal with some standard pre-fight nerves.
After the workouts, Punk explained why he did not work out in front of fight fans and the media. The reason was due to him not like being in front of crowds while training.
"It's a scheduling thing, and it's an anxiety thing," Punk said (transcript courtesy of MMA Mania). "I've got severe anxiety, and I- I'm comfortable in the gym obviously, and I don't like people wa- like if I was training and someone walked in and started watching, I wouldn't know and I'd be fine with it, it's whatever. But, as weird as it sounds, I'll be fine fighting, but just the training, I don't know, I'm like a weirdo.

"I know, wrestling in front of hundreds of thousands of people in my underwear… but it's just different. I have anxiety. I barely go to Punk shows any more, you know, because like, being in a crowd of people I'm like ehh [hunches down]. This is starting to freak me out now that I'm thinking about it [points around him]"
CM Punk did not workout at open workouts and attributed it to anxiety pic.twitter.com/cby8STfAPv

— Aaron Bronsteter (@aaronbronsteter) June 6, 2018
The UFC 225 pay-per-view event slated to go down on Saturday, June 9, 2018, at the United Center in Chicago, Illinois. UFC middleweight champion Robert Whittaker is slated to defend his title against Yoel Romero at this upcoming pay-per-view event.