Chris Weidman fights back emotion after grappling match in first sports outing since ghastly 2021 leg fracture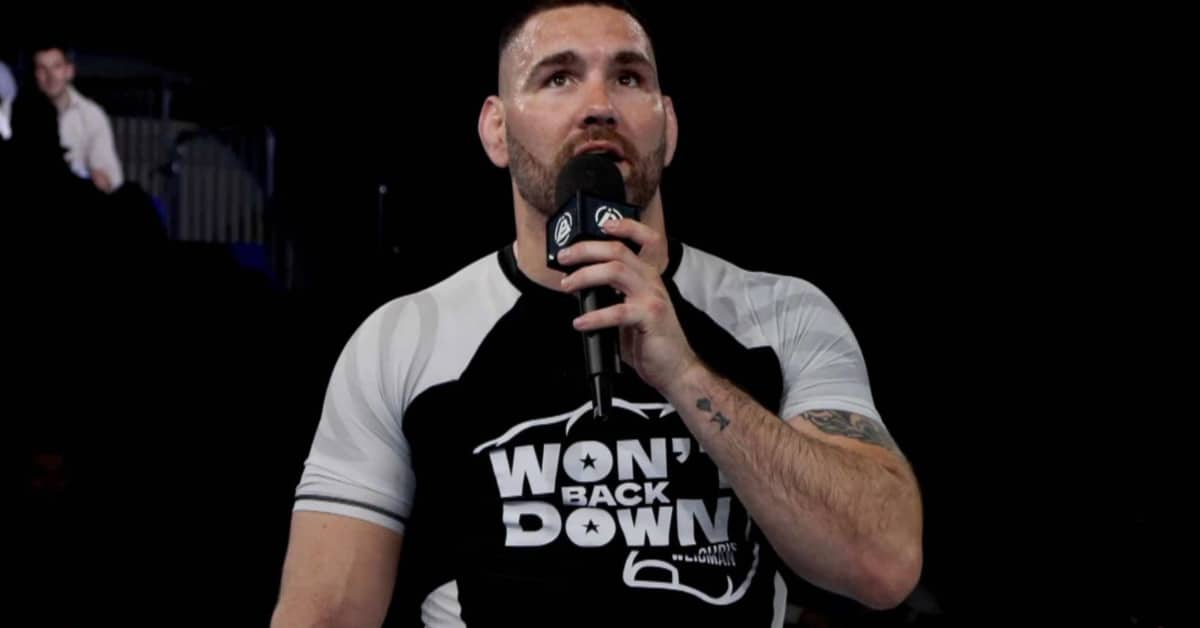 Former undisputed UFC middleweight champion, Chris Weidman fought back tears and an outpouring of emotions at a Polaris submission grappling event over the course of this weekend, with the Baldwin native competing in a sports setting for the first time since suffering a ghastly compound fracture of his right leg back in 2021.
Weidman, a former undisputed middleweight champion under the UFC banner, returned to feature at Polaris 23 – a submission grappling event, dropping an eventual decision loss to Owen Livesey in a special attraction matchup.
Chris Weidman fought back tears at Polaris 23, with the ex-UFC champion returning to sports for the first time since a 2021 leg fracture.
Chris Weidman fights back tears while addressing the crowd at Polaris 23
Speaking following the competitive back-and-forth, however, Weidman, who returned to sports competition for the first time since suffering his leg fracture at UFC 261 in April 2021 fought back emotion, and thanked fans for their continued support.
"These last two years have been the hardest years of my life," Chris Weidman said. "I don't want to cry, I'm not going to cry, but I don't know if you know this, but I snapped my leg in half in April 2021, and I wasn't sure I was ever going to be able to compete again in anything. And so to be able to come out here and put a show on for you guys, win or lose, is truly a dream."
"I want to thank all my supporters, anybody who had my back, said prayers for me, throughout this time off because I really felt that support," Chris Weidman explained. "And all you haters that just think I suck and think I should retire, thanks for the motivation. Cause I'm going to prove you guys wrong when I get to a UFC fight." 
Featuring against the since-retired Uriah Hall in a rematch at UFC 261 in Jacksonville, Florida, Weidman suffered a 17-second TKO loss to the former, after he saw a leg kick checked in the opening exchanges, which resulted in a compound fracture of his right tibia and fibula.
A former undisputed UFC middleweight champion, Weidman won the crown with a stunning upset knockout win over Anderson Silva in 2013, before defending the title against the Brazilian – who suffered his own leg fracture in an immediate rematch.
In a pair of successful title defenses subsequently, Serra-Longo MMA staple, defeated fellow Brazilian duo, Lyoto Machida, and Vitor Belfort.