After weeks of speculation that Invicta FC featherweight champion Cristiane 'Cyborg' Justino would make her long-awaited Octagon debut at May 14's UFC 198 from Curitiba in her home country of Brazil, the news has finally been made official.
The UFC just announced on their website that 'Cyborg' will take on women's bantamweight Leslie Smith, who recently beat Rin Nakai via controversial decision at UFC Fight Night 85 on March 19, in a 140-pound women's catchweight bout.
The dominant 'Cyborg' has gone undefeated since her only MMA loss in the first bout of career back in 2005, with the only major blemish on her record in that time a no contest for her prior TKO win over Hiroko Yamanaka in Strikeforce after Justino tested positive for steroids.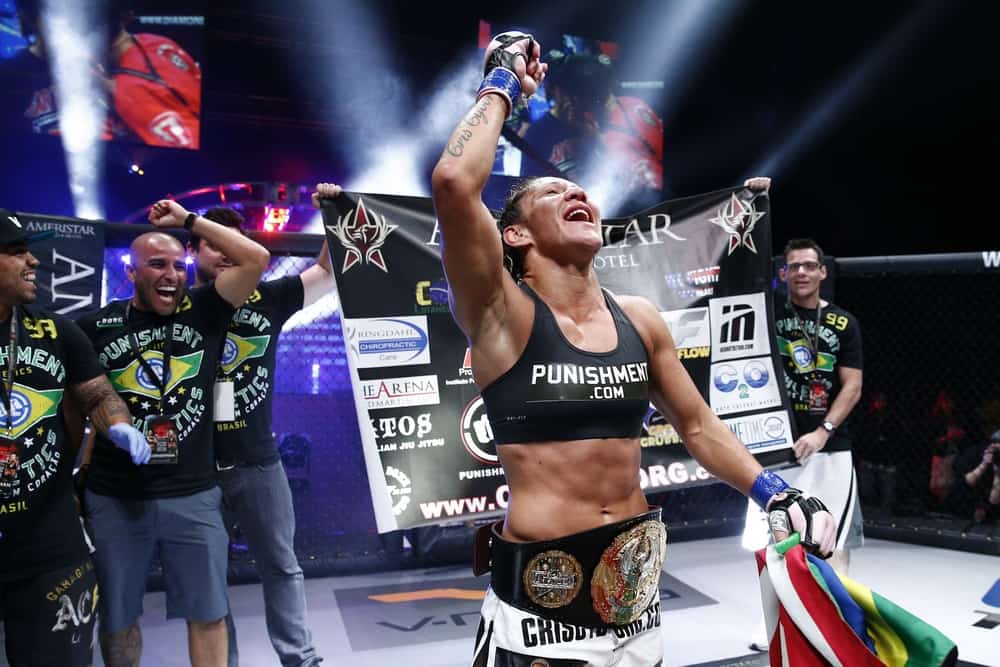 Justino rebounded and won five straight bouts by knockout in Invicta, adding the Invicta FC featherweight title to her Strikeforce championship by defeating Marloes Coenen in 2013. Cyborg most recently defended the belt against Daria Ibragimova with a vicious knockout at Invicta FC 15.
She'll look to make a splash in her home country when she takes on bantamweight Smith, a fellow Invicta veteran who has a much less glaring overall MMA record of 8-6. Prior to her win over Nakai, Smith had been out of action for over 16 months since Jessica Eye grotesquely exploded her cauliflower ear to win by TKO at UFC 180 in 2014.
Smith is no doubt a tough competitor who never gives up, but she also fought at 125 pounds in Invicta, losing to flyweight champion Barb Honchak in her last fight with the promotion. All told, she's lost three of her last five fights and will be discussed as the latest undersized and over-matched combatant to step into a cage with 'Cyborg.'
Cyborg vs. Smith will join an already packed main card in Brazil that includes Fabricio Werdum vs. Stipe Miocic for the heavyweight championship, Ronaldo 'Jacare' Souza vs. Vitor Belfort, and Anderson Silva vs. Uriah Hall.
With the addition of arguably the most lethal female fighter on the planet, UFC 198 is definitely in the running for the most packed pay-per-view (PPV) of the year thus far.
Are you excited to watch her debut, even if many will be calling it a glorified squash match?