It's only the first of January, and there is already a palpable buzz building around July's blockbuster and momentous UFC 200 pay-per-view from Las Vegas.
Like July 2009's historic UFC 100, UFC 200 promises to be a jam-packed lineup that surpasses even the promotion's first century mark show as the best lineup of all-time. There are already some absolutely massive fights rumored for the summer spectacle that should result in the card being the biggest PPV success in MMA history.
Which bouts should grace this historic event's main card lineup? Let's speculate.

5.) CM Punk vs. Somebody?
By now it's been well over a year since the UFC announced former WWE champion Phillip "CM Punk" Brooks would be fighting in the Octagon (despite his total lack of any relevant MMA experience) at December 2014's UFC 181.
Signed on to Milwaukee's Roufusport and supposedly training hard, Punk has recently been battling a shoulder injury that set his debut back. But that's only the story that we're being told, as there are whispers that his training isn't progressing nearly fast enough for him to seriously set foot in a real professional cage.
Brooks isn't getting any younger at 37 years old, either, but if he's ever going to fight for the UFC, especially at this point, the time and card on which to do it is UFC 200. There will never be any more scope or attention given to a UFC card, and having Punk kick off the main card against a no-name opponent would probably do a lot better for the promotion than having him headline an event that turns out to be lackluster.
Who will he fight? It doesn't seem that many people other than hardcore pro-wrestling fanatics truly care anymore, but putting him on UFC 200 could change that.

4.) Fabricio Werdum/Cain Velasquez vs. Alistair Overeem:
Like UFC 100's headlining Brock Lesnar vs. Frank Mir heavyweight title fight, UFC 200 simply must see the belt on the line in the UFC's largest division.
No, it won't be in the featured spot this time around, but booking the winner of UFC 196's Fabricio Werdum vs. Cain Velasquez rematch against Alistair Overeem, who just recently knocked out former champion Junior dos Santos at UFC on FOX 17, is a must-have for this groundbreaking event.
The heavyweight title wasn't been defended nearly enough during Velasquez' oft-injured reign since late 2012, and Werdum kept that tradition alive by taking a long break of eight months to 'enjoy the belt' after his upset win over Velasquez at June's UFC 188. Whoever wins it at UFC 196 needs to defend the belt quickly, and UFC 200 is the place to do it.
Werdum or Velasquez could also face the winner of this weekend's Andrei Arlovski vs. Stipe Miocic co-main event at UFC 195, but it's hard to argue with Overeem's three straight wins capped off by his knockout of dos Santos, who had never been knocked out with one punch previously. If Werdum wins, well, he and Overeem have a pre-installed backstory and score to settle from their incredibly lackluster Strikeforce bout in 2011. If Velasquez wins, we'll just be treated to a potentially awesome slugfest we've never seen before.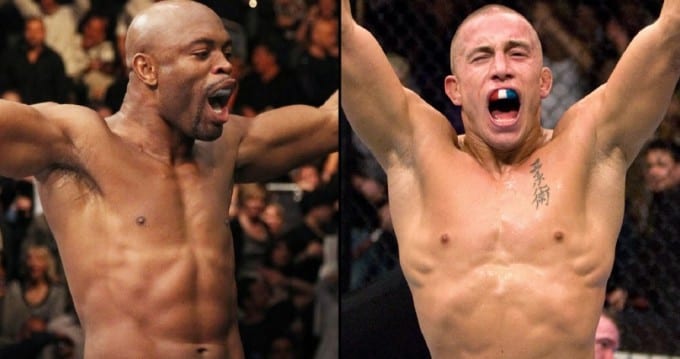 3.) Anderson Silva vs. Georges St. Pierre:
This long-rumored superfight actually ending up on the main card of UFC 200 might be a bit of wishful thinking, as it's been talked about on and off for several years while never coming close to fruition.
St. Pierre has been gone from the Octagon since his controversial split decision win over Johny Hendricks at UFC 167, and Silva will return from a yearlong steroid suspension to face Michael Bisping in the main event of February 27's UFC Fight Night 83. If he can get by 'The Count' and St. Pierre somehow decides to return as he's been oft rumored to do, then there wouldn't appear to be a better time to make this fight happen.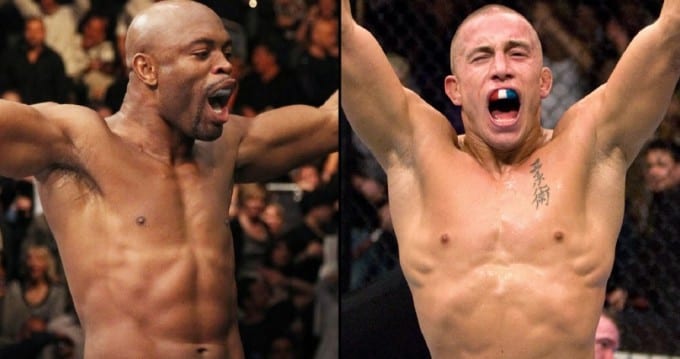 Both legends have little to nothing to prove in terms of title contention in their respective divisions; they both already own the record for most consecutive title defenses by a large margin. This is a fight that the fans deserve, and while both men may not be in their athletic and fighting primes, UFC 200 would no doubt be the perfect showcase event for Silva vs. St. Pierre.
It's hard to imagine a card where two bouts could outweigh this potentially monumental super fight, but coming up are two with the star power to do just that in the absolutely buzzing current UFC landscape.

2.) Conor McGregor vs. Frankie Edgar/Nate Diaz:
It's no surprise that a bout featuring featherweight champion McGregor would have to be one of the top two at UFC 200.
'Notorious' simply has to share the spotlight at the biggest MMA event ever, and he's been rumored to be facing lightweight champion Rafael dos Anjos for the 155-pound belt sometime this spring.
Whether or not that actually happens remains to be seen, but either way that would put the active McGregor on schedule to face either Edgar for the featherweight belt or Nate Diaz at lightweight in the co-headliner of the midsummer spectacle.
True, he could face dos Anjos there as well, but there's just too much attention to gain and money to be made in having their biggest male star compete as much as possible. It was a winning formula to the UFC's record-setting bounceback year in 2015, and it will be a big key towards continuing the trend in 2016.
That would mean the UFC is faced with making the cant-lose decision between Edgar and Diaz. Edgar has five straight wins and is certainly deserving of the 145-pound title shot, but there's also no question that the brash and popular Diaz could provide the perfect foil to McGregor's own loud-mouthed antics.
The promotion simply can't lose with 'Notorious' versus either one, and it's a bout that has to and will most likely happen in the co-main event of UFC 200.

1.) Holly Holm vs. Ronda Rousey II:
It's no debate as to what bout must headline UFC 200, and that's the awaited women's bantamweight title rematch between Holly Holm and Ronda Rousey.
Holm famously shocked the world when she viciously knocked out the supposedly invincible 'Rowdy' with an earth-shattering head kick at November's now-historic UFC 193 from Australia, and now the entire MMA world will wait with baited breath to see if the once-dominant queen can regain her throne.
There are several questions that must obviously be answered before this absolutely massive bout can take place, namely in the form of Rousey's physical and mental well-being, in addition to her schedule and availability as she tries to adapt to the awkward world of being a movie star but no longer a champion fighter.
It's hard not to agree with the many that believe Rousey may need more time than eight months off to recover from such a knockout, but if she is indeed ready to face Holm at UFC 200, there's no other fight that can headline the blockbuster event.
Holm, meanwhile, will be willing to fight and at the ready, so the onus is on Rousey to show she's ready to prove she is still the best female fighter in the world. She's going to need a new gameplan, which she most certainly have this time around, and the consensus is that she's going to need a new camp as well, something she apparently isn't really looking to find as of now.
All of that adds up to the most intriguing female MMA bout ever and quite possibly of all-time of any UFC bout.
Why? Because it's crazy to think that Rousey could go from seemingly unstoppable champion to almost irrelevant in terms of being champ in only eight short months if Holm knocks her out again.
That, MMA fans, is the reason why Holm vs. Rousey should headline the UFC's biggest event ever of UFC 200.