Ben Askren hits out at rival Jorge Masvidal amid calls for UFC rematch: 'He's scared of being embarrassed'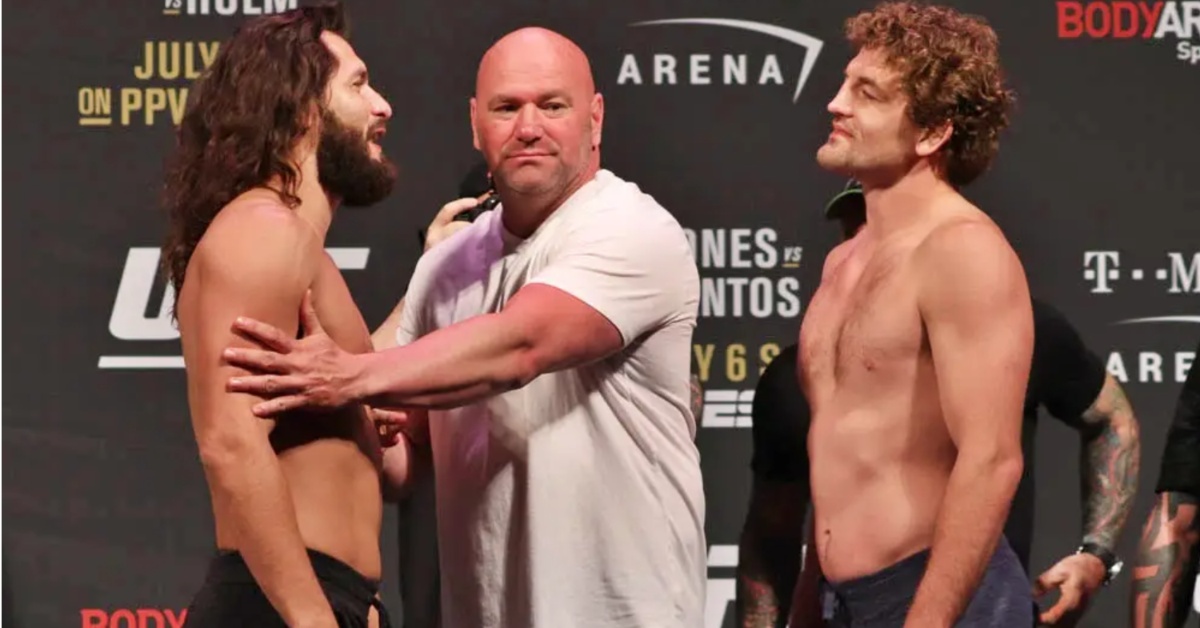 Amid calls for a potential mixed martial arts rematch with his fellow retired former welterweight contender, Jorge Masvidal, former Bellator MMA and ONE Championship champion, Ben Askren has claimed the Floridan is "scared of being embarrassed" – if the duo share the Octagon again.
Askren, a former welterweight contender under the banner of the UFC and three-fight veteran under the Dana White-led banner, called time on his professional mixed martial arts career back in November 2019, after undergoing hip surgery.
Briefly returning to combat sports in the time since, Askren took on recent winner, the outspoken Jake Paul in a first venture into the squared circle, suffering a thunderous first round KO loss in the pair's professional boxing match.
However, Askren's interest in a potential mixed martial arts return and re-run against former-foe and arch-rival, Masvidal was piqued, when the Miami native admitted that he would snap his own retirement form combat sports to face him.
Ben Askren claims Jorge Masvidal is "embarrassed" to take a rematch with him
Taking a slew of shots at each other on social media over the last number of weeks, Askren vowed that he would put on a wrestling clinic against Masvial – and "embarrass" the American Top Team staple.

"That's why he (Jorge Masvidal) won't do it," Ben Askren said on Daniel Cormier's YouTube channel," So he's not scared of fighting and he's not scared of pain, right? But there's multiple fears. What he's scared of is being embarrassed, right? I'll pull his hair, I'll rub his face in ground for about 15 minutes and leave him with some mat burns here. He'll be real embarrassed."
"There's lots of fears we have in life," Ben Askren continued. "We, as men, Daniel, we can have lots of fears. I'll tell you what I'm scared of – I'm scared of snakes. I'm scared of sharks. I won't go in deep water. I don't mess with them sharks, that's their house, right? Jorge Masvidal, he's not scared of a fight, he's not scared of a physical altercation. He's scared of being embarrassed and losing status, that's what he's scared of."
Meeting Masvidal in an infamous pairing in July 2019, Askren suffered a record-setting five-second flying-knee knockout loss to the former two-time title challenger at UFC 239 at the T-Mobile Arena in Las Vegas, Nevada. 
Would you like to see Jorge Masvidal rematch Ben Askren in the UFC?