The Bellator Welterweight Grand Prix tournament bracket is officially set and will kick off at Bellator 206 on September 29, 2018.
Earlier today (Aug. 6, 2018) Bellator announced the bracket seedings for the welterweight GP via Instagram. But the news didn't stop there, as they announced Paul Daley as one of the eight men involved in the tournament.
Daley's participation was in question due to his ongoing contract issues with the promotion, but now that is all squared away, Daley is in.
The bracket breaks down as such: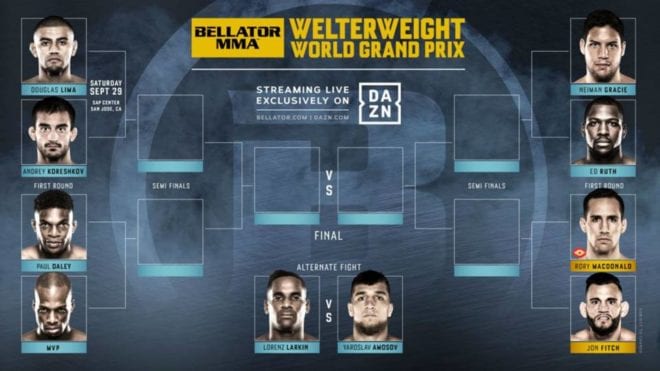 One one side of the bracket Michael "Venom" Page (13-0) will take on fellow Brit Paul "Semtex" Daley (40-16-2) in a grudge match years in the making. Joining them on that side of the bracket are two former champions in Douglas "The Phenom" Lima (29-7) and Andrey "The Spartan" Koreshkov (21-2).
On the other side of the bracket waits reigning welterweight champion Rory "Red King" MacDonald (20-4) defending his belt against Jon Fitch (31-7-1). The winner of that bout will take on either Neiman Gracie (8-0) or fellow unbeaten prospect "EZ" Ed Ruth (6-0).
It seems Scott Coker has thought this Grand Prix out well after all this isn't his first rodeo. Yaroslav Amasov (20-0) will fight Lorenz "The Monsoon" Larkin (19-7) with the winner earning the coveted alternate spot should one of the eight participants be unable to compete. It should be noted that reigning UFC double champ Daniel "DC" Cormier won the Strikeforce heavyweight GP as an alternate.
All fights are expected to be five-round affairs regardless of where and when they take place on the card. Perhaps the most interesting thing about this tournament is that the welterweight title will be up for grabs a total of three times. So, in theory, we could see a new 170-pound champion be crowned three more times in 2018.
The welterweight GP kicks off Sept. 29 at Bellator 206 with Daley vs. Page; the event will be the first on the streaming platform DAZN.