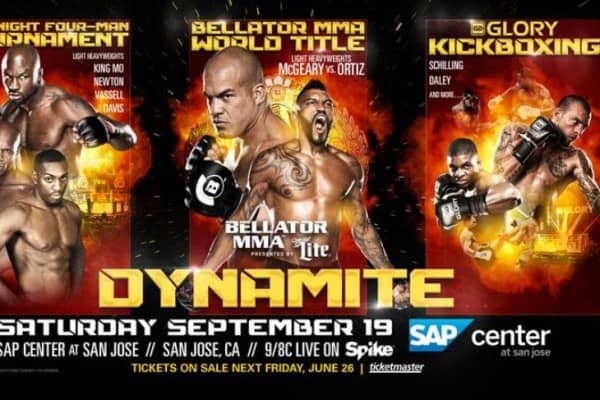 It was once again fight day here at LowKickMMA, and the talent on display on Friday, September 19th 2015 came from the SAP Center in San Jose, California, in the form of Bellator Dynamite 1. Headlining the card are Tito Ortiz and Liam McGeary. 
Tito Ortiz vs. Liam McGeary met in a light heavyweight title bout as the main event of Bellator Dynamite 1. Ortiz came out strong as he went for a takedown but was stuffed. McGeary went for a guillotine choke, but wasn't enough to put Ortiz in any danger. Ortiz would transition into half guard and beat up McGeary. However, after several submission attempts, McGeary locked in an inverted triangle for the win in this first round.
Francis Carmont vs. Phil Davis met in the finals of the light heavyweight tournament as the co-main event of Bellator Dynamite 1. King Mo was supposed to fight Davis, but was ruled out with a rib injury. Davis did not take long to end this fight as he landed a left hook that dropped Carmont then finished him with strikes to win the fight in the first-round.
Saulo Cavalari vs. Zack Mwekassa met in a Glory light heavyweight title bout at Bellator Dynamite 1. A very fun fight that saw both fighters keep a pace that was unbelieve in the first three rounds of this title bout. Mwekassa would become fatigued and Cavalari owned the last two rounds.
Josh Thomson vs. Mike Bronzoulis met in a lightweight bout at Bellator Dynamite 1. Once Thomson got the first takedown in the first round of this fight, it was downhill from there for Bronzoulis. For the next three rounds, Thomson would take Bronzoulis down and beat him up with strikes, which Bronzoulis had no defense for. Thomson took him down and got into side control. He locked in an arm triangle choke for the win. Bronzoulis was out cold.
Paul Daley vs. Fernando Gonzalez met in a Glory kickboxing welterweight bout at Bellator Dynamite 1. Daley was strong in the first two rounds, but Gonzalez attempted to make a comeback. However, time was not on his side and Daley was given the unanimous decision victory.
Keri Anne Taylor-Melendez vs. Hadley Griffith met in a Glory kickboxing bantamweight bout at Bellator Dynamite 1. To say this was a one sided fight would be a huge understatement. Melendez controlled all three rounds, which earned her a unanimous decision victory.
Phil Davis vs. Emanuel Newton met in the semifinals of the light heavyweight tournament at Bellator 142. After a slow start to the fight, Davis took Newton down and was nice enough to give him a grappling lesson for a few minutes. With seconds left in the round, Davis locked in a kimura lock for the win.
Opening the main card on SPIKE TV for Bellator 142 was Linton Vassell vs. Muhammed Lawal in the semi-finals of the light heavyweight tournament. Lawal was on his game in the first-round as he hurt Vassell several times, but could never finish him on the feet. Going into the second round, Lawal was more reserved as Vassell mixed up his kickboxing skills to gain some momentum halfway through the round. Lawal took him down and cooled off Vassell enough to gain a decision victory.
Here are the preliminary results:
Prelims (SpikeTV.com)
Glory Featherweight Feature Fight: Serhiy Adamchuck def. Anvar Boynazarov via unanimous decision (30-27 x3)
Bellator Bantamweight Feature Fight: Gabriel Carrasco def. Joe Neal via unanimous decision (30-27, 29-28, 29-28)
Bellator Lightweight Feature Fight: Adam Piccolotti def. Salvador Becerra via submission (neck crank) at 1:47 of R2
Bellator Featherweight Feature Fight: Thomas Diagne vs. Mike Malott ruled majority draw  (29-28 Diagne, 28-28 x2)
Bellator Light Heavyweight Tournament Alternate Bout: Francis Carmont def. Roy Boughton via unanimous decision
Glory Lightweight Feature Fight: Jose Palacios def. TJ Arcengal via split decision (29-28, 28-29, 30-27)