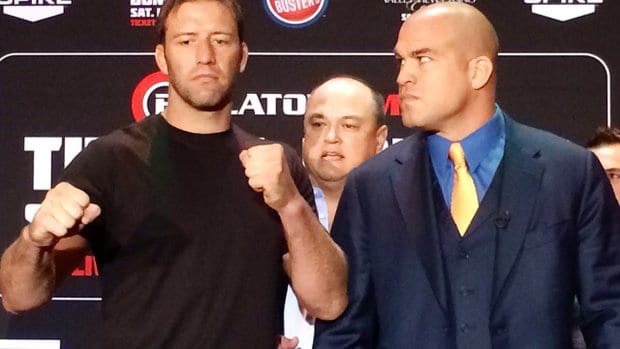 Last Saturday's (November 15, 2014) Bellator 131 main event between UFC veterans Tito Ortiz and Stephan Bonnar wasn't exactly the most respected "feud" in MMA, but it turned out to be a rousing success nonetheless.
The ratings numbers are in for the Spike TV-aired event from San Diego, California, and Scott Coker's first true show brought in a staggering average of 1.2 million viewers while peaking with at 2 million viewers.
By contrast, the UFC 180 preliminary card on FOX Sports drew a reported average of 624,000 viewers, not exactly a great number for the UFC's first card in Mexico. The pay-per-view (PPV) numbers for the Werdum vs. Hunt-headlined card are not in yet, but speculation has put them as very poor, somewhere in the range of 100,000 buys.
The timing couldn't have been more perfect for Bellator, as Werdum knocked out Hunt with a second round flying knee right before Ortiz and Bonnar were set to come out. That was a bit of luck on their part, but after heavy promotion of Ortiz vs. Bonnar and to a lesser extent, the lightweight title rematch between Will Brooks and Michael Chandler, Coker is off to a solid start after taking over for Bellator CEO Bjorn Rebney earlier this year.
MMA's third son, the World Series of Fighting (WSOF), probably could have made some better scheduling decisions, as they chose to go head-to-head with both the UFC and Bellator and paid the price. WSOF 15 featured two title fights from Florida, but it didn't matter much as the card only drew an average of 179,000 viewers.
The people have spoken, and it appears when given a choice, they'd rather watch Bellator for free than pay $54.95 to watch the UFC regardless of the level of competition. Does this mean that the UFC finally has some competition, or will numbers like these be hard to replicate?