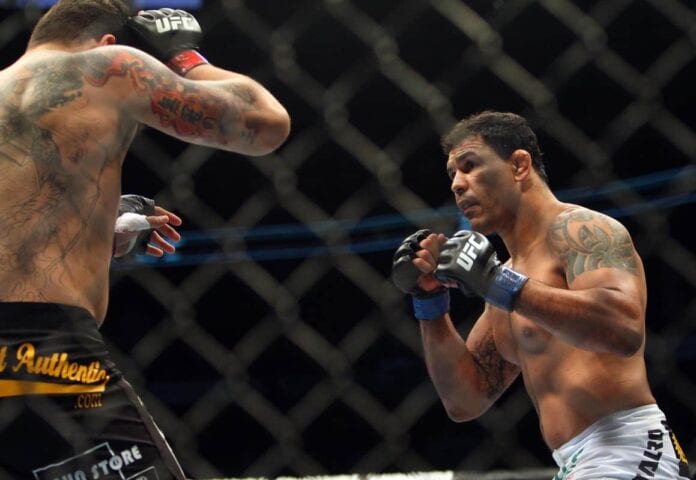 Former Pride FC heavyweight champion and ex-UFC interim boss Antonio Rodrigo Nogueira gets another chance at redemption on August 1st, as he faces Dutch 'Skyscraper' Stefan Struve at UFC 190. It seems like only yesterday that 'Big Nog' was one of the most elite heavyweights on the planet, facing the best of the best in Japan and winning the first ever Pride heavyweight belt. His trilogy of fights with fellow legend Fedor Emelianenko will go down in history as some of the best bouts put on by the promotion, at lease the first and third will anyway.
With Emelianenko returning to the fight game, and the speculation continuing as to who will sign him, the trend of resurgent heavyweights, as well as welterweight kingpin Robbie Lawler, continues. With Fabricio Werdum, Frank Mir, Tito Ortiz and countless others calling to face 'The Last Emperor' in his return, it's no surprise that Nogueira wants to be added to that list of potential opponents.
Check out what 'Big Nog' told Combate, as translated by yours truly:
"He is a great idol of the sport. If he is healthy and willing to fight , the world of MMA would like to see him fight. It has room for big idols. Tito Ortiz continues to struggle , Quinton Jackson, Cro Cop, the public wants to see the great idols fight . We also see the changing of the guard , we often see the younger boys winning a belt by the forcing out the old. There's also room for " forties " to strive too (laughs ) . I do not know if you have contractual force for Fedor fight in the UFC , but in the event that he were , I would fight him one day. It's a great fight,"
Nogueira never got a win over Fedor in their three meetings, with the second fight ruled a NC (no-contest) due to an accidental clash of heads, Emelianenko defeated 'Big Nog' by unanimous decision in 2003 and 2004 to snatch his heavyweight belt and also win the 2004 heavyweight GP tournament. Nogueira continued:
"Every time I see a fighter older against younger , I get the crown (laughs ) . It's a new generation coming up with several new moves , more physical strength that fits martial arts. They practice everything, wrestling, physical strength , and it's nice to see a crowd cheer, going to the striking, not lay and pray."
On to the subject of his next fight, Nogueira remembers the time he fought another giant, Bob Sapp, in Pride. Although he was a lot freakier than Struve, the comparison stands:
"There's no one that size. When I fought Bob Sapp, the best match in sparring was 140kg. He had 170kg. But for Struve we used Branjão with 1,98m, and Ednaldo Lula, of 2,03m, two good guys. We are training well this part out of the kicks, I'm training a lot of knees, and we're trying to make a strategy that fits. I hope to do a good fight. The inside striking is more advantageous, we know that, I have to get away from the outstretched arm, his tip is also very good, high kicks, kicks to the leg, because he is the Dutch muay thai, so I have to shorten the distance, do that in boxing short. If I can win by submission or knockout would be perfect. Fighting at home for me is wonderful, waking up at home, go to the beach bar … I'm home (laughs). I can not predict the result of my fight, but I will do my best and if you win, I want to fight again, achieve other victories and boosting me into the category"
Indeed a win over Struve in Brazil would be huge for his future fighting hopes, and would slot 'Big Nog' in nicely with the current crop of MMA legends returning to form. The fact is that if Emelianenko does sign to the UFC, then a win over 'Skyscraper' would probably set up the no-brainer fourth fight with Fedor.
Anyone interested in that fight?