Anthony Pettis vs. Nate Diaz Rumored To Finally Happen – Who Wins?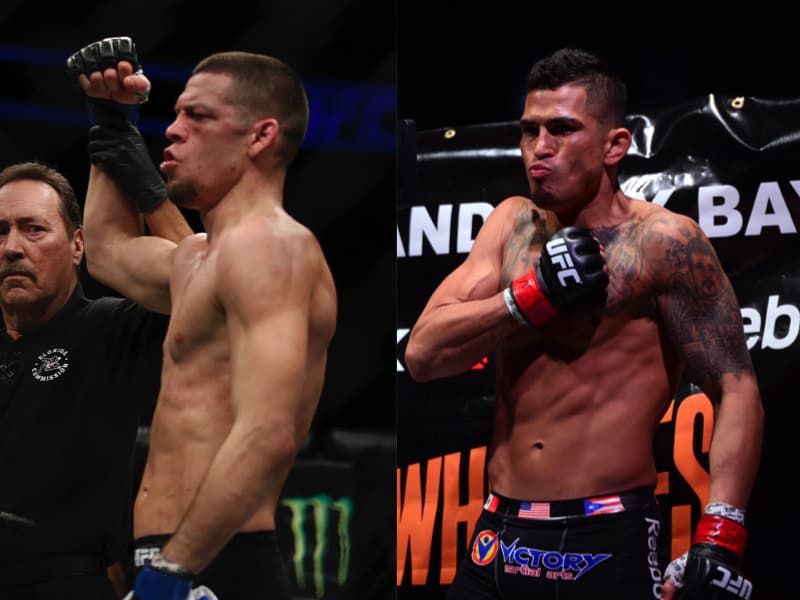 Nate Diaz came back with force when he shocked many by soundly defeating top contender Michael Johnson on the main card of December 19's UFC on FOX 17, and he took the win to the next level by calling out featherweight champion Conor McGregor in his expletive-filled interview directly after the win.
While Diaz won't get the next bout with 'Notorious,' who will face Rafael dos Anjos for the lightweight championship at March 5's UFC 197, it looks like the popular and polarizing Stockton slugger will get a big fight next, and it's one that has a lengthy backstory to it.
It's only speculation, but apparently Nate's brother Nick told MiddleEasy that the younger Diaz is in discussion to fight former champion Anthony Pettis, who lost an uninspired split decision to Eddie Alvarez at UFC Fight Night 81. The two top-ranked lightweights have a history with each other, as a back-and-forth trash talk war years ago ultimately failed to come to fruition with a fight.
Regardless, the bout could be perfect for both Pettis and Diaz' striking-centered styles, as matchups with elite wrestlers have obviously proved to be the kryptonite for each man. A win would vault the No. 4 Pettis and the No. 7 Diaz back into title contention in a division with an uncertain future now that McGregor is involved.
The UFC recently made it clear that Tony Ferguson won't be in that picture when it scheduled him to face Johnson at UFC 197, and it's also unknown when touted but oft-injured grappler Khabib Nurmagomedov will return to the Octagon, so Pettis vs. Diaz does seem like one of the most obvious and best bouts to make at 155 pounds.
It'd be a marketable hit with the fans that could feature fireworks, and the winner could potentially set themselves up to face McGregor next. Who would you pick to win Pettis vs. Diaz if it is indeed booked?
Jump to page two to cast your vote in our poll….