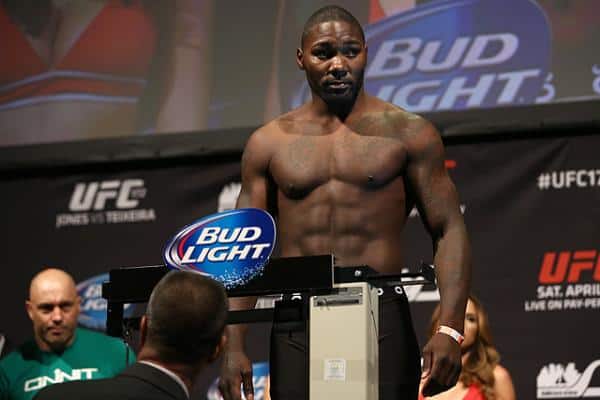 Heading into the biggest bout of his mixed martial arts (MMA) career when he squares off opposite Daniel Cormier in the main event of this Saturday night's (May 23, 2015) UFC 187 pay-per-view (PPV) from Las Vegas, Nevada, surging title contender Anthony 'Rumble' Johnson obviously thought he'd be facing an opponent of a different size and shape.
But when elite former champion Jon 'Bones' Jones was arrested on felony hit-and-run charges for allegedly hitting a 25-year-old-pregnant woman in Albuquerque, New Mexico, two weeks ago, Johnson found himself matched up against recent title contender Cormier when the UFC stripped Jones of the belt.
The calm and confident 'Rumble' isn't all that concerned with who he's facing, however. Hooking up with TMZ in New York over the weekend, Johnson said that as long as he's getting paid, things are all good:
"I'm excited either way. I'm still fighting for a title and I'm still getting paid so I'm good."
Not surprisingly, Johnson would be more than happy to welcome 'Bones' back to the Octagon, but he doesn't think that Jones would decrease in ability if and when he does return. In fact, 'Rumble, believes that the former pound-for-pound king would come back motivated and even better:
"Yeah, of course. Why wouldn't I be? He's the pound-for-pound king. He'll definitely be motivated and try to destroy everybody like he was before. He'll come back bigger, faster, stronger, better than ever."
Moving on to his current opponent Cormier, Johnson believes that 'DC' will come out even hungrier than he was for his disappointing five-round decision loss to Jones at UFC 182 earlier this year. For that reason, Johnson is planning on a hell-bent Cormier throwing everything he has at him in Vegas this weekend:
"This is [Cormier's] second opportunity at a title shot and when people get second chances they come back 10 times stronger and harder.
"He's hungry. He's so determined to win a title and he didn't succeed the first time he had an opportunity. This is his second opportunity. Why wouldn't he come back and give it his all like he did the first time? I think he's going to go absolutely crazy in the fight just to get a title."
With his first opportunity at a UFC title a failed one, there's not much doubt that Cormier desires nothing more than to prove his critics wrong and win the title. He's fallen ever so short of reaching the absolute top level in his collegiate and Olympic wrestling careers, and he'll go to any length to avoid doing the same to his MMA legacy.
Will he be able to stifle the thunderous, jaw-dropping knockout power that 'Rumble' brings to the cage on Saturday?