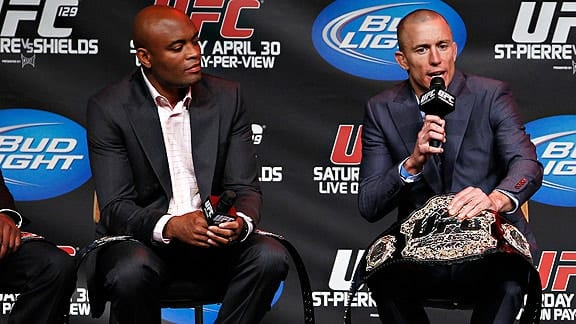 Super fights have long been a hot topic in the sport of mixed martial arts.
Fight fans have always wondered what would happen if the best man from one division faced off with the best from another division.
With that being said, perhaps no hypothetical super fight has ever been discussed more than a bout between former long-time middleweight champion Anderson "The Spider" Silva and former 170-pound ruler Georges St-Pierre.
Obviously fans would have wanted to see the bout when each man was at the pinnacle during his illustrious reign atop his respective division, but the bout may not totally be a foregone thought.
Since losing his title back in 2013, Silva has hit some extremely rough times, but is still competing at the age of 41.
St-Pierre, on the other hand, has been on the sidelines since he vacated his title that same year, but a possible return to action is constantly brought up.
According to "The Spider", the fight could still take place:
"It could happen," Silva said through an interpreter at Wednesday's UFC 198 press conference in Brazil. "It would be an honor to fight him. It could happen."
Silva will indeed face off with former The Ultimate Fighter (TUF) 17 finalist Uriah Hall at May 14's UFC 198 from his home of Curitiba, Brazil.
Despite his upcoming fight, and aside from the St-Pierre talk, Silva also recently made headlines when he voiced his interest in fighting featherweight kingpin Conor McGregor, simply an outlandish request.
While tons of fighters have called out McGregor due to the money that he brings to the table, "The Spider" assures us that he simply would like to test his skills against those of the Irishman:
"I've never thought thinking of money," Silva said. "I really want to test myself against him, he's a great athlete, had great skills, even though my focus is on y next opponent, but I'd like to test myself against him. I've never fought in the weight classes below, only in my younger days in Shooto. For me to test myself, it's a great fight."

While a bout with McGregor appears to be out of this world, do you see Silva and St-Pierre ever actually doing battle?