Amanda Nunes Offers Heartfelt Apology To Ronda Rousey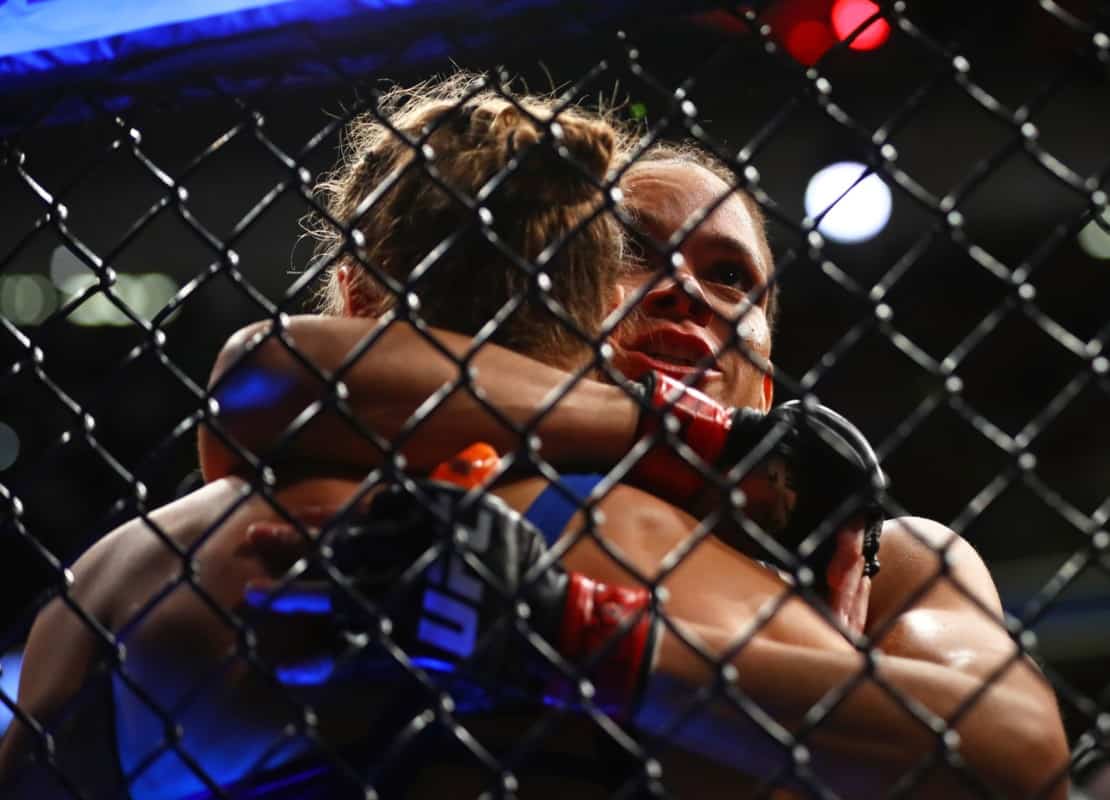 UFC women's bantamweight champion Amanda Nunes dismantled Ronda Rousey in the main event of December 30's UFC 207 , finishing the fight in only 48 seconds into the first round.
For Rousey, it was obviously devastating – her comeback after a year away from the fight game was over in less than a minute and she was yet again exposed inside the octagon. But for Nunes it was a dream, a chance to prove to everyone that she is the true champion and she capitalized by doing it all without breaking a sweat. In less than six months she defeated two of the greatest women fighters to ever grace the octagon after she won the belt from Miesha Tate at last July's UFC 200.
However, Nunes wasn't exactly the most gracious in victory.
Since UFC 207, Nunes poked fun at the champion on numerous occasions. For example, at the UFC 207 post-fight press conference, Nunes offered the belief that Rousey should outright retire to avoid hurting herself:
"She's a millionaire already, why would she keep doing that? Why would she keep hurting herself?

"Because I'm gonna be the champion forever, so she has to retire. She's not going to get it anymore."
Then in a later interview with TMZ Sports, Nunes mocked Rousey saying she didn't know how she got 'this far in the division':
"I don't know how Ronda Rousey went this far in the division, Honestly, I don't know how those gals lost to Ronda Rousey."

"I know since my first fight in the UFC that I can beat Ronda Rousey. But of course, I had to take my time and wait for everything to come together. … That day [at UFC 207] was the day I had to prove to everybody, and I did it."
Nunes also mocked Rousey by posting a seething meme online just moments after she finished the former champion in brutal fashion.
It's somewhat understandable why Nunes felt slighted by the UFC's upper management, whom Joe Rogan stated were supposedly calling her "cannon fodder" heading into Rousey's supposed comeback bout – a fight before which Nunes received little to no promotional focus.
But now just over a month since the fight took place Nunes seems to have done a complete U-turn and has issued an apology to Rousey through social media, offering the following on Instagram:
"Let me take a moment to explain myself, I was overwhelmed with adrenaline, emotion and hurt at the time. I held so much in during the weeks prior to my fight with Ronda. I might have said or posted some things at the time that I now realise was not the right thing to do. I want to apologise to Ronda. Her fans and mine and the UFC as well. Ronda is an amazing athlete and has done so much for this sport, especially for the women."
https://www.instagram.com/p/BP8V5wYDQXv/
Nunes is expected to rematch number one contender Valentina Shevchenko sometime this year after 'Bullet' cemented her title shot with a jaw-dropping submission win over Julianna Pena at last Saturday's (Jan. 28, 2017) UFC on FOX 23 in Denver.
Although Nunes has beaten Schevchenko before, Shevchenko looked extremely impressive in her last bout, and the rematch could be a lot more competitive than people think.
As for the 'Rowdy' former champion, do you think this apology makes up for Nunes' criticisms of Rousey?