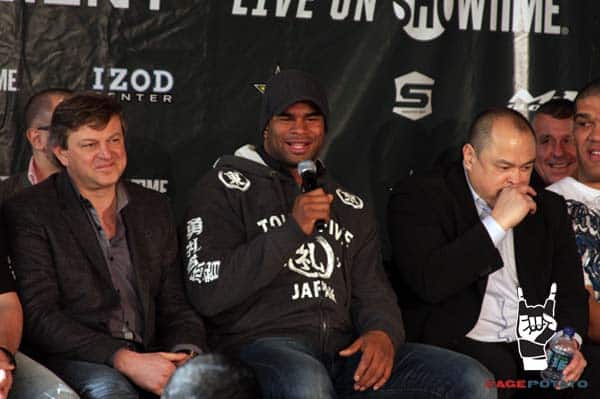 Mixed martial arts legend Fedor Emelianenko is on the cusp of his big return to fighting, after some three years away from the sport, and everyone wants a piece of the former Pride FC heavyweight king. Fedor recently confirmed negotiations are underway with the UFC, and there's been heavy talk of fights with Fabricio Werdum, Antonio Silva and many others. In the meantime, calling out 'The Last Emperor' has become a trend among just about anyone in the weight class.
Alistair Overeem is one name that hasn't been thrown around too much, perhaps because he fought in the light-heavyweight division during his Pride career, but 'The Demolition Man' believes there may be other reasons for that. Speaking to GNP, courtesy of Bloody Elbow's Mark Bergmann, the Dutch K-1 champion says he already tried to fight the legendary Russian star twice, and was snubbed each time:
"Let's see what he's gonna do. He's now a free agent," Overeem told German outlet GNP1.de. ""He might go to the UFC, he might go to Bellator. Right now, I fight in the UFC. The UFC has a very strict policy of not allowing their fighters to fight in other promotions. And even… whoever they said I have to fight, I'll fight anyway."
"I really tried to make that fight happen in 2011, for June, when I fought Werdum, and even after that fight. And both times he declined. And that actually was the end of it," Overeem said.
2011 was a bad year for 'The Last Emperor', as he dealt with three straight losses to Dan Henderson, 'Bigfoot' and 'Vai Cavalo'. Perhaps it's no shock he would rather have gone and fought under the lesser known banners as opposed to face a challenge such as 'The Reem', or maybe the timing just wasn't right. Either way, Overeem says he isn't bothered by the fact Fedor may join the UFC.
"I think right now, of course there's gonna be a lot of fighters that wanna fight Fedor, he's fighting anyway. But it's not something that I neccesarily look for. He's more an idol to me, than I wanna beat him."
It's interesting that Overeem both accuses Fedor of ducking him, and then himself says he isn't worried about fighting him anymore. Maybe there's some reverse psychology in these statements, perhaps buried deep is the Dutchman's burning desire to both fight the biggest name in the sport's history, finally, and to earn the undeniable PPV (pay-per-view) payload that fight would carry.
So who will be first to fight Fedor Emelianenko upon his comeback?