Alexander Volkanovski on his move up to 155lbs: "The mindset, all that type of stuff is just peaked right now and that's why I think it's definitely the time."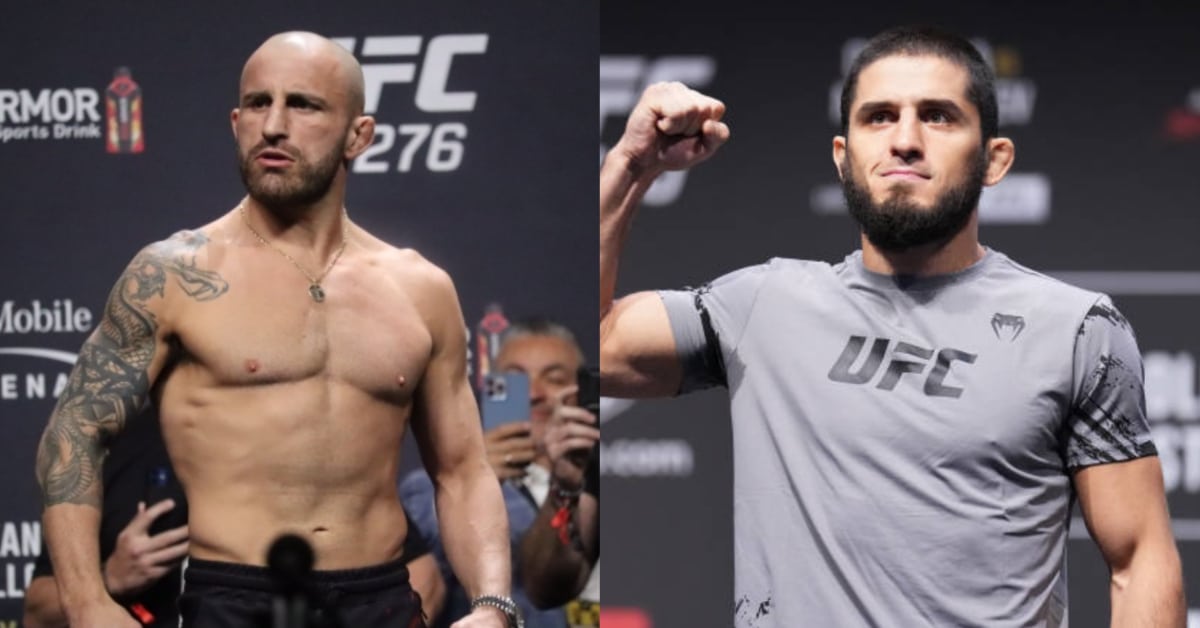 Alexander Volkanovski is now only a little more than a month away from the super-fight with UFC Lightweight Champion Islam Makhachev.
Volkanovski will be moving up to the 155 lb. division for this fight between two of the game's biggest stars. Volkanovski is currently the #1 Pound-For-Pound ranked male fighter on the roster, and on February 11th, he will enter the octagon with the current ranked #2 Pound-For-Pound fighter Makachev.
Alexander Volkanovski recently took the time to speak with The Allstar on Youtube to discuss his move up to Lightweight, his training focuses, mentality going into the fight, and finally, his predictions on how this highly anticipated bout will play out.
On when the idea to move up to Lightweight started, Volkanovski said:
"Knowing that I've fought in so many different weight classes, and then with the Featherweight division, it definitely started being like alright, I need to move up at some point…When I was trying to find who's the number one contender, that was happening where it was obviously fighting Max (Holloway) a few times, but there was never really a number one guy other than Max. So that made me start, maybe I'll do this Lightweight thing, but you know it's not time yet. I thought I had to wait until I thought I deserved it because that's the kind of guy I am."
Continuing on this topic, Volkanovski gives a clear indication of when he believed he deserved the move up to Lightweight:
"Obviously after the last one (fight with Max), I was like alright I think I deserved it…And that's when I really pushed it forward, because I was like alright, I think I deserve it, let's do it. The mindset, all that type of stuff is just peaked right now and that's why I think it's definitely the time."
Alexander Volkanovski Embraces the Move up to Lightweight
Volkanovski has been in various weight classes throughout his MMA career ranging from Welterweight to a short stint at Lightweight, and finally settling in at Featherweight where he dominated. Although Volkanovski enters this fight from the lighter weight class, he explains why he remains confident despite the size difference:
"I've always trained with bigger guys. Even when we used to train here in Thailand it was always me and the bigger guys. We used to have big guys and little guys train in groups… I would always sneak myself into the bigger area. I've always been a lot stronger than how I look and my size, so I always knew it (moving up) was something I wanted to do and could do."
Volkanovski on his Mentality
Further into the interview, Volkanovski gives us a glimpse into his mentality and mindset going into this fight and the circumstances surrounding it. Volk certainly sounds like a true champion when he says:
"We keep talking about the championship thing going up to Lightweight and getting that second belt. Obviously, that is a big goal and very good for the legacy, but I think taking on guys and challenges like the Islams… they think this is a massive mountain to climb. Okay cool that just makes the win bigger, that just makes my legacy even better when I get it done."
Volkanovski's opponent Makhachev poses serious threats to any fighter from any style. The Dagestani prodigy from Khabib Nurmagomedov's camp currently boasts an 11-fight win streak and earned UFC gold in October, snatching the belt from Charles Oliveira.
On how he is approaching the upcoming challenge that Makhachev presents, Volkanovski explains:
"I'm putting myself in uncomfortable positions every day… When you're doing that, there's gonna be times when you'll get uncomfortable, there's gonna be times when you're losing. But, alright stay composed keep fighting and get back to your feet that's the main thing. People aren't doing what I'm doing, I believe that. That's why I'm the guy that I am, I'm the champion I am and that's why I don't fold under any pressure."
On February 11th the long-awaited Lightweight Championship super-fight between Alexander Volkanovski and Islam Makhachev will headline UFC 284 in Perth, Australia. Will Volkanovski be able to derail Islam Makhachev's hype train? Tune in to find out as MMA fans around the world anxiously await the title bout.
Watch below for the complete interview with Alexander Volkanovski: