The American Kickboxing Academy (AKA) has faced quite a bit of scrutiny over the years as quite a bit of their fighters seem to have a habit of pulling out of fights due to injury during training camp.
Most recently former UFC middleweight champion Luke Rockhold was forced out of his highly-anticipated rematch with Ronaldo 'Jacare' Souza that was supposed to go down at this past Saturday's (November 26, 2016) UFC Melbourne event, however, Rockhold was forced to pull out of the fight due to a knee injury. Now Rockhold's teammate and current UFC light heavyweight champion Daniel Cormier has been forced off of his 205-pound title defense against Anthony 'Rumble' Johnson at UFC 206, as 'DC' tore a groin muscle during training camp.
Along with Rockhold and Cormier, former UFC heavyweight champion Cain Velasquez and No. 1-ranked lightweight Khabib Nurmagomedov have also shown struggles with maintaining their health throughout the progression of a fight camp. Cormier is the latest on that long list, and news broke on UFC Tonight last night that he requires surgery that will keep until next March at the earliest.
However, Cormier recently spoke to Ariel Helwani on The MMA Hour, courtesy of MMA Fighting, to fire back at those who criticize him and his camp's methods of preparation:
"How can you train if you're constantly worried about getting injured?" Cormier said. "Guys play basketball and get hurt and that's probably the easiest sport on the planet. We're actually fighting every day. We're wrestling, we're grappling."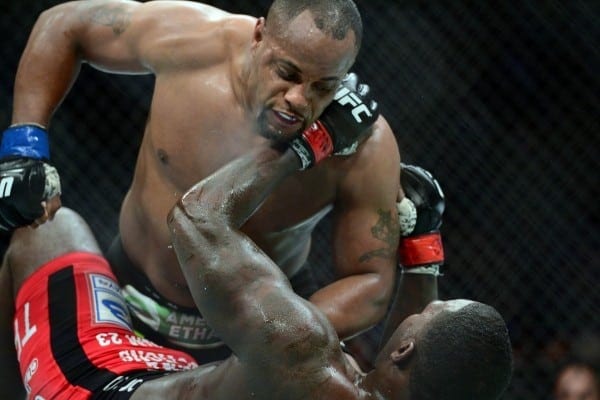 When it all comes down to it Cormier stands firmly behind his head-coach Javier Mendez and insists that people should not point the finger at him to blame for AKA's injury riddled past, because when it all comes down to it 'DC' is a grown man who makes his own decisions in the gym:
"It's not Javier's fault," Cormier said. "This isn't college. We're not high-school athletes. Javier can tell me not to spar and I'll be like, 'Yeah sure, Jav.' And then I'll go spar. People always get confused. They talk about coaches. The reality is, these coaches and managers that everybody thinks are in so much control, they work for us. They're our employees."

"The decisions are mine," he said. "If I got hurt, it was my fault."
Cormier is currently eying a February return-table to give Johnson his rematch at the 205-pound crown, and hopefully a quick turnaround to take on challenger Ryan Bader before July. When Cormier does return to the Octagon, however, he has quite the challenge ahead of him when it comes to 'Rumble".
You can check out Cormier's full interview here: