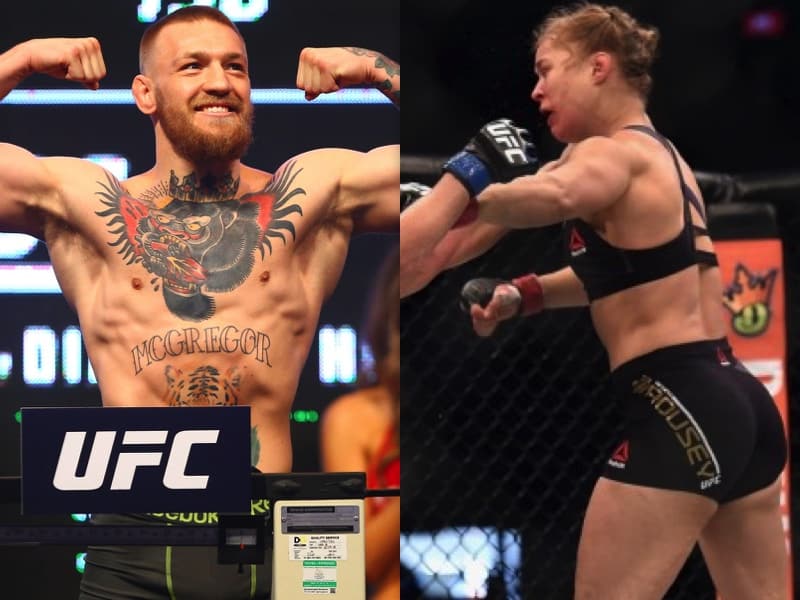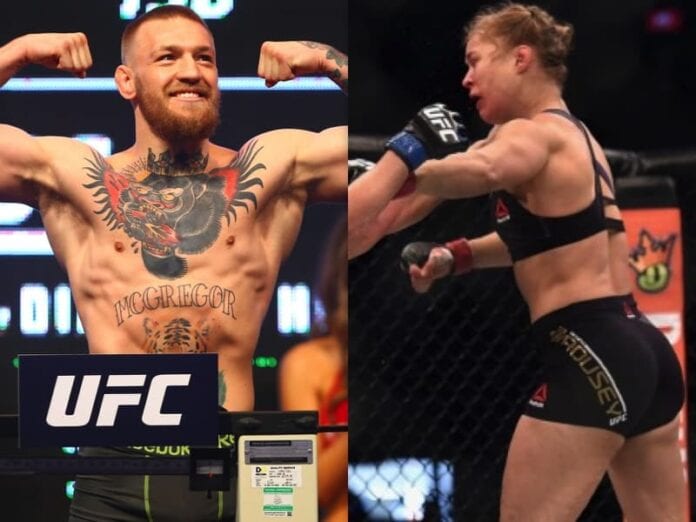 Having the gift of the gab is an increasingly important asset for a fighter looking to make it big in the UFC.
There are numerous examples in the sport of fighters who've managed to use their skills on the mic to gain attention, land higher-profile fights, make more money, and speed up their path to title shots and superstardom.
However, the trouble with talking all that trash is that you then have to back it all up in the Octagon, and if you don't, then you'll never be allowed to forget it.
In this article, we'll look at 10 classic examples of fighters who talked down to their opponents, raised themselves up on a pedestal, and then came crashing face-first back down to earth.

Bethe Correia vs. Ronda Rousey
You have to hand it to Bethe Correia. She had an unflappable belief that she was going to derail the Ronda Rousey hype train at UFC 192 in 2015.
"I want to knock her out, show to everyone that she is a lie," Correia told reporters ahead of the fight. "She wants to stand up with me, let's see. I want to humiliate her and show the word she has no MMA."
Turning up the war of words to a new level, she said she hoped Rousey wouldn't kill herself after she was defeated, which led to a considerable backlash due to the fact that it was well known that 'Rowdy's' father had committed suicide when she was a child.
At the weigh-ins, Correia continued to taunt Rousey, telling her, "Don't cry, don't cry. I'm going to knock you out. You're going to drop from my punches."
After talking all that trash, Correia was due a healthy dose of karma and it came swiftly as she was knocked out cold by Rousey just 34 seconds into the fight.
"Don't cry," Rousey said as she coolly walked away from her unconscious foe.

Frank Mir vs. Brock Lesnar
The 2009 rematch between Frank Mir and Brock Lesnar at UFC 100 was an enormous fight for the promotion, and indeed the event still ranks as their biggest pay-per-view of all time.
There was an intense rivalry between the two stars after their first fight a year earlier, which had only lasted 90 seconds, yet saw Lesnar almost beat Mir to a pulp before the former champion locked up a kneebar submission finish on the MMA-inexperienced behemoth.
Mir's hatred for Lesnar was palpable and he made it clear that he intended to do more than just win the rematch.
"I want him to know that he will never be the same human being after I get out of that cage with him," Mir snarled. "I will detrimentally affect his physical life forever and scar him on a mental level."
Mir was unable to back up those words in the Octagon though, with Lesnar TKO'ing him courtesy of a series of brutal unanswered ground and pound blows in the second round that left his face a bloodied mess.

BJ Penn vs. GSP
The level of hype for the BJ Penn vs. Georges St. Pierre rematch at UFC 94 in 2009 was off the charts, and a lot of that was thanks to 'The Prodigy' who talked up a storm during the pre-fight build-up.
"Georges, I'm going to go to the death," Penn infamously stated at the time. "I'm going to try to kill you and I'm not joking about this."
Almost a million people bought the pay-per-view to witness this clash of the titans, with Penn holding the lightweight title at the time, while St. Pierre was the welterweight kingpin.
Unfortunately for Penn, his 'to the death' statement would come back to haunt him as not only did GSP dominate the fight, but also beat him up so badly with relentless ground and pound that the Hawaiian's corner were forced to wave off the fight before the final round.

Chael Sonnen vs. Anderson Silva
Until Conor McGregor's rise to fame, Chael Sonnen was the undisputed king on the mic in the UFC, and the No.1 target for his seemingly endless collection of insults was Anderson Silva.
Sonnen talked relentlessly prior to their first encounter at UFC 117 in 2010, but in all fairness to him, he came as close as anyone had at that point to defeating Silva before being submitted late in the fifth round.
A rematch with the champ was eventually set for UFC 148 two years later and Sonnen was convinced he had his rivals number.
"Anderson Silva, you absolutely suck!" Sonnen bellowed during a post-fight speech.
He then infuriated Silva when he brought his family into his pre-fight verbal jabs.
"You tell Anderson Silva that I'm coming over and I'm kicking down his backdoor and patting his little lady on the ass and I'm telling her to make me a steak, medium-rare just how I like it," Sonnen stated.
Silva responded angrily, vowing to beat him up, but Sonnen wasn't concerned.
"If you knew your funeral was coming up, you'd have some parting words as well," Sonnen quipped.
Fight night arrived and this time Sonnen couldn't back up his bluster, tumbling to the mat after a half-assed attempt at a spinning backfist was effortlessly ducked by Silva, then cowering under a vicious ground and pound assault that delivered the TKO finish.

Dan Hardy vs. GSP
Several fighters trash-talking antics have helped fast-track them to a title shot, and Dan Hardy is a perfect example.
Four fights into his UFC career, the cocky Brit had already managed to talk his way into a fight with GSP, and he was in his element during the pre-fight build-up, letting everyone know that he was going to beat-up the dominant welterweight champion.
"I'm sure GSP considers himself the alpha male in this contest, but, March 27th comes around and I'm beating the fake tan off him, he might be changing his mind."
"You can't put muscles here [points at his chin]. He can jump higher than me. He can lift trucks. It makes no different to me. When I connect on his chin he can lift all he wants…he's still going down."
St. Pierre later claimed Hardy was one of the best trash talkers he'd come up against, but it didn't help the Brit in the fight as GSP barely gave him an opportunity to throw a punch as he wrestled his way to a humbling five round shutout.

Ronda Rousey vs. Holly Holm
Ronda Rousey was a global superstar by the time she fought Holly Holm at last year's UFC 193 event, and carried herself with the air of a fighter who believed they couldn't be beaten.
"What makes me so confident is that I'm the greatest fighter in the world," Rousey boasted pre-fight.
For much of the pre-fight build-up the two fighters didn't have a bad word to say about each other. However, that all changed during the customary pre-fight staredown following the weigh-ins, with Rousey becoming infuriated after Holm's fist grazed her face.
"Fake ass cheap shotting fake respect fake humility bitch," Rousey ranted on social media afterwards. "Preacher's daughter" my ass – I see through your fake sweet act now – you're getting your ass kicked tomorrow, and I'm really going to enjoy the beating I give you #andSTILL"
Of course as everyone now knows, that prediction couldn't have been further from the truth, as Holm unleashed a striking clinic on Rousey from the opening bell through to the devastating head kick KO finish that brought 'Rowdy's' undefeated reign of terror to an end.

Ken Shamrock vs. Tito Ortiz
One of the most heated rivalries in the UFC undoubtedly belonged to Hall of Famers, Ken Shamrock and Tito Ortiz.
The back-and-forth war of words between these two during their trilogy of fights was unintentionally hilarious.
Shamrock in particular kept the laughs coming with absurd soundbites from the baffling, "I'm gonna knock you're hair black," to the factually incorrect, "I'm gonna smash your little head," (everyone knows Ortiz has a huge noggin), and the all-time classic, "I will beat you into a living death."
Ortiz was prone to gaffs too, but the difference was that Shamrock never came close to backing up his boasts in their Octagon trilogy, losing all three fights by TKO.

Conor McGregor vs. Nate Diaz
No one in UFC history has been as confident, cocky and outspoken as Conor McGregor, and to be fair to the featherweight champion, he backed up every word in the Octagon in his first seven fights in the UFC.
When Nate Diaz stepped up as a late notice replacement at UFC 196 on less than two weeks notice, he was as self assured as ever, even agreeing to fight him at 170 pounds – two divisions above his usual weight class.
"The only approach I changed is I dug the grave a little bit wider," McGregor said of the change in opponent. "A little bit longer for Nate's skinny, fat, long body."
During the 11 day spell before the fight McGregor left everyone in no doubt that he was convinced he was going to outclass Diaz.
"He'll be too slow in there. My speed will stifle him. He will not be able to handle the ferocity. End of the fourth I think he will be put away," McGregor confidently predicted.
"His understanding of ring generalship and ring control is very amateur. It's novice where I come from. So he'll understand the difference between amateur and world champion. I come out of the trap like a greyhound at 100 miles per hour and I don't stop."
McGregor started the fight brightly and opened up a significant cut to his opponent's face. However, Diaz took the best the Irishman had to offer and then rocked him with strikes in the second round before locking on a fight-ending rear-naked choke, delivering one of the most talked-about upsets in UFC history.

Josh Koscheck vs. GSP
Few fighters have fit more naturally into the 'villain' role than Josh Koscheck, who's never shied away from bad-mouthing his opponents.
That included longtime welterweight champion St. Pierre, who he'd previously lost to back at UFC 74, but was getting a second bite at the cherry at UFC 124 some three years later.
Before the rematch they had a stint as opposing coaches on The Ultimate Fighter, where Koscheck came up with one of the most ridiculous soundbites in UFC history.
"I'll probably just get in his face and [waggles his tongue] motorboat his ass," Koscheck laughed, apparently oblivious to how wrong that statement was on multiple levels.
During the buildup to the fight Koscheck retained his cocky attitude and had complete faith that he was going to outstrike the champion.
"My thing is, I don't think George has a good chin and I don't think his hands are that good. So I want to keep this fight on the feet and knock his ass out."
GSP quickly disproved that assumption when he broke Koscheck's orbital bone in the opening round of the fight, then repeatedly punched his swollen face for the remainder of the 25-minute fight.

Without a doubt one of the most outspoken fighters in the game, Michael Bisping was in full swing in the lead-up to his UFC 100 fight with fellow TUF coach Dan Henderson.
"Stylistically, he's a good match up for me," Bisping told The Sun. "I'm light years ahead in the striking department. He's got a big right hand and he's dangerous in the clinch, but not too much to worry about."
As the fight drew closer Henderson made it clear that he didn't like 'The Count' as a person, which angered the British star.
"He's really, really annoyed me – but he's made a big mistake, because when I'm in a bad mood, I'm unstoppable. I'm going to beat him. I think it's my time. I think I'm coming into my prime. I've definitely got the ability to knock him out and I'll be looking to do that. I'm looking to make a show out of him, to beat him in every area of the game."
Bisping talked a good fight, but he wasn't able to back it up in the Octagon that night and ended up as the victim in what would become one of the most replayed UFC highlights of all time, eating a huge 'H-Bomb' strike from Hendo that felled him like a tree.
Bisping was unconscious before he hit the mat, but Henderson wasn't finished, leaping down with an earth-shattering elbow to the face before the referee had time to intervene.