MMA is a global sport, and as such stars often find themselves traveling overseas to all kinds of exotic and outlandish locations to train or fight.
As you'll see in this article, that can often lead to some of the craziest, scariest and most bizarre experiences of their lives.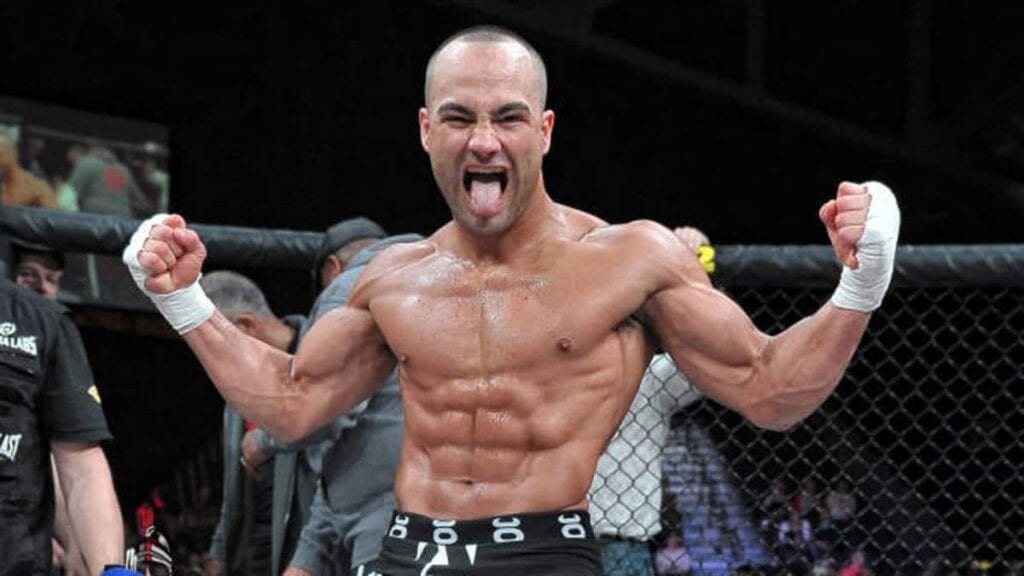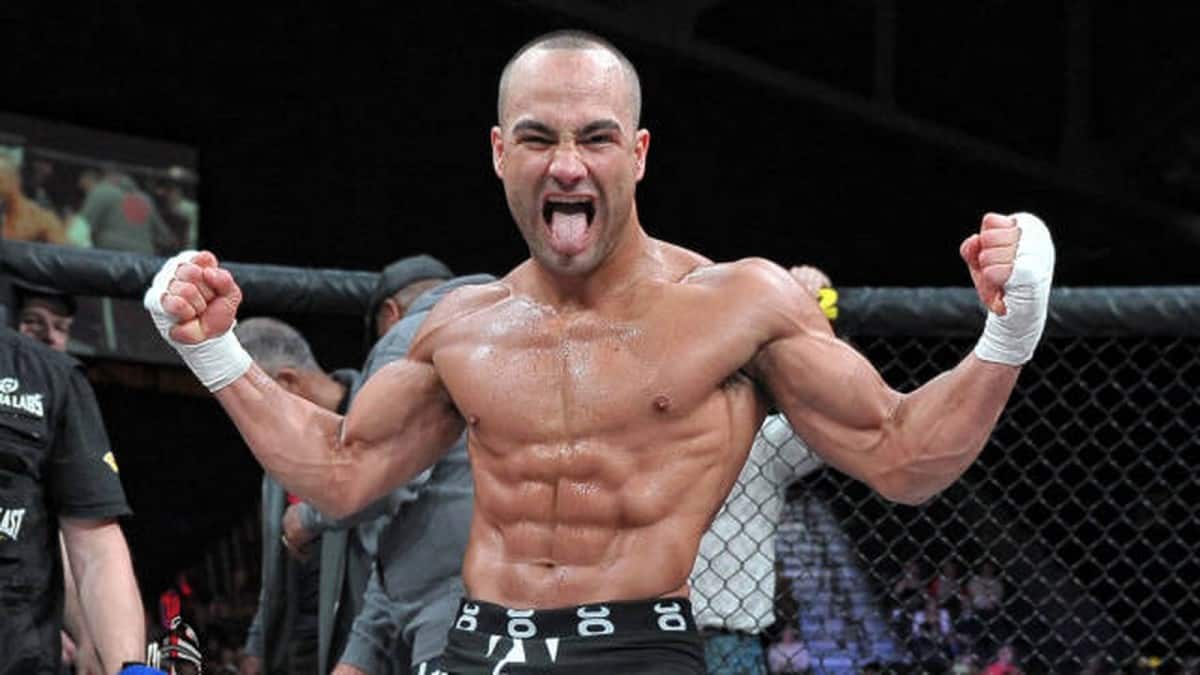 Eddie Alvarez Knocks Out Mafia Man In Russia
Back in 2007, 'The Underground King,' Eddie Alvarez was the welterweight champion for Bodog Fighting Championships and traveled to St. Petersburg, Russia, to defend his title against Nick Thompson.
Following the event, he attended an after-party on a yacht hosted by one of Bodog's owners from Russia, where, according to fellow fighter Chael Sonnen who was also in attendance that night, a Russian gangster at the party punched one of the Bodog ring girls.
Outraged by what he'd just witnessed and not realizing who he was dealing with, Alvarez then stepped forward and knocked him out cold with one punch.
Sonnen says that portion of the story is 100% true, but admits that he doesn't have concrete proof of what happened next, though the rumor was that Alvarez was then escorted from the yacht by Russian mobsters and taken out to the middle of nowhere, where a hole was dug and his life was threatened before they finally set him free.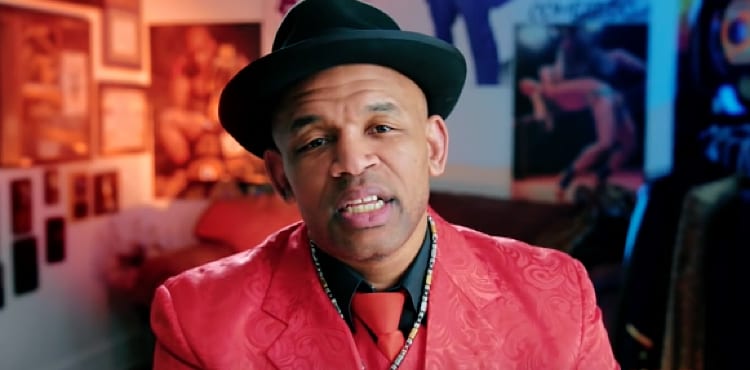 Shonie Carter's Unexpected Visit To Turkey
'Mr. International' Shonie Carter truly lived up to his nickname back in 2008 when he went on the popular 'Underground' forum to ask for help to get back to the United States after waking up drunk in Turkey without a passport after a wild night out.
According to Carter, he had partied the night before back in the U.S. with a 'bad girl' and her entourage, going from clubs to private limousines and then finally a private plane, which the veteran MMA star believed was headed for Detroit.
However, after passing out drunk on the plane, Carter woke up many hours later to shockingly discover that the plane was on its final approach to Istanbul, Turkey.
Realizing that he didn't even have his passport with him, when he landed Carter asked for help on the internet to get back home. People on the UG forum didn't believe him until they tracked his IP address and discovered he was indeed in Turkey.
In the end, Carter says he undertook an unsanctioned fight in the country in exchange for safe passage home. After winning by kimura he was taken over the border, given documents and flown home safely.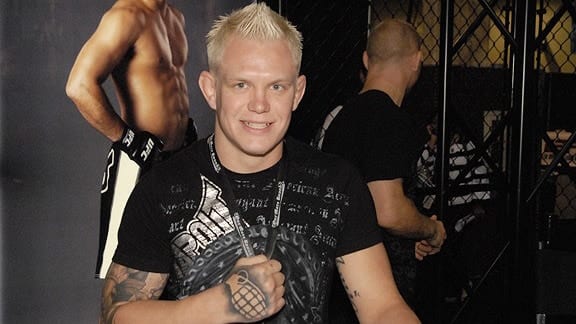 Junie Browning's Life-Threatening Brawl In Thailand
Back in December of 2011, one of the most notorious 'bad boys' to have ever come out of 'The Ultimate Fighter' reality show, Junie Browning, attended a birthday party at a bar in Thailand with his girlfriend and things soon spiraled out of control.
Whether you believe Browning's account that he was initially attacked by the bar owner and a female tourist for no reason, or their version that it was he who had started the brawl, leaving five members of staff and tourists requiring hospital treatment, there is no doubt that 'The Lunatic' came off by far the worst.
During the chaotic scenes that followed Brown found himself coming under seige from a group consisting of bar staff, tourists, and locals, during which he was hit over the head with a bottle and a beer mug, in addition to being stabbed in the arm and neck, while being punched and kicked on the floor.
Browning required CPR twice in the ambulance on the way to hospital afterward and requiring staples to close multiple severe gashes on his scalp, but he survived, and in fact, then initiated a second brawl with several of his attackers who also ended up receiving treatment in the same room as him.
Browning's ordeal wasn't over there, however, because he and his girlfriend received warnings that the Thai mafia were out to get him, resulting in the pair going on the run for 10 days before he finally turned himself into police custody and was eventually allowed to return home.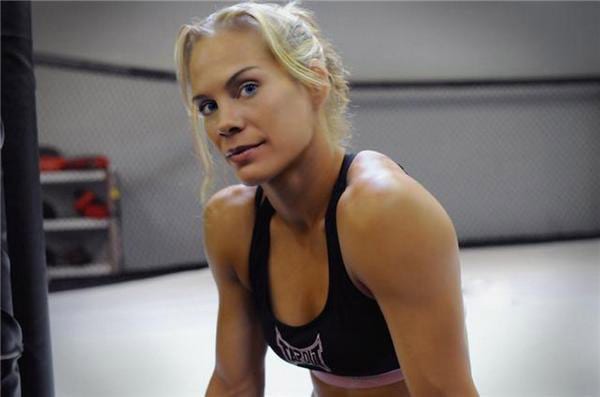 Julie Kedzie Soils Herself In St. Petersburg
In 2007 at Bodog: Clash Of Nations in Russia, Julie Kedzie defeated Julia Berizikova by TKO after catching her in a mounted triangle.
That should have been a cause for celebration, but there was one big problem that still had to be addressed – the fact that she'd soiled herself during the fight.
In actual fact, Kedzie didn't actually realize what had happened at first, and worse still, since her fight had been pushed back until after the main event when it was over she was immediately hustled onto a fighter bus and away to a glittering party at the famous Alexander Palace in St. Petersburg.
During the journey, Kedzie became aware of a terrible smell but assumed she'd just stood on something.
When she arrived at the party she found herself surrounded by celebrities like Jean-Claude Van-Damme and politicians, but soon managed to make her way to a bathroom, where she discovered in horror that her underwear was soiled.
After ditching her underwear and cleaning herself up as best she could, Kedzie returned to the party, where her surreal evening continued when Italian Prime Minister Silvio Berlusconi allegedly offered through a translator to be her boyfriend for the evening, while Russian President Vladimir Putin put his arm around her shoulder for a photo opportunity.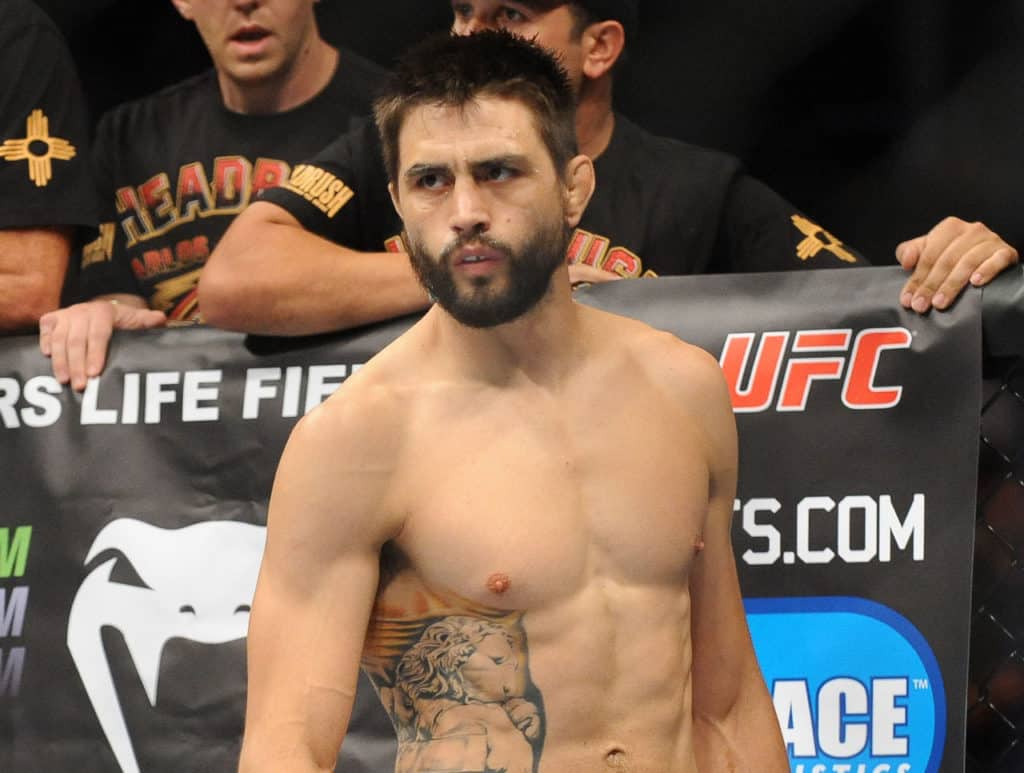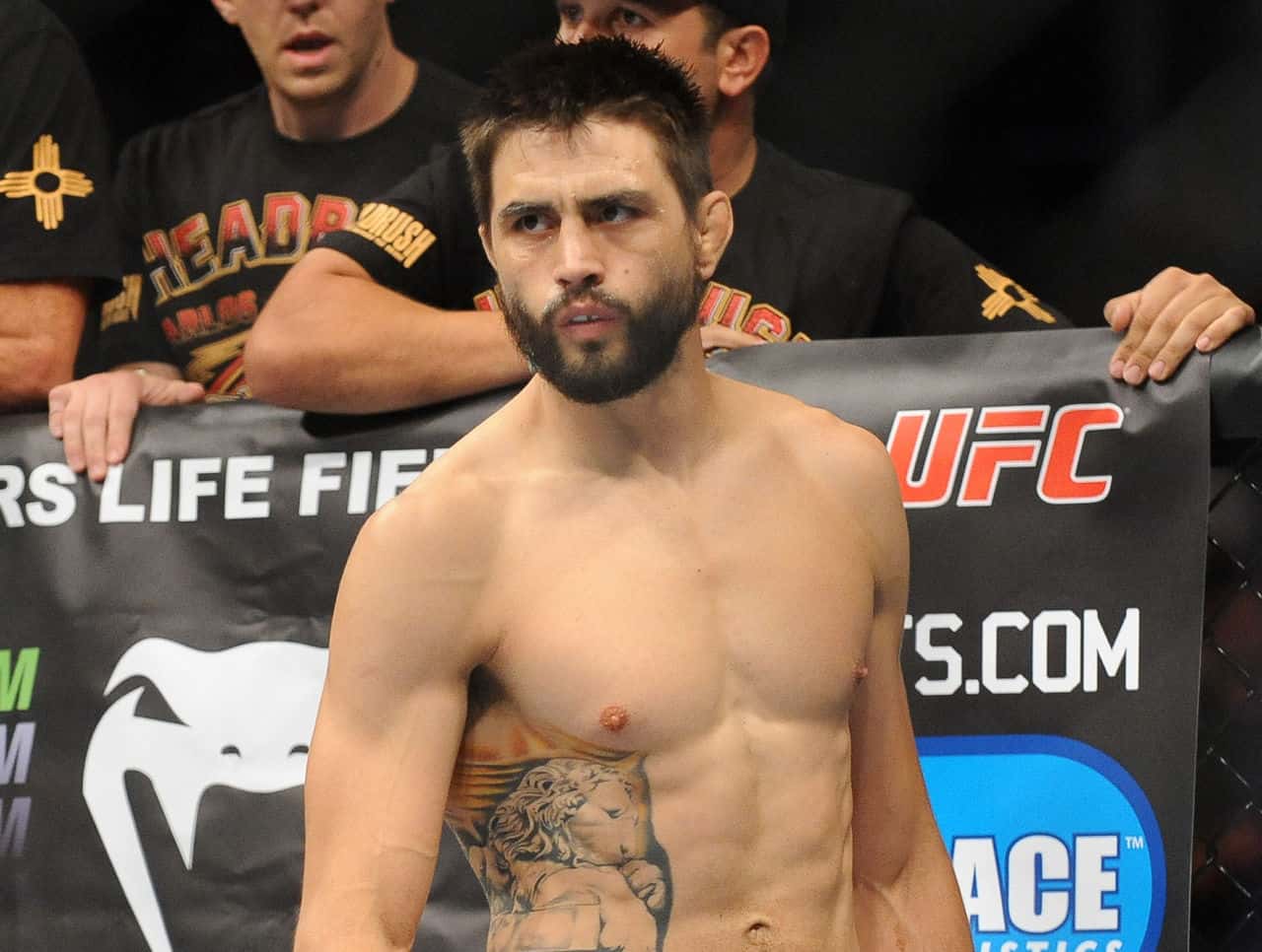 Carlos Condit Fights Special Forces Member In Afghanistan
In 2008, Carlos Condit was one of four MMA stars including Michael Bisping, BJ Penn, and Urijah Faber who took time out of their fight schedule to visit the troops serving in Afghanistan.
Arriving at a small base on a mountain the war-torn region, it wasn't long before the fighters were showing off their fighting skills and training with the troops.
When it came to Condit's turn, his Special Forces sparring partner asked him how hard he wanted to spar. "It's up to you man. Hit me as hard as you want to get hit," 'The Natural Born Killer' coolly replied.
Almost immediately, the overzealous Special Forces member landed a heavy sucker punch, and that gave Condit the green-light to give him a first-hand demonstration as to why that was a terrible idea. Pressing forward, Condit then landed a left head kick followed by a right hand that slumped the military man to the canvas unconscious.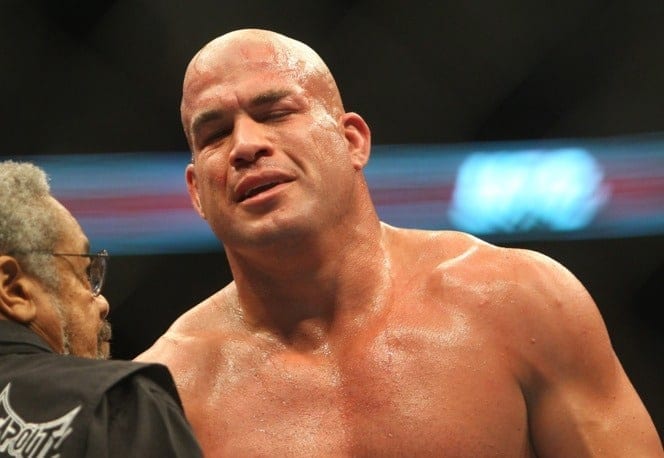 Tito Ortiz's Street Fight With Lee Murray In London
Following a night of partying after UFC 38 in London, England, back in the summer of 2002, a number of fighters spilled out of a club into a back alley.
Pat Miletich and a friend of Tito Ortiz's began play-fighting, but Tony Fryklund thought they were being serious and put Ortiz's acquaintance in a chokehold.
Miletich told Fryklund to let him go and he complied, but after Ortiz's friend started shouting at him a member of Lee Murray's entourage charged in and knocked him old cold.
A brawl then broke out, with Miletich recalling that Chuck Liddell had his back against a wall and was knocking people out as they came to him.
Meanwhile, Ortiz went after Murray but missed with a hook, and then the British fighter unleashed a multiple punch combo that, depending on whose account you believe, either dropped him to his knees or knocked him out, and then proceeded to stomp on his head several times.
Ortiz has always been adamant that he wasn't knocked out, admitting that he was floored, but claiming he then got straight back to his feet.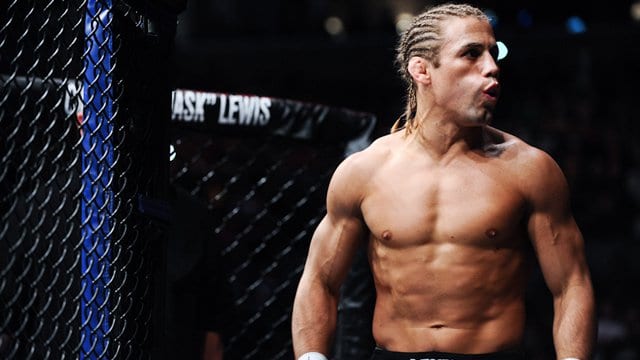 Urijah Faber Fights For His Life in Bali
During a trip to Bali in 2006, Urijah Faber was dancing at a club with some girls when a local man tried to pick a fight with him, leading to the two going outside to settle their differences.
Faber, who was the WEC's featherweight champion at the time, came out on top, throwing the thug to the concrete directly onto his collarbone, taking the fight out of him.
However, Faber was then sucker-punched in the back of the head with brass knuckles by another bystander, while others tried to hit him with bottles and rocks.
Faber threw one of his attackers into a motorcycle and then made his way back into the club, but soon found himself outnumbered and falling to the floor. Managing to struggle back to his feet Faber fought his way back out and fled to a Billabong store further along the road.
Again he found himself cornered though as the thug with the brass knuckles, one with a shoe-hammer and two others chased him into the shop, forcing the blood-soaked fighter to hit one of them and take off running yet again.
Faber finally managed to get to a taxi, and despite almost being dragged back out again, the driver managed to take off and get him to the safety of a local hospital, where he received stitches to seven different areas of his head.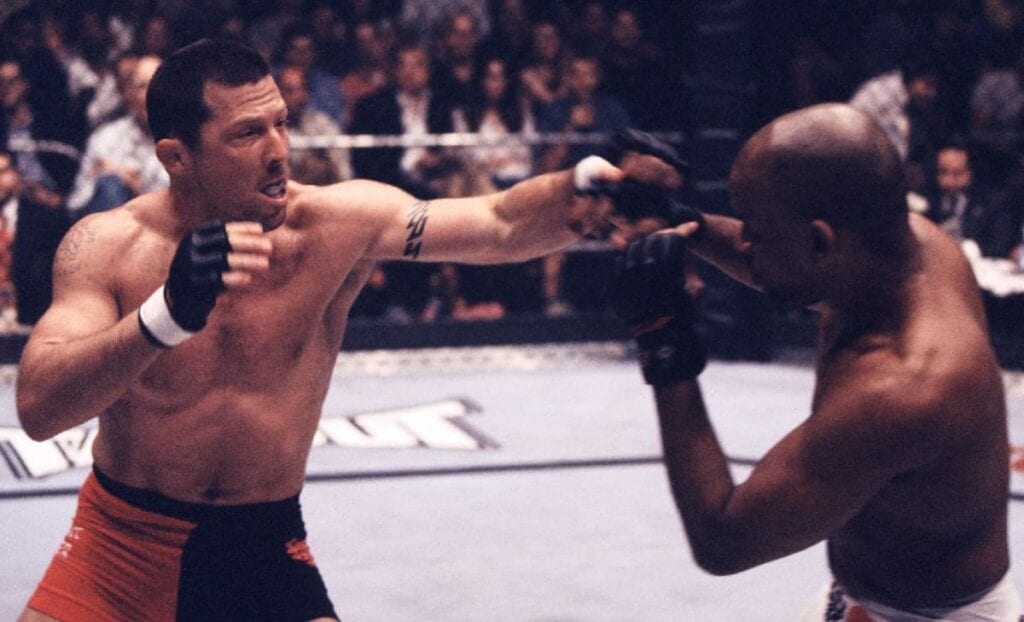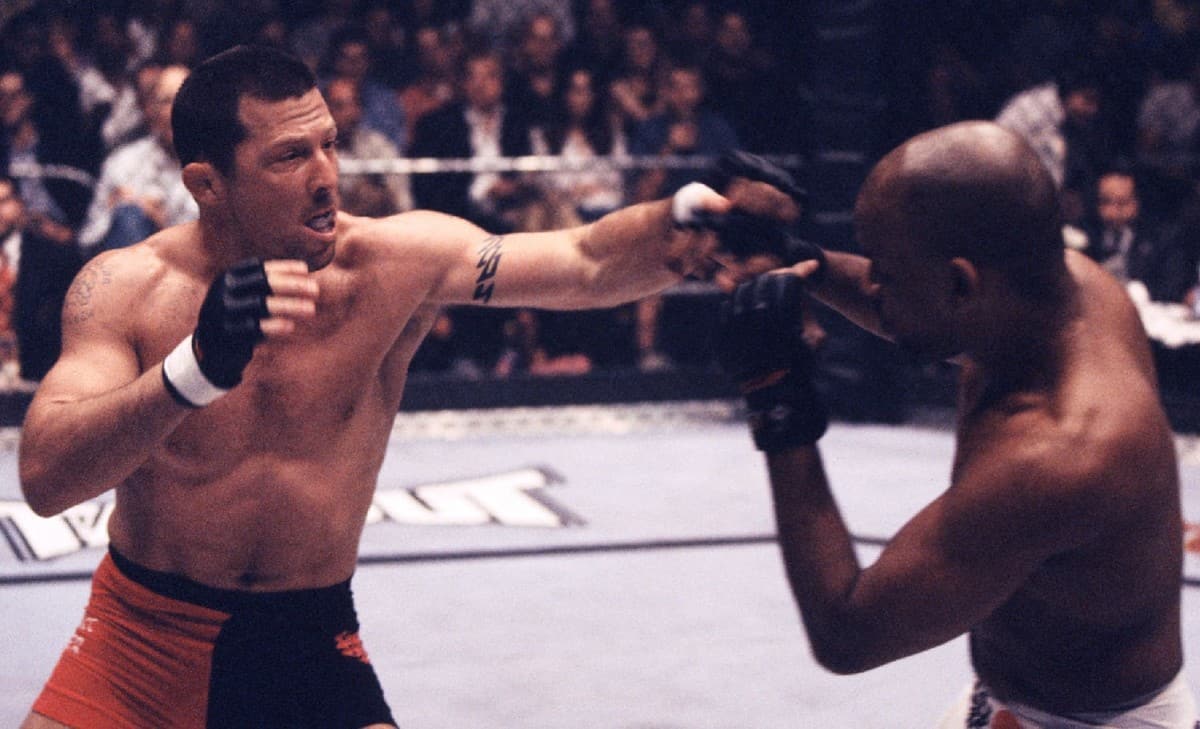 Pat Miletich's Disastrous Trip To Kuwait
In 2001, Pat Miletich found himself travelling to a still war-torn Kuwait to coach David Menne in a one-night middleweight tournament that also included the likes of Matt Hughes, Carlos Newton, 'Pele' and several Russian fighters, which was being funded by a Syrian promoter to entertain the ruler of the country, Sheik Jaber Al-Ahmad Al-Jaber Al-Sabah.
It soon became clear things weren't going to go smoothly when the Syrian promoter announced that there wouldn't be an official weigh-in since all the fighters were roughly the same weight and they didn't have a scale.
This was unacceptable to Miletich and the other U.S. fighters who insisted the weigh-in take place, but when Menne attempted to leave the room to get his own scale to use, the Russians in attendance locked the doors.
However, when the other fighters, led by Miletich, rallied around and threatened to quit the tournament the weigh-ins proceeded, leading to two Russians alternates being scratched from the card and two others having to cut more weight.
On the night of the fights, Dave Menne emerged as the winner over Georgia's Karimula Barkalaev by decision to claim a gold belt and cheque for $125,000, but a mob of angry Russians and Chechens then entered the ring looking to cause trouble.
Luckily for the Americans, it just so happened that a group of Navy Seals were also in attendance that night and they soon surrounded the troublemakers, enabling the fighters to safely exit the building. Believing they would be targeted again at the hotel they were staying in, Miletich arranged for the Sheik to book them into a different five-star hotel.
Sure enough, while collecting their belongings, they narrowly escaped another confrontation with the Russians again and were then driven to their new accommodations before finally returning safely home a few days later.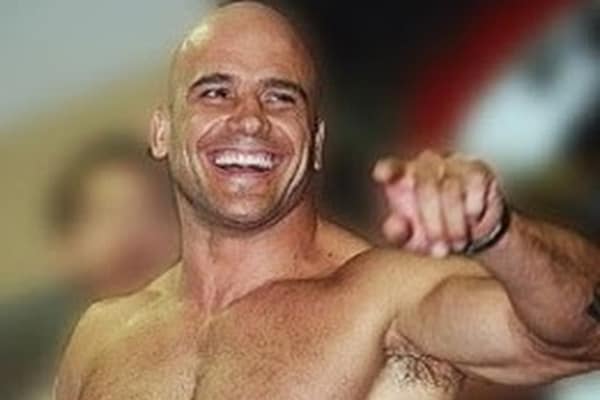 Frank Shamrock And Bas Rutten Go Stage-Diving In Japan
After the Pancrase 'Eye Of The Beast' event in early 1995, Frank Shamrock and Bas Rutten decided to attend a rock concert featuring the band Biohazard.
Arriving at the Liquidroom club, the two stars were ushered in via the back door and soon found themselves up on stage, partying with the band. Others were stage-diving into the 2000-person capacity crowd and so it wasn't long before the two fighters followed suit.
Rutten was the first to take the plunge but it didn't go well, with the heavyweight accidentally headbutting a Japanese fan in the face on the way down, knocking him out. Still up on stage, Shamrock recalls seeing Rutten reappear with blood pouring down his face from a nasty gash above his eye, yet he was now enthusiastically urging his fellow fighter to also jump.
Shamrock plucked up the courage and leapt himself, but this time the crowd was having none of it and parted ways, sending him plunging towards the ground head-first.
However, Shamrock's fall was partially slowed by Rutten, who managed to catch his head in mid-air to stop him from severe damage as he dropped to the floor, before picking up the guy that he'd knocked out moments before and then continuing to dance and party into the night.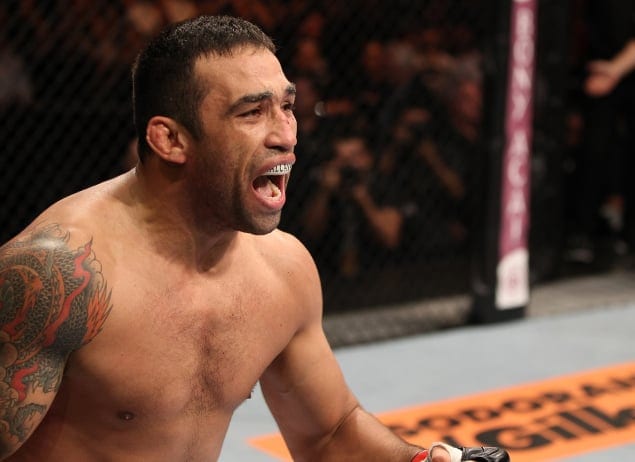 Fabricio Werdum Comes Close To Death In Mexico
Ahead of the biggest fight of his life – a heavyweight title fight against Cain Velasquez at UFC 180, Brazilian star Fabricio Werdum took his entire training camp to the Nevado de Toluca region on Mexico to help acclimatize to the high altitude he'd be experiencing in Mexico City.
In total, Werdum and 12 members of his camp, including Rafael Cordeiro, Renato 'Babalu' Sobral and Felipe Werdum, arrived at the house they were renting, only to discover it was bitterly cold and they didn't have any power, so they had to use a gasoline generator in the residence to get the heating up and running.
On the first evening after training and eating dinner, the team was tired and soon went to bed.
However, what they didn't know was that while they were sleeping the generator was slowly leaking deadly carbon monoxide, a silent killer responsible for over 500 deaths per year in the United States alone, into the house.
Werdum awoke in the middle of the night suffering from a serious headache, nausea and dizziness, leaving him unable to find the strength to get out of bed. Others in the camp were also suffering the same symptoms, but thankfully his brother Felipe managed to struggle out of bed and had the foresight to switch off the generator.
The entire team was hospitalized afterward, suffering from sickness and diarrhea as a result of carbon monoxide poisoning, with a doctor informing them that if they had slept on for just another couple of hours they would almost certainly have died.