Iron sharpens iron in mixed martial arts (MMA), and many fighters forge unbreakable bonds with their current and former training partners who they have shared blood, sweat, and tears with on a daily basis in the pursuit of excellence.
However, it would be wishful thinking to believe that this is always the case.
In this article, we'll look at what happens when friendships fracture, team loyalty falls by the wayside, and full-blown feuds form between fighters who have fought in the UFC, leading to dirty laundry being aired in public and, in some cases, scores being settled the old-fashioned way in the Octagon.
10. Antonio Silva vs. Thiago Silva
Thiago Silva didn't exactly leave the American Top Team (ATT) camp good terms in 2012, claiming he had wasted three of his years at the gym, and one former teammate who was only too happy to see him leave was fellow Brazilian Antonio 'Bigfoot' Silva.
Months later 'Bigfoot' called out his "mentally sick" ex-training partner to fight him in the Octagon, revealing that they had once been close friends until Thiago "stabbed me in the back and cheated me."
'Bigfoot' didn't go into specifics, but denied it was due to his rival's departure from ATT.
For his part, Thiago claimed that 'Bigfoot' was simply "mad" and "jealous" due to the fact he was the better fighter and had had repeatedly beat him up in training.
However, the 205-pound Silva wasn't willing to back that up by fighting the 265-pound 'Bigfoot' at heavyweight and insisted they meet at a 220-pound catchweight instead.
'Bigfoot' labeled him a coward, but said he'd consult with his doctor about whether the weight cut was viable.
The fight never materialized though, with Thiago being released by the UFC the following year after repeated allegations of domestic abuse by his estranged wife came to light.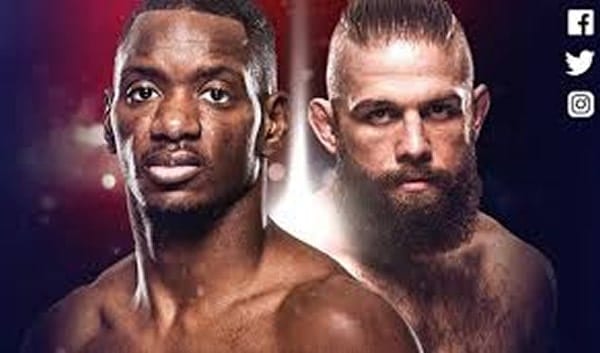 9. Nik Lentz vs. Will Brooks
After a five-year stint, Nik Lentz left American Top Team in 2017, claiming that the gym now had so many fighters that it had lost its 'family-like atmosphere.'
Nevertheless, he claimed he'd left on good terms, but when the UFC booked him against one of his former teammates, ex-Bellator lightweight champion Will Brooks, his opponent gave a different account of Lentz' departure, saying that he'd thrown, "a temper tantrum like a child," while also accusing him of threatening to break off friendships with his ex-teammates if they trained with 'Ill Will' prior to the fight.
Lentz denied that was the case and mocked Brooks by branding him,"an emotional trainwreck," and "the biggest drama queen in MMA."
Their fight was scheduled for UFC 216, but Lentz no-showed at the weigh-ins and later claimed to have been suffering from hypoglycemia, though Brooks suggested, "there was no medical issue…he quit and that's all there is to it."
However, the grudge match was quickly rebooked for UFC Fight Night 121, and though Brooks would get the better of the early action, it was Lentz who would emerge with a second-round guillotine choke submission victory.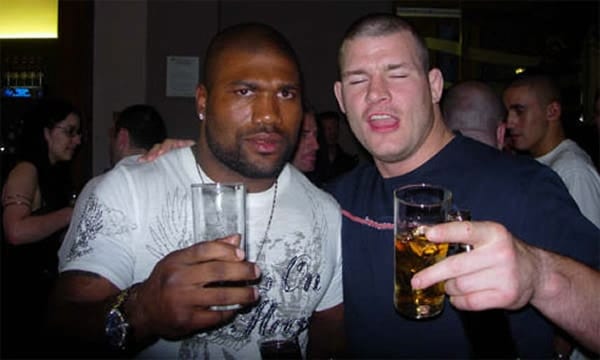 8. Quinton 'Rampage' Jackson vs. Michael Bisping
Quinton 'Rampage' Jackson and Michael Bisping were once good friends and teammates at the 'Wolfslair' gym in the UK, but a wedge was driven between them in 2012 when 'The Count' split from the team after falling out with the owners.
""F-ck Michael Bisping," 'Rampage' later told fans during a Twitch stream, calling him, "a traitor.""
Rampage claimed Bisping used to hurt his sparring partners and also dragged him through the mud during a court case involving his ex-manager at Wolfslair.

"He's a f***ing a**hole," Jackson fumed. "I've never done anything wrong to him. You don't do that to your teammates. He's a cheap motherf**ker because he doesn't like to pay his manager when he owes him money. That doesn't have anything to do with me. In order to help his case he lies on me and gives some bulls**t statements.
"I'd fight him on the playground if I knew I wouldn't go to jail."
Bisping soon blasted back at his former friend and claimed he'd, "fight him [at] any weight he wants."
However, the grudge match never became a reality, with 'Rampage' moving on to Bellator, while Bisping stayed put and became the UFC middleweight champion.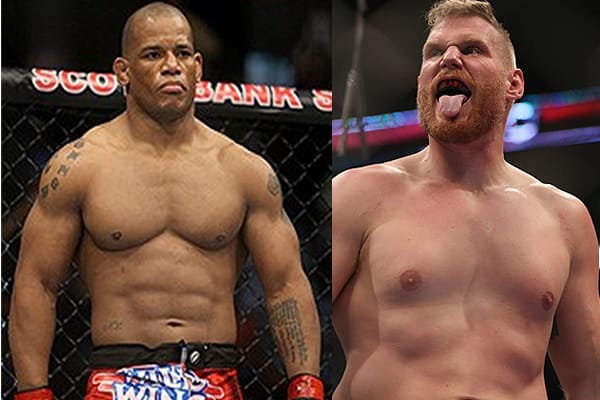 7. Hector Lombard vs. Josh Barnett
In his prime, Hector Lombard was one of the most feared middleweights in the sport, going 25 fights without defeat.
But there were widely circulated rumors that he went just as hard on his teammates in the gym.
Apparently, that led to a behind-the-scenes feud with UFC heavyweight star Josh Barnett, which became public when Lombard called him out at Bellator 24 in 2010 despite the huge size difference between them.
Over time details emerged of the bad blood between them, with coach Erik Paulsen recalling that one day they were scheduled to spar for five minutes in the boxing ring, but ended up going at it for 32 minutes after Lombard allegedly broke Barnett's nose with an overzealous punch.
During another session at the gym sometime later, Barnett decided to teach Lombard a lesson for bullying other fighters by taking him to the mat and refusing to let him back up, while "working him over pretty good," until his rival "freaked out."
Despite repeatedly stating his desire to settle their differences in the cage, Lombard has never had the chance to fight Barnett since, and a request to compete in a grappling match also fell on deaf ears.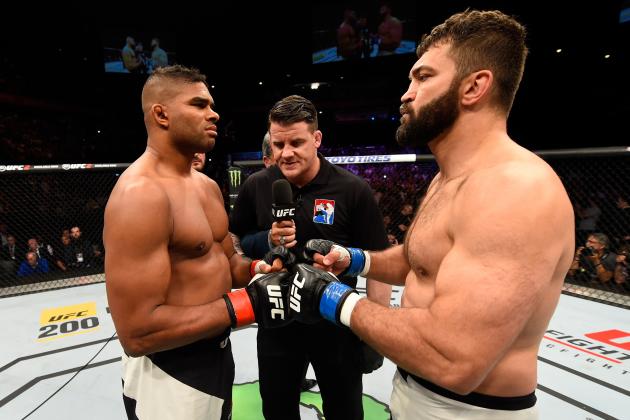 6. Andrei Arlovski vs. Alistair Overeem
Tensions ran high at the Jackson Wink MMA academy in 2016 when it emerged that heavyweight star Alistair Overeem was seeking a UFC fight with his training partner Andrei Arlovski.
There had already been bad blood between the two a couple of years earlier when Arlovski publicly stated that Overeem, "injures everyone he trains with," after the Dutch fighter accidentally hurt Jon Jones in sparring.
Arlovski noted that only a few days earlier Overeem had landed a full-force knee to his midsection that left him with a suspected broken rib.
A fight between the two was booked for UFC Fight Night 87 and both insisted they would be training for the showdown at Jackson Wink.
In the past, coach Greg Jackson had avoided teammate vs. teammate fights, but on this occasion he went against protocol by cornering Arlovski, saying that he was "kind of a special case," while Mike Winklejohn also followed suit.
However, despite the backing of the gym's two main coaches, Arlovski would still go on to lose the fight to Overeem by TKO.
The following year Arlovski left the gym while Overeem has stayed put.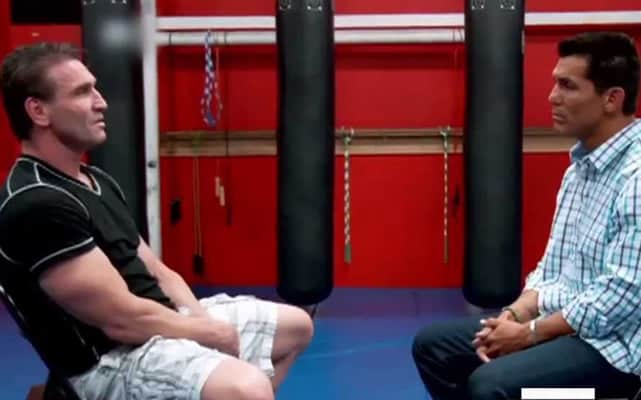 Ken Shamrock vs. Frank Shamrock
Its one thing to be teammates, but UFC Legends Ken and Frank Shamrock were also adopted brothers, yet they still became embroiled in a bitter feud that would last decades.
The two had been adopted by Bob Shamrock, who ran a boy's home for troubled kids and Ken, the elder of the two, would become Frank's mentor and teammate at the 'Lion's Den' gym, helping oversee his early success in MMA.
When Ken left the UFC for pro-wrestling, he put Frank in charge of the gym but didn't give him any freedom to put his own stamp on how things were run, and so Frank became lazy, and that eventually led to a dust-up with his brother.
Frank quit the gym as a result, and when his father Bob gave him an ultimatum to either make things right with Ken or they couldn't have a relationship, he cut ties with him too.
That infuriated Ken and led to the two brothers essentially not speaking for well over a decade, though they continued to feud publicly via the media over the years and at one stage even signed a contract to fight each other, though it didn't come to fruition.
Their relationship hit a new low in 2010 when their father fell gravely ill and Frank refused his dying wish to see him and then didn't attend his funeral.
In 2013 the brothers finally reconciled during an emotional reunion during Frank's Spike TV documentary, 'Bound By Blood,' and a few years later Ken would ask his brother to corner him for his rematch with Royce Gracie in Bellator.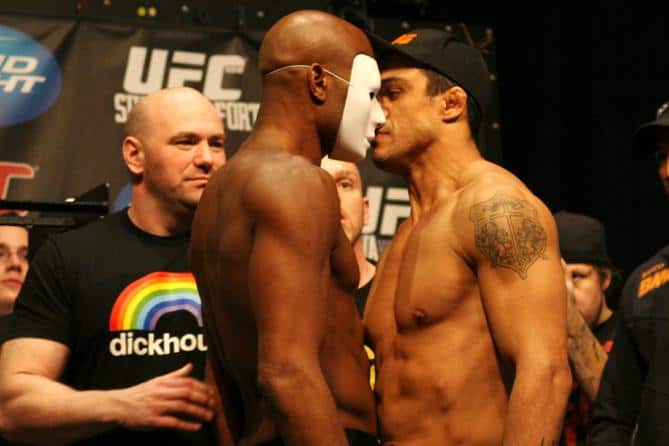 There was an electrifying energy surrounding Anderson Silva's middleweight title fight showdown with Vitor Belfort at UFC 126 in 2011 thanks to a simmering feud between the two Brazilian legends.
Silva was a longtime member of the Team Nogueira camp in Brazil and had become training partners with Belfort when he also joined the academy.
The team had an unwritten code that they would never fight each other, but one day Belfort defied that by announcing that he wanted to become the UFC's middleweight champion, even though Silva was the long-time titleholder at the time.
That sent shockwaves through the gym, but Belfort's mind was made up.
During the pre-fight build-up, Belfort accused Silva of being "two-faced," and in response, 'The Spider' infamously showed up for the weigh-ins wearing a white mask, leading to one of the most intense staredowns in UFC history.
The hype surrounding this classic encounter almost single-handedly took MMA mainstream in Brazil and the fight itself would also provide an unforgettable finish, with Silva landing a perfectly placed front kick to the face in the first round that KO'd his rival.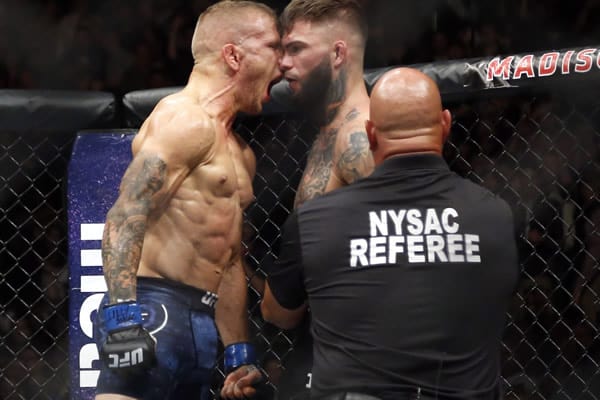 3. Cody Garbrandt vs. TJ Dillashaw
For many years Team Alpha Male had one of the most tight-knit camps in the sport, but behind the scenes, cracks began to show.
At the epicenter of the fallout was the bantamweight champion at the time, TJ Dillashaw, who announced in 2015 that he was leaving the gym in California to continue training with the camp's recently departed head coach Duane Ludwig in Denver.
TAM leader Urijah Faber was upset by his protégé's decision and banned him from returning in the future while rising star Cody Garbrandt made it clear he saw Dillashaw's departure as a betrayal.
The feud only intensified as allegations emerged that Dillashaw had been a bully at the gym and had intentionally hurt fellow UFC fighter Chris Holdsworth in practice, contributing to the concussion-related issues that would force him to stop competing.
Spoiling for a fight, Garbrandt claimed that he had video evidence that he'd KO'd Dillashaw in practice, and when he became champion in late 2016 the UFC opted to put the two as opposing coaches on TUF, leading to more fireworks, with 'No Love' grabbing his rival around the throat on the show as tempers flared.
The two had a chance to settle their differences in the Octagon at UFC 217 last year and it was Dillashaw who slayed his rival courtesy of a second-round TKO stoppage to win back the title, though that may not be the last we hear of this ongoing feud.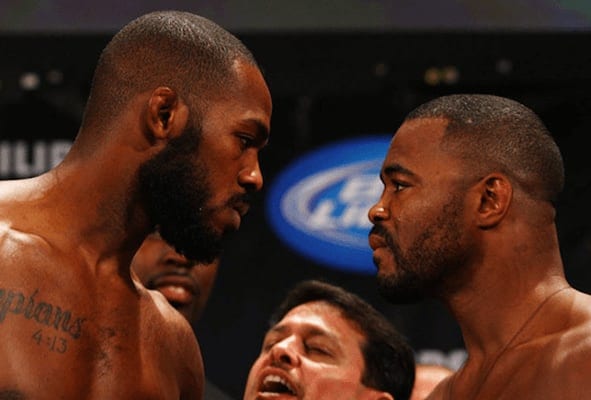 2. Jon Jones vs. Rashad Evans
When Jon Jones first attempted to join Greg Jackson's gym, fellow UFC light heavyweight star Rashad Evans expressed reservations given that they were both on their way to title contention at 205 pounds.
However, Jackson convinced him that they wouldn't have to fight each other and it wasn't long before they became each other's main training partner and developed a close friendship.
Things then turned ugly when Jones stated on 'The MMA Hour' show that he would fight Evans if UFC president Dana White told him too. Evans saw that as a betrayal and so just weeks later he entered the Octagon to call out Jones, who had just won the 205-pound title against Mauricio 'Shogun' Rua.
The fallout between them would lead to Evans departing their camp, while the two stars started a war of words online and even had a face-to-face verbal confrontation at the 'Surrender' nightclub in Las Vegas a few months later, which Georges St-Pierre allegedly broke up.
Injuries would delay their showdown, but after a relentless trash-talking campaign in the pre-fight build-up, during which Evans claimed to have got the better of his former teammate when they trained together, they finally locked horns at UFC 145 in April of 2012 with Jones emerging victorious by unanimous decision.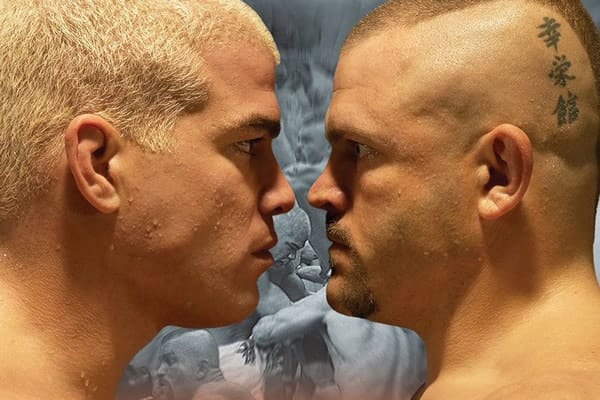 Originally friends and training partners, UFC hall of famers Chuck Liddell and Tito Ortiz would go on to have one of the greatest rivalries in the history of the organization.
Managed by Dana White, they each made a big impression in the company and Ortiz won the light heavyweight title, but when the UFC tried to book Liddell as his next title challenger he became evasive and claimed they'd made a pact not to fight each other – something that Liddell flat-out denied.
Following a year of delays, Ortiz's friendship with Liddell had crumbled beyond repair, but after losing his title to Randy Couture, he finally agreed to fight Liddell in a 2004 title eliminator.
Liddell walked to the Octagon at UFC 47 with a broad smile on his face, convinced that Ortiz was no match for him, and proceeded to KO him early in the second round.
The feud wasn't over though, and they would square off again at UFC 66 in 2006 where'The Iceman' again came out on top, with his third round TKO being watched by a record one million viewers on PPV.
On TUF Season 11 in 2010, their rivalry was rekindled as head coaches ahead of a trilogy fight, but that fell through when Ortiz pulled out injured, which Liddell took as proof that he was scared to fight him again.
The now-retired fighters have never fully buried the hatchet in the years since, though Ortiz has publicly admitted that Liddell, "had my number" in the Octagon and expressed regret that their bitter rivalry ruined their friendship.