10 Dumbest Quotes In MMA History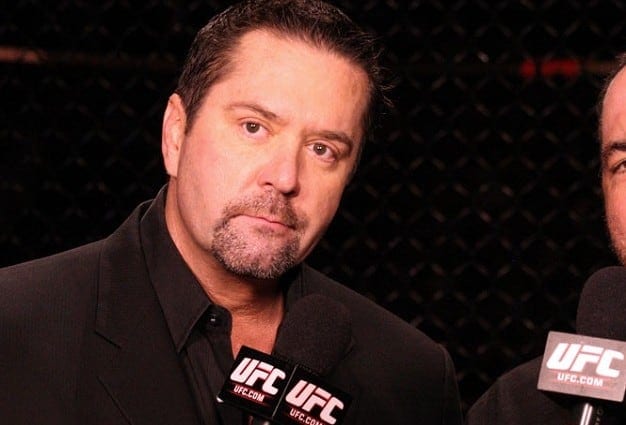 Throughout the relatively short history of mixed martial arts (MMA), there have been some truly head-scratching, mind-numbing, and downright comical quotes uttered by the sport's fighters and promoters.
You probably have a few of your favorites in mind, and in truth, there probably too many to list right here. Still, a few select quotes have gained such infamy that they are forever remembered as classic moments in fighting.
And it hasn't been for their intelligence. Let's take a look at the 10 dumbest quotes in MMA history.

10.) "You never have to worry about me with a DWI or doing something crazy"– Jon Jones:
Kicking off the list is none other than former UFC light heavyweight champion Jon Jones, who is currently serving an indefinite suspension for allegedly hitting and injuring a 25-year-old pregnant Albuquerque woman with a rental car in the wee hours of April 27.
Jones took his outside the cage antics to a new level this year after failing a UFC 182 drug test for cocaine and fleeing the scene of the aforementioned accident only to return and grab a handful of cash, but there were signs of a storm to come long before he got into that much trouble.
This quote, taken from an interview when Jones was discussing the advantage he brings to his new sponsors, ended up coming just over a month before he was arrested for DUI on May 19, 2012, in Binghamton, New York, after crashing his Bentley into a street pole. His quote was disproved, but it was apparently only the start of a sad fall from grace for quite possibly MMA's most talented fighter.

9.) "He ran from the test Kenny, and I don't mean that figuratively" – Chael Sonnen:
This quote, about former rival and opposing TUF Brazil coach Wanderlei Silva, was made on an episode of a May 2014 episode of UFC Tonight after 'The Axe Murderer' has ran away from a random NSAC drug test before their scheduled UFC 175 grudge match.
The reason this ended up being such a dumb quote is that Sonnen himself was soon busted for a litany of fertility drugs and performance-enhancing substances anastrozole, clomifene, and Human Chorionic Gonadotropin (hCG), Human Growth Hormone (HGH), and recombinant human erythropoietin (EPO). Sonnen's drug cocktail eventually led to his retirement from MMA and his firing as a FOX Sports UFC analyst.
At the time it was also just the latest in a long series of dishonesty from Sonnen, who failed for extremely elevated levels of testosterone after his first fight with Anderson Silva, and was also arrested for fraud and money laundering as a real estate agent in his native Oregon.
'The American Gangster' was eventually picked up by ESPN after he came clean about using the drugs, but his accusations at Silva appeared to be quite the stance of hypocritical buffoonery for Sonnen, and it was only part of the unceremonious end to his unique career.
8.) "I want to f***, I want to fight with Chuck" – Wanderlei Silva:
Unlike all of the ins and outs of his nemesis Chael Sonnen's previous dumb quote, this one from Silva explains itself.
After making his way from Pride FC to the UFC, all-time great former champ Silva, perhaps suffering from a bit of a language barrier in the States, made an infamous error in his callout of former UFC champ Liddell. Judging by the way he corrected himself, he may have known he screwed up, however.
Check out the hilarious quote above.
7.) "Women will never be in the UFC" – Dana White:
This quote, which repeatedly came out of UFC president Dana White's mouth to TMZ and other media outlets in 2011, could prove to be the most incorrect quote of all.
Shortly after Ronda Rousey took Strikeforce by storm and won the women's bantamweight belt from Miesha Tate in March 2012, women's MMA began taking off in a big way, and White was left with no choice but to bring Rousey in as a hugely marketable star.
What followed was maybe the promotion's best-ever decision in terms of financial success, as Rousey has risen to mainstream multimedia heights never before reached by an MMA fighter.
If White had stuck to his guns and never allowed females to fight in the UFC, he would have missed out on what might be his biggest star ever, making this undoubtedly one of the dumbest quotes in UFC history.
6.) "What happened to you, USA?" rant – Yoel Romero:
Dangerous UFC middleweight contender Romero could have taken the time after his huge win over Lyoto Machida at June's UFC Fight Night 70 to call out the champion or 'Jacare' Souza, but instead he chose to go on a bizarre seemingly anti-American rant just days after the United States Supreme Court had legalized gay marriage.
Romero, a Cuban who is well-known for being extremely religious, spouted off a series of criticisms that asked the USA, 'what happened to you?' and urged them 'go for Jesus, no Gay Jesus,' or it might have even been 'No forget Jesus' depending on your point of view.
Romero later apologized with a jumbled mess of a statement that supposedly meant that anything was possible in the UFC, but the damage was done. No matter which way you spin it; Romero deservedly earned his spot amongst the dumbest quotes in MMA.

5.) Shamrock & Kimbo's steroid approval:
Despite a long-lasting feud dating back to their failed bout in Elite XC, aging freak show fighters Kimbo Slice and Ken Shamrock agreed on one thing heading into their farcical match-up at June's Bellator 138.
Both Slice and Shamrock were in approval of using PEDs to recover from hard workouts. 'The World's Most Dangerous Man" voiced his approval of 'regulated steroid use' for fighters by stating, "Yeah, f*ck yeah. I'm all for that."
Slice then backed him up by saying he wouldn't knock Shamrock for using steroids to put on a good fight, adding, "No, I won't knock it. I wouldn't knock it, I wouldn't cry about it."
No telling if this was just a direct coincidence that the above photo of Shamrock looking especially ripped for a 51-year-old man had recently surfaced online when their views came out.
4.) "Michael Jordan-esque in his grappling skills is Travis Lutter" – Mike Goldberg:
Octagon commentator Mike Goldberg is well-known for his growing library of hilarious and off-base UFC quotes. One of his best came when a rising Anderson Silva was getting ready to face TUF winner Travis Lutter back in 2007.
As a somewhat revered BJJ practitioner, Goldberg took Lutter's accomplishments about 100 levels too high when he deemed him "Michael Jordan-esque" in his grappling.
That quote promptly got a response of "No. No, he is not," from Goldberg's partner Joe Rogan and a spot on the list of the dumbest MMA quotes.
3.) "The UFC is selling you some wolf tickets" – Nick Diaz:
Stockton bad boy Diaz has had some memorable quotes in his lengthy MMA career to be sure, but none of them top his time-honored "wolf tickets" spiel prior to his UFC 158 showdown with former welterweight champion Georges St. Pierre. At a pre-fight presser, Diaz blasted the current scoring system in MMA, believing it to be too focused on wrestlers that only sought to stall and control their opponents to earn a decision win.
That led Diaz to suggest that the St. Pierre, Dana White, and the UFC as a whole was selling fans "wolf tickets" despite the fact that he had basically talked himself into a UFC title shot after losing his previous fight to Carlos Condit. It was a classic bit of trash talk from Diaz, who went on to lose the fight in one-sided fashion thanks to St. Pierre's wrestling, of all things.
He went on to state that he knew he was going to lose the fight and then failed his post-fight drug test for marijuana, but he is firmly set as one of MMAs most quotable stars. Just don't expect to see him making too many more quotes anytime soon, however, as he currently awaits a most likely stiff punishment from the NSAC after he failed a third drug test for marijuana following his UFC 183 loss to Anderson Silva.
2.) "His precision is…..so precise" – Mike Goldberg on Anderson Silva:
Mike Goldberg's dumbest quote is just that, as he clearly lost track of his thoughts when he was calling an Anderson Silva fight and just went with the thing he had already said.
While Silva's precision is no doubt precise, there are a lot of other word choices that cud have conveyed his message more eloquently. But hey, it's Goldberg, and he's probably a bit lucky that he only found himself on this list twice.
1.) "I will beat you into the living death" – Ken Shamrock:
The top spot on this list just couldn't be occupied by any other than Shamrock's infamous second appearance. During his long-standing feud with former UFC light heavyweight champion Tito Ortiz, an angered Shamrock uttered possibly the most made fun-of piece of trash talk in MMA history.
The classic quote was ripped apart as an oxymoron, as it was of course impossible to "Beat someone into the living death." Ortiz had Shamrock's number, and he also had it at this presser when he did nothing but break out into hysterical laughter after Shamrock's knee slapping quote rolled off his tongue.
It's a piece of MMA history that's still talked about and discussed to this day, and it still ranks as the dumbest single quote ever uttered in MMA.