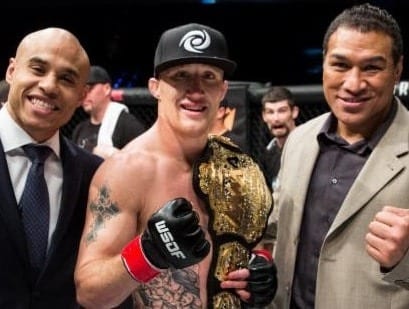 Tonight's (Sat., March 28, 2015) World Series of Fighting (WSOF) 19 from the Comerica Theatre in Phoenix, Arizona, featured the awaited homecoming of Arizona native Justin Gaethje, who put his lightweight title on the line against Luis "Baboon" Palomino.
Gaethje came out aggressive as always, landing a big left and some knees. Palomino fought back with some punches of his own, but Gaethje nailed him with a huge high kick. Gaethje picked Palomino up in a huge double leg before following with some powerful uppercuts. Palomino swung wildly and landed, wobbling Gaethje with some big punches on the fence. The slugfest continued with Palomino aggressive, but Gaethje grabbed him by the neck to slam him down and take his back.
After some ground shots, Gaethje nailed Palomino with a huge head kick and some hard punches before Palomino lost his mouthpiece. He got it back and flung more wild shots Gaethje's way, who ended the absolutely insane first round with a somersault kick attempt.
Gaethje slowed down in the second, and Palomino teed off on him. Backing him up against the fence, he bloodied the fading Gaethje's eye. The champ fought back with a strong counter and took Palomino down briefly. The fighters traded hard shots in the middle of the decagon as the exciting round came to a close.
Gaethje pushed the pace in the third, landing more shots only to be countered yet again. The champ landed some hard knees , elbows, and punches, dropping Palomino with an absolutely vicious low kick. Gaethje unleashed a flying knee, landing another low kick to swarm with hammerfists for the momentous title defense.
The card also featured the return of UFC veteran Thiago Silva, who was supposed to face UFC alum Matt Hamill in the co-main event. However, Hamill fell ill an hour before the vent's start time and has been replaced by Teddy Holder, who was originally slated to face Jake Heun on the main card. Touted prospect Holder brought an 8-1 record with seven straight wins into the bout, and he proved just why against the favored Brazilian to advance to the finals of the WSOF light heavyweight tourney.
The fight turned into a kickboxing war early, with Holder landing some solid combos before Silva landed a huge counter right hand. But Holder fought back with a huge right hand of his own, swarming with a torrent of punches to earn the incredible stoppage of Silva.
Amidst all of the confusion, Tamur Valiev met Ed West at bantamweight. Valiev didn't take long to dispatch of grappler West, blasting him with a relentless series of punches, elbows, and knees on the feet to drop him and earn the stoppage with a barrage of ground shots.
Heun battled Clifford Starks in the card's opening bout instead. Starks' original opponent Eddie Arizmendi will be paid his show and win money according to WSOF President Ali Abdel-Aziz.
As for the fight, the action started out fast and furious early despite the change in opponent. Heun landed some sharp and varied strikes, and Starks countered with some effective takedowns and top control. Despite some stiff body kicks and a huge knee from Heun, Starks was able to drop him momentarily with a counter left hook in the second. Heun lost a point off an illegal knee and was taken down and locked into a tight arm triangle choke that forced him to tap out with less than a minute to go in the second round.
WSOF 19 Results:
Main Card:
Justin Gaethje def. Luis Palomino via R3 TKO (low kick and punches, 3:57)
Teddy Holder de. Thiago Silva via R1 TKO (punches, 2:00)
Timur Valiev def. Ed West via R1 TKO (strikes, 1:39)
Clifford Starks def. Jake Heun via R2 submission (arm-triangle choke, 4:11)
Preliminary Card:
Jimmy Spicuzza def. Benny Madrid via split decision (30-27, 28-29, 30-27)
Joseph Giglioti def. Brendan Tierney via R3 TKO (strikes, 4:45)
Andres Ponce def. Juan Archuleta via R2 submission (triangle choke, 0:53)
Dan Huber def. Israel Aquino via R1 TKO (punches, 3:03)
Matthew Frincu def. Eric Regan via R2 knockout (head kick, 0:14)
Erik Villalobos def. Joe Madrid via unanimous decision (30-27, 30-27, 30-27)