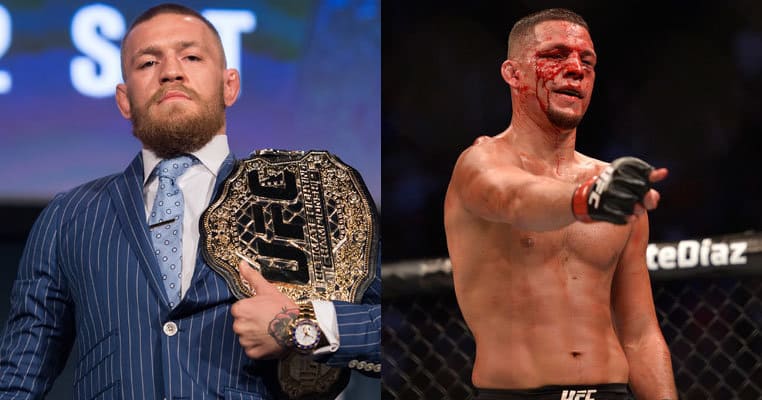 In a recent interview, UFC President Dana White seemed to be against the idea of booking a trilogy bout between Conor McGregor and Nate Diaz, saying that Diaz is the much larger man and that two fighters can only endure so many wars throughout a career.
Despite White's reasoning, however, there are also multiple reasons why the UFC should indeed look to book the rubber match between McGregor and Diaz.
First off, it seems as if there has come a time where the UFC is lacking legitimate stars. In recent memory, the promotion has been seen creating new divisions and various interim titles simply to create main events for cards in need, which is why it's strange to see White not in favor of a money-making bout between two of the sport's biggest stars. To be frank, there is simply no bigger fight in mixed martial arts at the moment other than a third bout between the "Notorious" one and the Stockton bad boy.
Secondly, with McGregor now holding the 155-pound belt, the two could do battle with a title on the line, which would make the fight as well as the rivalry all the more intriguing. No matter what White says, Diaz has spent the majority of his career competing as a lightweight and he's currently ranked No. 6 in the division.
Obviously top contenders Khabib Nurmagomedov and Tony Ferguson are more deserving of the next shot at McGregor's newly acquired title, but we have learned that rankings mean very little in this day and age. Also, the No. 1-ranked Nurmagomedov and the No. 2-ranked Ferguson have been rumored to be fighting each other, which could open to door for Diaz to slide up depending on how much time McGregor is taking off.
Finally, McGregor and Diaz simply need to settle the score. The two have split wins and losses in two welterweight bouts with Diaz submitting the Irishman at UFC 196 and McGregor winning a majority decision in the rematch at UFC 202. After the rematch, both men showed interest in a third bout with McGregor saying that it would have to be at 155-pounds.
With these points in mind, there is no better time than now to make the fight happen. The weight is set and the stars have aligned for McGregor to finally defend a title against a rival in a bout that is simply too monumental to pass up.

What's your opinion of the potentially historic trilogy bout?