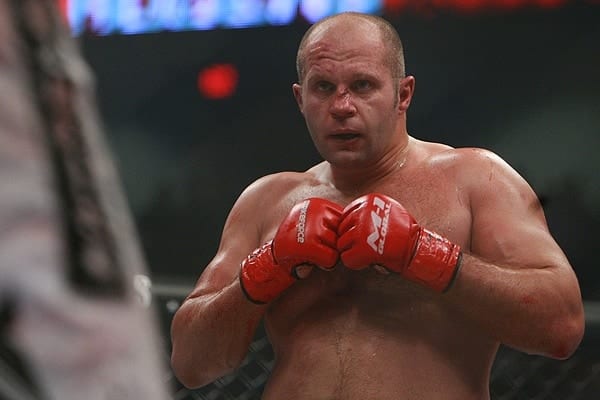 All-time heavyweight great Fedor "The Last Emperor" Emelianenko has been a hot topic in mixed martial arts (MMA) ever since he announced that he would be returning a few months ago. Speculation ran rampant as to where Emelianenko would continue his career, with many feeling like the UFC would be a perfect spot, as the Russian would await many exciting rematches.
Of course we now know that "The Last Emperor" will be fighting in Japan with a new promotion known as Rizin Fighting Federation, a move very few saw coming.
As for the potential rematches in the UFC, arguably the most lucrative one would've been a showdown between Emeliankenko and current UFC champion Fabricio "Vai Cavalo" Werdum. Werdum scored a submission victory over "The Last Emperor" back in 2010 at a Strikeforce event, and was hoping that he would get the chance to do it again.
Now, however, "Vai Cavalo" is less confident about the likelihood of a potential rematch with Emelianenko:
"I think it's very hard," Werdum said on today's edition of the MMA Hour when asked about a possible rematch with Emelianenko in the UFC. "In Japan, the Japanese guys are very smart, maybe they sign with him for two, three years, I don't know. I think it's very hard to fight in the UFC. A lot of fans want to watch him fight there, you know, but I don't know it will happen now."
The Brazilian believes that Emeliankeno deserved a shot in the UFC, but he ultimately respects the "The Last Emperor" and his decision:
"He deserved a fight in the UFC, for sure, but I think maybe in Japan… Hey man, (they) love him in Japan," he said. "The big show coming up now in December in Japan, I think it's a huge show. For sure, I (said) before in one interview (that) I like Fedor in the UFC, rematch with me, for sure, 100 percent. Maybe one fight in the UFC, the second one fight with me. I have a lot of respect for Fedor."
Many were shocked when Emelianenko announced his return, and for good reason, as he ended his last run with a 3-3 record, losing his last three fights in Strikeforce. However, Werdum feels as if "The Last Emperor" just needed some rest, and that fans will be treated to a strong version of Emelianenko:
"Maybe the guys forgot Fedor very fast," Werdum said. "Fedor stopped fighting because he needed this rest too. I needed rest to but maybe two months I'm good again, but Fedor has a lot of pressure with him. He lost (to) me in 2010, a lot of pressure. And then he lost again, he lost again, is no good. He needed rest. He rested like two or three years, I think he (will) come back very strong now. I say for the fans to respect Fedor because he's a legend of the sport."
What are your expectations for Emeliankenko's return?