USADA is remaining firm in their stance towards Conor McGregor; it's time to get tested or he can't fight.
'Notorious' Conor McGregor has not been tested by the UFC's appointed agency USADA to check for performance-enhancing drugs. He has remained test-free since his leg break loss to Dustin Poirier in 2021. According to an interview with Ariel Helwani, McGregor claims that he will soon be entering the testing pool and already has a date set up. USADA claims that this is not true.
Conor McGregor claimed:
"I'm not rushing nothing. There's hurdles and what not, but we're in constant communication and there's an interview scheduled and a meeting happens and then it will be official. But the six months thing, what they had said was two clean tests and off I go, so I assume it won't be too long" [Transcript courtesy of Aaron Bronster]
USADA refutes Conor McGregor's claims
USADA has made a statement regarding Conor McGregor, saying that a meeting has not been scheduled. Additionally, fighters must test clean for a minimum of six months unless issued a rare exception by the UFC. As of now, no exception is in place and McGregor is not clear to fight.
USADA stated:
"We do not have a meeting set with Conor and, as of today, we have not received notice of his coming out of retirement to compete … While the rules permit the UFC to make an exception to the six-month rule in exceptional circumstances, went he strict application of the rule would be manifestly unfair to the athlete, our position, which we have made clear, is that Conor should be in the testing pool for the full six-month period."
See the full statement below: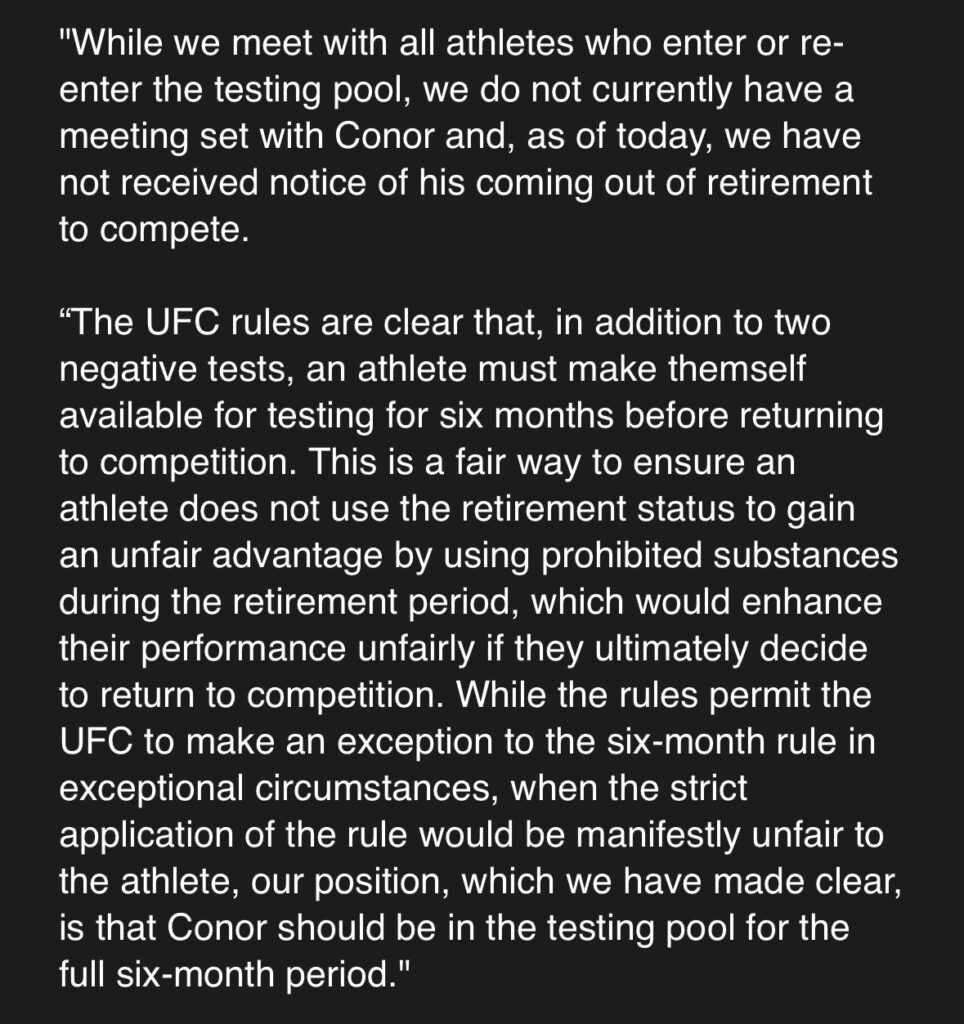 Conor McGregor just wrapped up a season of The Ultimate Fighter coaching against Michael Chandler. The two are supposed to fight at welterweight later this year but no date has been confirmed.