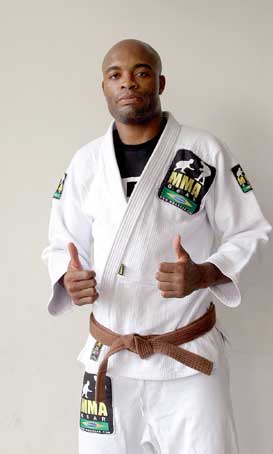 Mike Drahota: Obviously it's very, very tough to pick against Anderson Silva at any time, but I think that we've seen it done in record numbers for this fight. In reviewing Chris Weidman's fight tapes, I definitely see a multi-talented grappler who can give anyone fits at middleweight. His wrestling is technical and effective, while his already world-class submission game is rapidly involving.
However, from watching his countless pre-fight interviews for this fight, I've begun to think that Weidman has become so enamored with his considerable skills that he's overconfident. There's much to be said about believing in one's self, but he talks about Anderson Silva like the champ is a training dummy that he's just going to ragdoll to an easy finish. For that reason, I have to pick Anderson Silva via 2nd round TKO.

Rory Kernaghan: Anderson Silva has so many tools to use against Chris Weidman, he can keep him at a distance and pick him apart with his lethal striking arsenal, or submit the 'All American' from his back. Weidman's biggest threat to Silva comes in the form of great wrestling, which I think Weidman will use at every opportunity throughout the fight. Look for Silva to dance, utilize his long legs with kicks and try to clinch up. While I think Weidman may enjoy some time on top, I don't think he is going to finish Silva. I think Silva is too smart to fall in to the trap of being submitted against Weidman. Look for Silva to finish Weidman by strikes after a close first round. Silva wins by TKO (elbows) round 2.

Brian Cox: I seriously doubt that this fight will last more than 2 rounds. To be honest it could well be a 1 round bout. This match is apt to look a great deal like a version of Silva / Sonnen 2. I think Silva will decimate Chris in the same way he did Sonnen, should he prove to be the fight's winner. Weidman, should he win, will do it on the ground and finish it as Sonnen would have in the 1rst round of his re-match with the Champion, had he not been ejected from his full-mount position by clock-stoppage. Chris has far more tools and talent on the ground than does Chael and should Silva find himself under the "All American" I don't believe he will survive it. That said, I am picking the Chris Weidman to dethrone the wizard of 185 and to do so by (full-mount) ground-and-pound. Round 1.