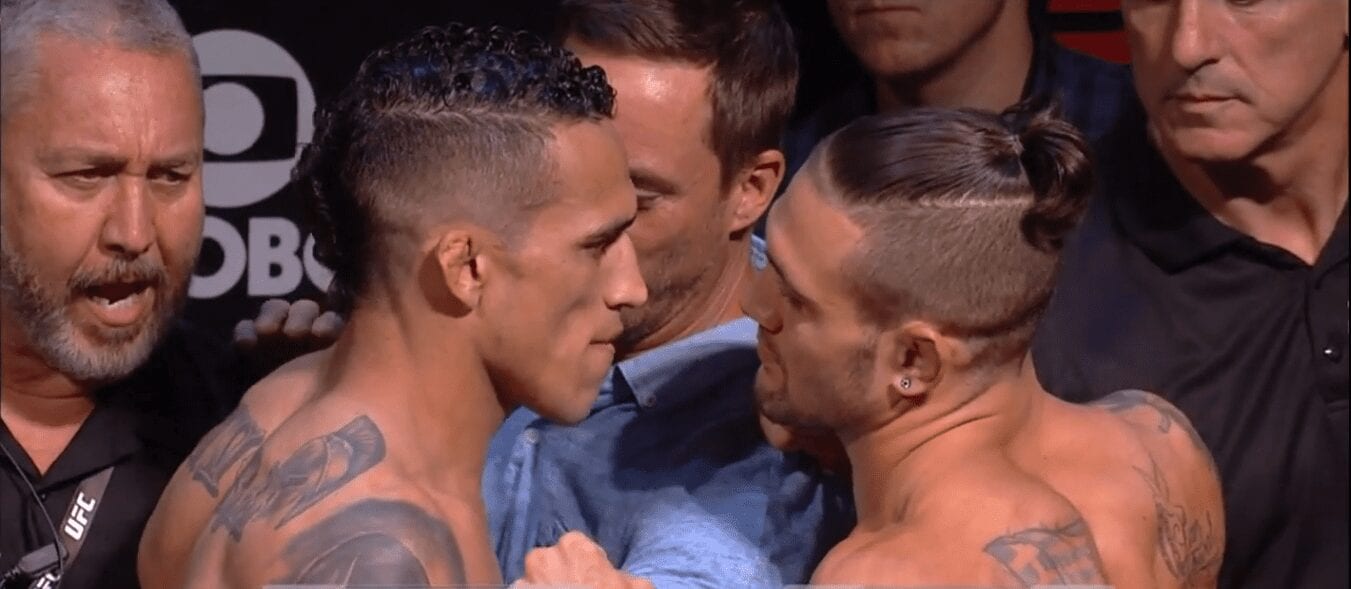 UFC Sao Paulo preliminary card results are underway as the Las Vegas-based promotion holds this latest event on television for fight fans around the world to watch the show.
It's once again fight day here at LowKickMMA, and the talent on display tonight (Saturday, September 22, 2018) will come from in the form of UFC Sao Paulo. Headlining the card are Eryk Anders and Thiago Santos, but there's a whole bunch of great fights also taking place on the preliminary section of the card.
Charles Oliveira vs. Christos Giagos in a lightweight bout closes the preliminary card on FOX Sports 1 in what should be an interesting fight. In round 1, Giagos digs a left hook to the body. Oliveira comes back with some short punches to the head, though there's not much behind them. Oliveira shoots in and scores a huge takedown. Giagos lands some decent punches before the bell. In round 2, the men are really opening up their attacks with punches in bunches. Oliveira has seen enough, though, and scores a takedown. Oliveira on him with the body triangle, under the chin and there's the tap.
Francisco Trinaldo vs. Evan Dunham is next in a lightweight bout. In round 1, Dunham rocks Trinaldo with a short right uppercut during a scramble. Dunham goes for the guillotine but misses it when Trinaldo rolls him over. Trinaldo lands a glancing, flashy head kick just before the bell. It's a very close round. In round 2, Dunham changes levels, but Trinaldo locks in an anaconda choke. Dunham is fending off but it looks deep but let's go. It's a sloppy affair until Trinaldo blasts him with a left knee to the liver, dropping Dunham for good.
Luis Henrique vs. Ryan Spann is next in a light heavyweight bout. In round 1, Spann is landing some decent punches to the head, forcing Henrique's nose to bleed. Brazilian lunges in for two weak takedown attempts. Spann scrambles up to his feet but Henrique clinches with him. Spann latches on a standing guillotine but loses it on his way down. Spann is taken down with seconds left in the first. In round 2, Henrique misses a takedown and winds up with Spann on top in side control. They scramble to their feet, where Henrique takes him right back down. enrique looks for a guillotine from top half guard. Spann sweeps out and lands on top, but Henrique keeps the choke going, even from the wrong side. Spann scrambles out and winds up on top but he runs out of time to do anything with the position. In round 3, Henrique scores a takedown early on and looks for an arm-triangle from top half guard. Spann eventually moves to side control but he's not doing much with the position. Spann got the decision win.
Augusto Sakai vs. Chase Sherman in a heavyweight bout opens the FOX Sports 1 preliminary bouts. In round 1, the two pick up the pace at the midway point and land some hard punches upstairs. Sakai lands a sweeping right to the head, but Sherman closes the round with a nice elbow and left hook to the head. In round 2, Sherman swallows a left and right, but he comes right back with a nice right hook to the head. Sakai returns the fire with a flurry of punches before Sherman ties him up. Sherman is starting to gas out with a minute left. Sakai tags him with a left hook and a kick to the belly. In round 3, Sherman is rocked by a right to the head. Sakai with a barrage of punches upstairs and Sherman is in deep trouble against the cage. Sherman tumbles to the canvas and Sakai lands several elbows from on top but can't finish him. Sakai is all over Sherman and lands another barrage of punches and elbows before the referee stepped in.
Sérgio Moraes vs. Ben Saunders in a welterweight bout finishes off the UFC Fight Pass preliminary card. In round 1, the two circle each other for roughly a minute before Moraes shoots in and takes Saunders down. Moraes moves to mount. He thinks arm-triangle before switching to armbar, but he can't land it before the horn sounds. In round 2, Moraes catches a lazy body kick and drags Saunders to the canvas. Moraes jumps over to his left and locks in the arm-triangle choke. Saunders can't escape and finally has to tap out.
Mayra Bueno Silva vs. Gillian Robertson is next in a women's strawweight bout. In round 1, Robertson ducks under a lazy jab and shoots in. Silva shakes her off and then lands a nice elbow to the head before separating. Robertson changes levels and scores the takedown. Robertson is looking to pass from top half guard. Robertson works her way free and slides over to side control. She can't keep Silva down. Silva locks in the armbar and rolls Robertson over. Robertson can't escape and taps out with only a few seconds left in the round.
Thales Leites vs. Hector Lombard is next in a middleweight bout. In round 1, a very slow pace so far. Lombard lands another hard leg kick. In round 2, the middleweights trade punches early, but Lombard slams a few more nasty kicks onto Leites' legs. Leites is turning up his offense and letting his hands go quite a bit. Lombard is uncomfortable and is eventually taken down. Lombard is bleeding badly with 30 seconds left. Leites slams his right shin into the Cuban's ribs. In round 3, Lombard clinches Leites up and forces him into the cage. However, the Brazilian fires off a few knees to the body. Lombard isn't doing anything while Leites, who is also tired, pegs him with leg kicks and punches to the head. Lombard slowly presses Leites into the cage. With 45 seconds left, he needs to do something. The judges gave the win to Leites.
Elizeu Zaleski dos Santos vs. Belal Muhammad is next in a welterweight bout. In round 1, Dos Santos is moving side-to-side and then has to thwart a takedown attempt from the young Vendramini. Dos Santos wraps him in a Peruvian necktie. Dos Santos loses the Peruvian necktie and has to scramble to his feet. Luigi takes his back whilst standing against the cage. In round 2, Vendramini goes for an early takedown but he's stuffed. They paw with jabs as Dos Santos follows him around early. Dos Santos lands a flying knee and it crushed Vendramini. Dos Santos chases him down and finishes him off with punches.
Opening the UFC Fight Pass prelims is Livia Renata Souza vs. Alex Chambers in a women's strawweight bout. In round 1, Souza with the takedown straight into mount. Chambers tries to scramble up and puts herself right into a guillotine and got the win.
UFC Sao Paulo Preliminary Card Results
PRELIMINARY CARD (FOX Sports 2/8:30 p.m. ET)
Lightweight Bout: Charles Oliveira def. Christos Giagos via submission (rear-naked choke) at 3:22 of R2
Lightweight Bout: Francisco Trinaldo def. Evan Dunham via KO (knee to the liver) at 4:10 of R2
Light Heavyweight Bout: Ryan Spann def. Luis Henrique via unanimous decision (30-27, 30-27, 29-28)
Heavyweight Bout: Augusto Sakai def. Chase Sherman via TKO (strikes) at 4:03 of R3
PRELIMINARY CARD (UFC Fight Pass/6:45 p.m. ET)
Welterweight Bout: Sergio Moraes def. Ben Saunders via submission (arm triangle choke) at 4:42 of R2
Women's Flyweight Bout: Mayra Bueno Silva def. Gillian Robertson via submission (armbar) – Round 1, 4:55
Middleweight Bout: Thales Leites def. Hector Lombard via unanimous decision (29-28, 29-28, 29-28)
Welterweight Bout: Luigi Vendramini via KO (flying knee) at 1:20 of Round 2
Women's Strawweight Bout: Livia Renata Souza def. Alex Chambers via submission (guillotine choke) – Round 1, 1:21