Holly Holm vs. Valentina Shevchenko:
Mike Drahota:
This bout presents an ultra-interesting match-up of two of the women's bantamweight division's best strikers, and certainly its most decorated. Coming off her upset loss to Miesha Tate at UFC 196, boxing champion Holm has everything to lose, while Muay Thai champion Shevchenko has nothing to lose. "Bullet" is by far the lesser-known fighter, and her last fight was a loss to current champion Amanda Nunes, also at UFC 196. But that doesn't tell the whole story, as Shevchenko had "The Lioness" on the ropes when the third round ended.
Regardless, this main event promises to be a power-packed striking affair, with both looking to stay one step ahead of their opponent on the feet. Holm should prevail if it stays at range, and it's tough to decipher just who has the power advantage in this one. If it goes to the cinch, it should favor Shevchenko, and Holm's highly suspect ground game could be tested if 'Bullet' decides to surprise her with a few takedowns. Holm simply needs this win though to get back into the title picture, and I think she stays largely on the outside to outscore Shevchenko. It's a vanilla pick, but I'm going with Holm by unanimous decision.
Rory Kernaghan:
Holly Holm will be looking to bounce back from the brutal loss to Miesha Tate at UFC 195, and there won't be a better time to do it after 'Cupcake' got dethroned at UFC 200. For Shevchenko, it's about defeating a huge name in the former UFC champion and women's boxing great, but a hill I feel will be far too steep to climb. 'The Preacher's Daughter' just has too much in the bag, and I see a unanimous decision on the cards for Holm.
Mike Henken:
Shevchenko is without question one of the best strikers in the bantamweight division as she holds a professional kickboxing record of 58-3. That success has transferred nicely over to MMA, where she currently stands at 14-2 after her recent a loss to reigning champion Nunes. Holm also has a decorated striking background as a multi-time former boxing champion and is coming off of a loss to Tate, but I simply feel as if she has the more well-rounded mixed martial arts skillset in this bout. I also feel as if her experience and motivation to recapture the title will play a part here. Holm by third-round TKO.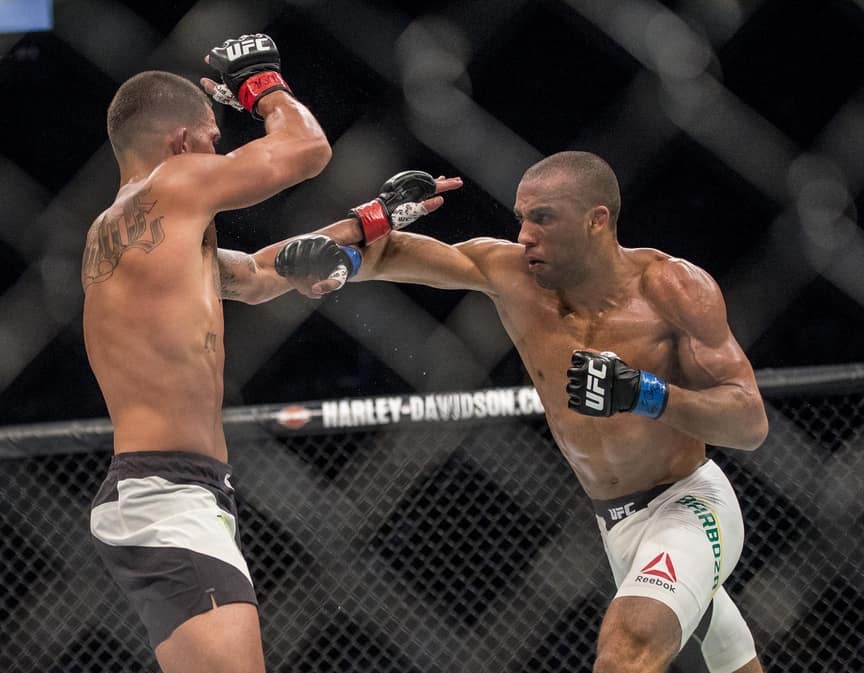 Edson Barboza vs. Gilbert Melendez:
Mike Drahota:
A pivotal co-main event for both Melendez and Barboza's careers, both men will have several question marks heading into this bout. For former Strikeforce champ Melendez, it's how he returns from a yearlong layoff due to a drug-related suspension following two losses to Eddie Alvarez and Anthony Pettis. For Barboza, it's whether or not he can finally win a big fight against an elite fighter in a critical spot.
The Brazilian Muay Thai artist looked nothing less than surgical during his UFC 197 win over Pettis, but he's also faded in big spots against the likes of Tony Ferguson, Donald Cerrone, and Michael Johnson. Barboza will need to rise to the occasion here and pick Melendez' less refined striking apart from range, fending off the inevitable takedown attempts that will come his way. Melendez has the heart and power to put any lightweight away on a good night, but I feel his layoff may affect his performance against such a dynamic striker here. My pick is Barboza by decision.
Rory Kernaghan:
Melendez vs. Barboza is a great fight – two feisty lightweights who always show up for war, but an interesting contrast in styles. Barboza likes to keep the range long to whip in powerful kicks, but 'El Nino' wants to bring the fight to your front door with his gritty phone booth style. It's more about who will be able to implement their gameplan and keep the fight within their chosen range. It's a bit of a coin toss really, and you know how Melendez is going to fight, but Barboza has proven to be cagey in some big fights. I'm gonna go with my gut and call it Melendez by decision.
Mike Henken:
Melendez is a tough and gritty fighter with a wealth of championship level experience, but he's also coming off of a lengthy layoff after being suspended due to a failed drug test. Barboza, on the other hand, has looked excellent as of late, winning two of his last three, and coming off of a victory over former champion Pettis. I feel as if "Junior's" lethal striking game will lead him to victory here. Barboza by unanimous decision.