UFC on Fox 16 Preliminary Card Results: Tom Lawlor KO's Gian Villante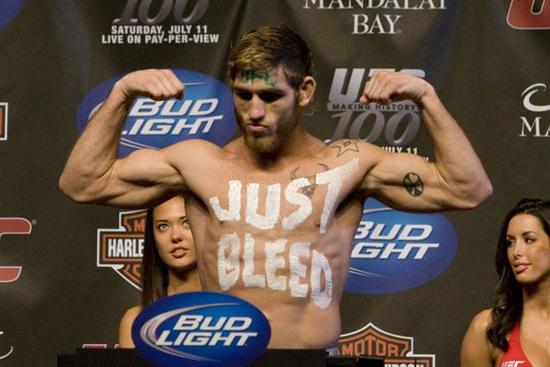 It's once again fight day here at LowKickMMA, and the talent on display tonight (Saturday, July 25th, 2015) will come from the United Center in Chicago, Illinois, in the form of UFC on Fox 16. Headlining the card are T.J. Dillashaw and Renan Barao, but there's a whole bunch of great fights also taking place on the preliminary section of the card.
Tom Lawlor met Gian Villante closed the preliminary card on Fox at UFC on Fox 16. Following the first round of domination by Gian Villante, Tom Lawlor opened the second round with a big right hook that dropped Villante and won him the fight.
Danny Castillo met  Jim Miller in a lightweight bout at UFC on Fox 16. Following a very close back and forth fist fight, Jim Miller walked away with a split decision victory.
Kenny Robertson met Ben Saunders in a welterweight bout at UFC on Fox 16. Both fighters had their moments in this fight as it was a slugfest. Both men were rocked multiple times in the fight and in the third round, Saunders landed some big elbows that busted open Robertson. In the end, Saunders won the fight by split decision.
Bryan Caraway met Eddie Wineland opened the Fox preliminary bouts at UFC on Fox 16. Speed factor was not enough for Wineland to get his hand raised in this fight. Caraway was just so effective on his feet while it was the opposite for Wineland. Caraway would go on to earn a unanimous decision victory over Wineland.
Daron Cruickshank met James Krause in a lightweight bout that finished off the UFC Fight Pass preliminary card at UFC on Fox 16. This one did not last long, it took 1:27 for Krause to get the back of Cruickshank and lock in a rear-naked choke for the win.
Andrew Holbrook met Ramsey Nijem in a lightweight bout at UFC on Fox 16. A back and forth fight that saw a ton of submission attempts by Holbrook. The judges gave Holbrook the win by split decision.
Jessamyn Duke met Elizabeth Phillips in a women's bantamweight bout at UFC on Fox 16. Phillips didn't have anything for Duke on the feet, but once on the ground, her skills outshined Duke's in a big way. After the first two rounds of ground and pound dominate by Phillips, Duke attempted a comeback in the third. Little too late as the judges gave Phillips the win by decision.
Opening the UFC Fight Pass prelims saw Zak Cummings met Antonio Braga Neto in a welterweight bout at UFC on Fox 16. Cummings with a straight left that stunned Neto. Cummings blitzed him with strikes to put him down. That's how to open up the card.
So join us right here at LowKickMMA for UFC on Fox 16, kicking off at 3:15 PM ET!
PRELIMINARY CARD (FOX, 6 p.m. ET)
Tom Lawlor def. Gian Villante via knockout (punches) – Round 2, 0:27
Jim Miller def. Danny Castillo via split decision (29-28, 28-29, 30-27)
Ben Saunders def. Kenny Robertson via split decision (29-28, 28-29, 29-28)
Bryan Caraway def. Eddie Wineland via unanimous decision (29-28, 29-28, 30-27)
PRELIMINARY CARD (UFC Fight Pass, 4:15 p.m. ET)
James Krause def. Daron Cruickshank via submission (rear-naked choke) – Round 1, 1:27
Andrew Holbrook def. Ramsey Nijem via split decision (29-28, 28-29, 29-28)
Elizabeth Phillips def. Jessamyn Duke via unanimous decision (29-28, 29-28, 29-28)
Zak Cummings def. Dominique Steele via TKO (strikes) – Round 1, 0:43