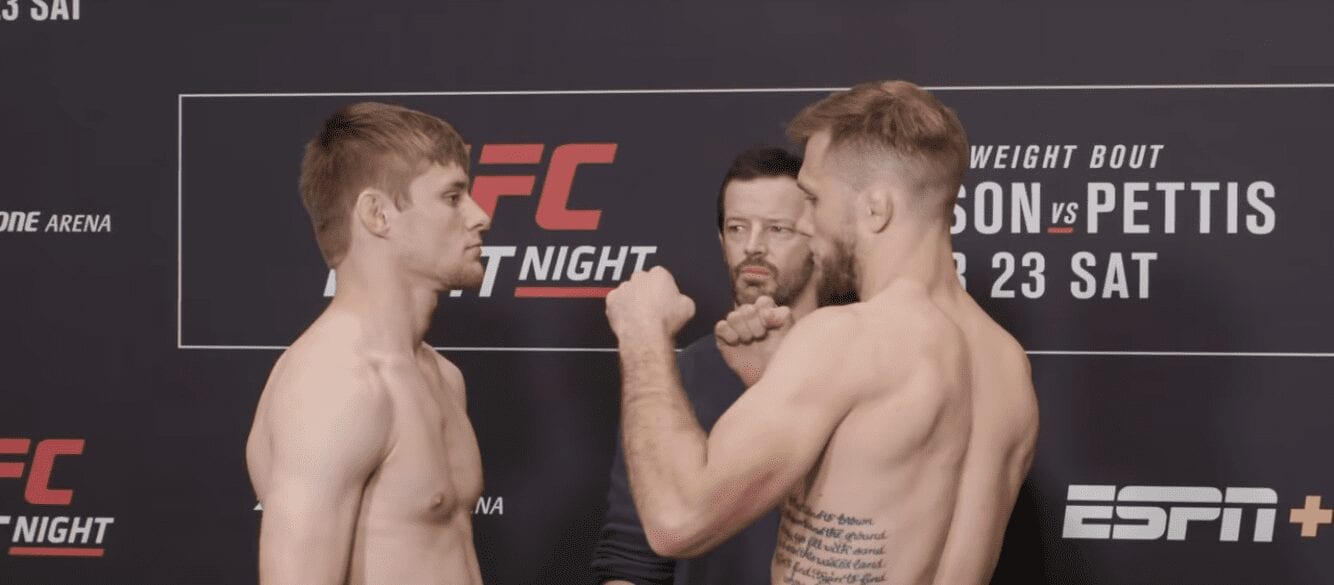 UFC Nashville preliminary card results are underway as the Las Vegas-based promotion holds this latest event on television for fight fans around the world to watch the show.
It's once again fight day here at LowKickMMA, and the talent on display tonight (Saturday, March 23, 2019) will come from in the form of UFC Nashville. Headlining the card are Stephen Thompson and Anthony Pettis, but there's a whole bunch of great fights also taking place on the preliminary section of the card.
Bryce Mitchell vs. Bobby Moffett in a featherweight bout closes the preliminary card on ESPN+ in what should be an interesting fight. In round 1, A straight left drops Moffett. Mitchell dives on him but Moffett scrambles to his feet. Mitchell takes him back down and takes Moffett's back. Moffett rolls over and falls into a triangle. Mitchell has it locked up. Mitchell switches to the armbar from the triangle. Moffett in danger but he escapes. In round 2, Moffett scores a takedown against the cage. Moffett tags Mitchell with a pair of punches and then takes him right back down. Moffett locks up a D'Arce choke from his back. Mitchell looks for an armbar but time expires. In round 3, Moffett scores another takedown and lands in top half guard. Moffett is fishing for a D'Arce but Mitchell is fending it off nicely. Mitchell has a deep rear-naked choke, but he can't land it. The judges gave the win to Mitchell.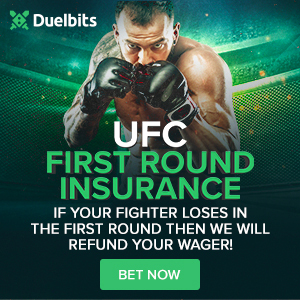 Frankie Saenz vs. Marlon Vera is next in a bantamweight bout. In round 1, Vera lands a right hand to the jaw and Saenz crumbles. Vera finishes him off with hammerfist strikes on the ground.
Alexis Davis vs. Jennifer Maia is next in a women's flyweight bout. In round 1, Maia with a huge barrage of punches to the face. Davis is rocked badly and tries to shoot in. Maia pushes her to the ground. They clinch up against the fence. In round 2, Maia is moving well early and landing crisp punches to the head. Davis scores a powerful takedown and moves to mount immediately. Davis is threatening with a choke from mount but loses it. Davis now in top half guard, looking for a key lock, but she loses that as well. In round 3, they trade hard punches to the head. Davis misses a takedown and eats a left. She pops up and tags Maia with a sizzling two-punch combo. Davis forces a clinch late but can't take her down. The judges gave the win to Maia.

Angela Hill vs. Randa Markos is next in a women's strawweight bout. In round 1, Markos fully has Hill's back now and threatening with a rear-naked choke. Now an armbar from behind and got the tap.

Chris Gutierrez vs. Ryan MacDonald is next in a bantamweight bout. In round 1, Gutierrez is unloading plenty of kicks from all angles. MacDonald hasn't gotten set yet. Gutierrez is chopping MacDonald's left leg down with kicks. In round 2, MacDonald is cut on his hairline and it's bleeding quite a bit. Gutierrez continues to blast kicks into MacDoanld's left leg. In round 3, Gutierrez seems to have backed off a little bit. Gutierrez opens up late and slams a few kicks to the legs and body. MacDonald can't do anything with it as time expires. Gutierrez walked away with the decision win.

Opening the ESPN+ is Jordan Espinosa vs. Eric Shelton in a flyweight bout. In round 1, Espinosa lands a few more low kicks and then shoots in. Shelton stuffs him and forces a separation. In round 2, Shelton catches a kick from Espinosa and lands an overhand right to the head. Espinosa lands a right to the face. Shelton shakes it off and lands a left to the ribs. He tags Espinosa with another sharp right up top. In round 3, Espinosa lands a left head kick but then pokes Shelton in the right eye by accident. Espinosa is staying back, keeping Shelton at bay. They have a nice trade to end the round. The judges gave the win to Shelton.
Here are the results:
Preliminary Card (ESPN +, 5pm ET)
Featherweight bout: Bryce Mitchell def. Bobby Moffett via unanimous decision (29-28, 29-28, 29-28)

Bantamweight bout: Marlon Vera def. Frankie Saenz by TKO (punches) at 1:25 of Round 1
Women's flyweight bout: Jennifer Maia def. Alexis Davis by unanimous decision (29-28, 29-28, 29-28)
Women's strawweight bout: Randa Markos def. Angela Hill via submission (armbar) at 4:24 of round one
Bantamweight bout: Chris Gutierrez def. Ryan MacDonald (30-27, 30-27, 30-27)
Flyweight bout: Jordan Espinosa def. Eric Shelton via unanimous decision (29-28, 30-27, 30-27)