UFC Moscow Results: Shamil Abdurakhimov Works Andrei Arlovski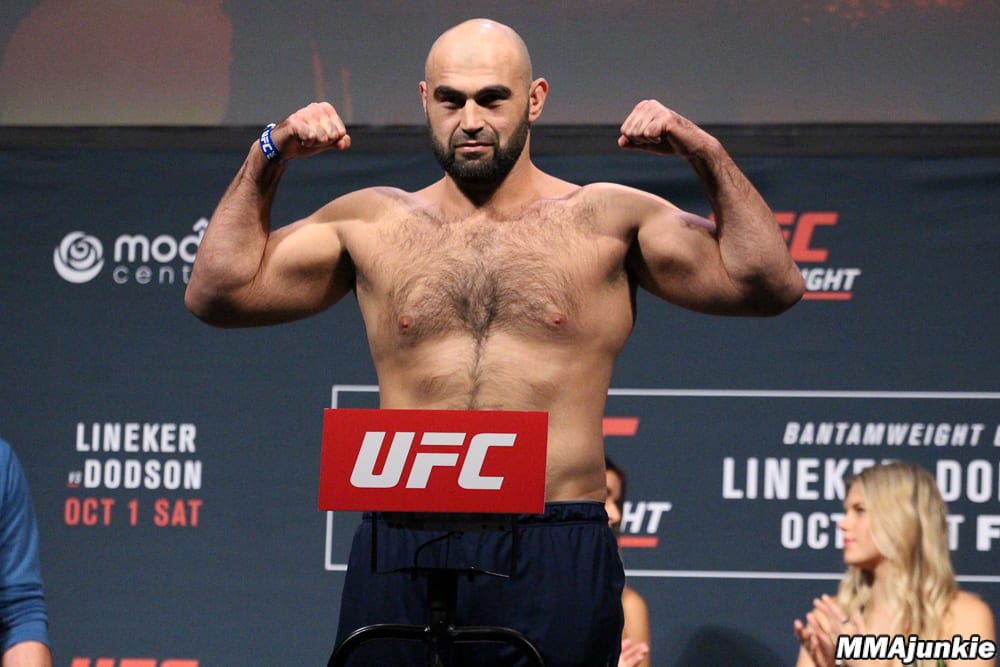 The ageless Andrei Arlovski met Shamil Abdurakhimov in a feature main card fight today (Sept. 15, 2018) at UFC Moscow.
No fighter exhibits the ebbs and flows of combat sport more so than Arlovski. The former UFC heavyweight champ has had moments in the octagon where he looked like a world beater, and he has had moments when the world beat him. Regardless, "The Pitbull" had his hands full with the Russian Abdurakhimov.
Abdurakhimov made the walk to the octagon for the sixth time against Arlovski in Moscow. He has compiled a record of 3-2 in the UFC. If "Abrek" is to achieve his dream of becoming world champion he must first get past the ageless Arlovski.
Round 1
The big men waste no time getting at it. Arlovski landing a couple nice knees in the clinch early on. Abdurakhimov clip Arlovski and follows him to the canvas. The fight stalls as Arlovski closes guard. After two minutes of inactivity, the referee stands the fighters back up with 90 seconds left in the round. Arlovski catches Abdurakhimov with a low leg kick and trips the Russian. The round ends with Arlovski stumbling off balance. Abdurakhimov may have won the round.
Round two
Abdurakhimov initiates a clinch to start the round. Both fighters again exchange knees. Abdurakhimov catches Arlovski's kick and counters with a straight right hand that knocks Arlovski down. Abdurakhimov follows him to the canvas. Again the fight stalls. Arlovski eats a bunch of shot but manages to get back to his feet. Arlovski looking to counter punch in the last two minutes but again the fight ends up in the clinch. Arlovski gets the fight to the ground briefly, and Abdurakhimov effortlessly gets back to his feet. The round ends. Arlovski might have stolen the round.
Round three
Abdurakhimov comes out with a spinning elbow that nearly missed Arlovski's head. Arlovski lands a combo and Abdurakhimov lands one of his own. Both fighters still seem like they are trying to figure each other out in the final frame. Arlovski takes an incident eye poke. The fighters touch gloves and find themselves in the clinch again. With 90 seconds left in the fight, it would seem either guy can still win. Abdurakhimov knees Arlovski in the man parts – the fight pauses momentarily. The last minute of the round was very underwhelming as Arlovski looks to be frustrated. Abdurakhimov should win the fight.
Result: Shamil Abdurakhimov defeats Andrei Arlovski via unanimous decision (30-27, 30-27, 29-28)