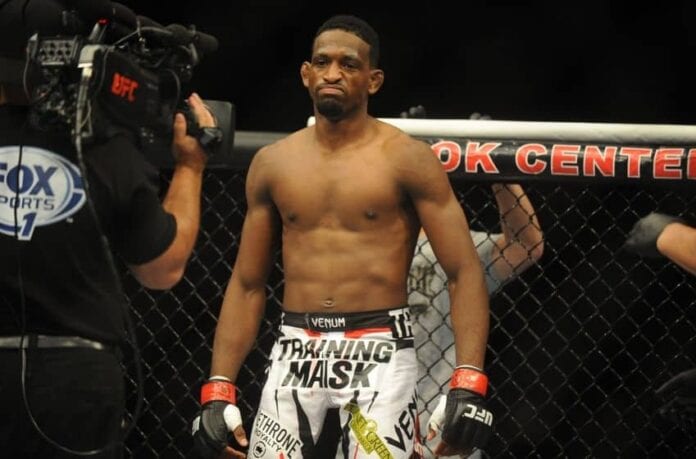 With every decision comes a consequence and for those fighters who took part in battle this past at UFC Fight Night 78, it's their time to faces those consequences in the form of medical suspensions.
Some of the more notable suspensions include Neil Magny, Diego Sanchez, Perry Montano, Enrique Barzola, Leonardo Silva, Erik Perez, and Scott Jorgensen all being out for 180 days if they're not cleared by a doctor for x-rays.
UFC Fight Night 78 took place on Saturday, on November 21, 2015, at the Arena Monterrey in Monterrey, Mexico. The event aired on UFC Fight Pass and FOX Sports 1.
Down below are the entire medical suspensions:
Neil Magny: 180 days or negative x-ray of left hand; 30 days no fight, 21 days no contact
Diego Sanchez: 180 days or negative x-ray of left leg; 45 days no fight, 30 days no contact
Perry Montano: 180 days or negative x-ray of left ankle; 30 days no fight, 21 days no contact
Enrique Barzola: 180 days or negative MRI of left shoulder; 30 days no fight, 21 days no contact
Leonardo Silva: 180 days or negative MRI of left shoulder and left elbow; 30 days no fight, 21 days no contact
Erik Perez: 180 days or negative x-ray of right foot
Hector Urbina: 180 days or negative nasal x-ray; 45 days no fight, 30 days no contact
Scott Jorgensen: 180 days or orthopedic clearance of left hand; 30 days no fight, 30 days no contact
Polo Reyes: 180 days or negative x-ray of left hand
Gabriel Benitez: 45 days no fight, 30 days no contact
Vernon Ramos: 45 days no fight, 30 days no contact
Cesar Arzamendia: 45 days no fight, 30 days no contact
Ricardo Lamas: 30 days no fight, 21 days no contact
Henry Cejudo: 30 days no fight, 21 days no contact
Enrique Marin: 30 days no fight, 21 days no contact
Horacio Gutierrez: 30 days no fight, 21 days no contact
Kelvin Gastelum: 7 day mandatory rest period
Jussier Formiga: 7 day mandatory rest period
Efrain Escudero: 7 day mandatory rest period
Taylor Lapilus: 7 day mandatory rest period
Bartosz Fabinksi: 7 day mandatory rest period
Alejandro Perez: 7 day mandatory rest period
Andre Givens: 7 day mandatory rest period

Alvaro Mendoza: 7 day mandatory rest period
Valmir da Silva: 7 day mandatory rest period
Michael Prazares: 7 day mandatory rest period