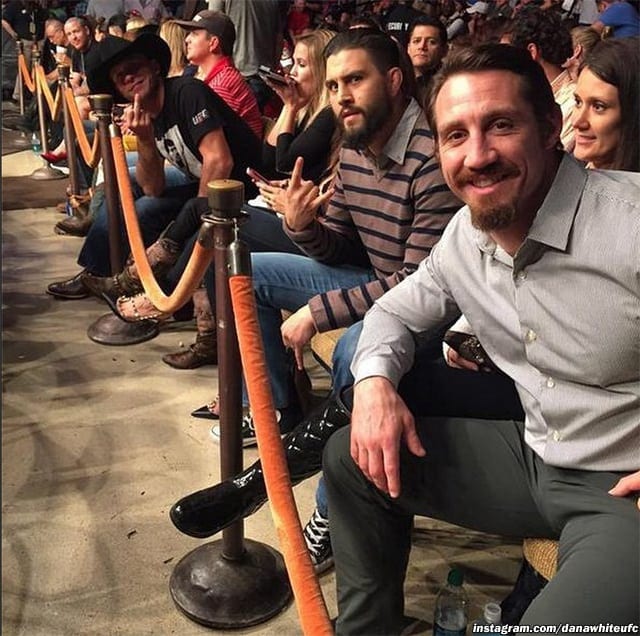 UFC Fight Night 57 went down this past Saturday (Nov. 22nd, 2014) and provided a thoroughly exciting evening of fights. The UFC featherweight, lightweight and flyweight division had some influential bouts going down, and leave some interesting after thoughts….
Frankie Edgar is next (?)
Frankie Edgar squared off against Cub Swanson in the evening's main event, and the result was a convincing one-sided performance for "The Answer", that ended with a record-breaking finish in the dying embers of round five. The display by Edgar leaves little to doubt, except for where it is he stands in the title race.
""Beautiful Destruction" was promised a title shot with a win, but finds himself somewhat in limbo with Conor McGregor fighting Dennis Siver in January, and Aldo having just fought a rematch against Chad Mendes. Ricardo Lamas, "Money", the winner of Siver/McGregor even could be next for Edgar….right now we just don't know.
Talking of rematches
Lightweight striking machine Edson Barboza took to the octagon against Bobby Green at UFC Fight Night 57, snapping the Strikeforce veteran's eight-fight streak, and doing so with his crisp Muay Thai skills. Much has been said about how far Edson Barboza will go, and I feel it all depends on the matchmaker Joe Silva's next opponent.
""Junior" has stated he wants a rematch with Donald Cerrone, after "The Cowboy" submitted him earlier this year. Other than that, you can bet there are a number of intriguing matches for Barboza to take, but you know it will be a hard road given the talent at 155.
Talking of rematches….again
UFC flyweight Joseph Benavidez dominated Dustin Ortiz during their main card showing in Ausin, Texas, but is another fighter from the card waiting in limbo. Having already lost twice to Demetrious Johnson, and by dominant knockout the second time, the chances of a third fight in the near future are slim to none.
It's not likely that JB will move up in weight to 135, as his Alpha Male team mate TJ Dillashaw is currently ruling the roost there. Featherweight is probably too far given his size and natural weight, so what's next for "Joe-B Wan Kenobi"? The fact that he dominates everyone apart from the two fighters he has lost to (champs Dominick Cruz and DJ) shows he belongs with the elite, but perhaps some changes in training are required…..
Props go to Paige VanZant and Kailin Curran for their thoroughly entertaining burner, to Oliynyk for his jaw crushing KO against Rosholt, and to Tim Kennedy, Donald Cerrone and Carlos Condit for this photo posted to Dana White's instagram. Lols all around!
Follow @Rorylowkick

Follow @LowKick_MMA

Tweet